Eddie Van Halen Recalls '1984' Battles with Producer [Video]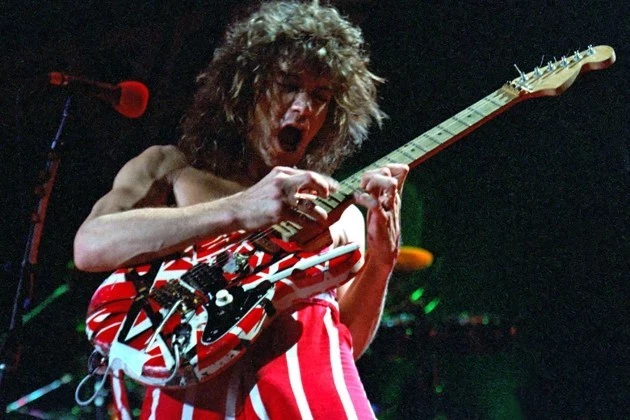 "Ted just didn't see eye to eye with the way I looked at things. That was my whole premise for building the studio." — Eddie Van Halen
It's no secret that Van Halen was a band mired in tension during the recording of its classic "1984" album, tensions that would ultimately boil over the following year with David Lee Roth's departure from the lineup.
But what many fans don't realize is that the schisms in the group's creative process ran even deeper than the Roth debacle, leaving Eddie Van Halen frequently at loggerheads with longtime producer Ted Templeman.
Van Halen looked back on those battles during a lengthy interview in the latest issue of Guitar World, explaining that Templeman's singles-first philosophy — not to mention his indifference toward some of Eddie's songs — prompted the construction of the now-legendary 5150 studio, where the band ended up cutting the tracks for '1984' and every Van Halen album to follow.
"The bottom line is that I wanted more control," he explained. "I was always butting heads with Ted Templeman about what makes a good record. My philosophy has always been that I would rather bomb with my own music than make it with other people's music. Ted felt that if you redo a proven hit, you're already halfway there."
Aided by engineer Donn Landee, Eddie broke ground on what he initially envisioned would be something less than a full-service recording studio.
As he put it: "I just wanted a better place to put my music together so I could show it to the guys."
After lying to the city inspector and saying they were building a racquetball court in order to get around zoning laws, Van Halen and Landee set about rounding up the right equipment, including a console that Van Halen described as an "old dilapidated piece of s— that looked like it was ready to go into the trash," and unveiled the fruits of their labor to Templeman and the rest of the band.
"Everybody thought I was just building a little demo room," he recalled. "Then Donn said, 'No, man! We're going to make records up here!' When Ted and everybody else heard that, they weren't happy."
Templeman's enthusiasm started to grow, however, once he heard what Eddie and Landee had done with the eventual No. 1 single "Jump."
Even though "Jump" had been kicking around for some time, due to the other band members' lack of enthusiasm about the idea of a synth-heavy Van Halen song, once Templeman listened to the tracks they'd cut, he reportedly responded, "That's great! Let's go to work."
"As soon as Ted was on board with 'Jump' and said that it was a stone-cold hit, everyone started to like it more," shrugged Van Halen. "But Ted really only cared about 'Jump.' He didn't care much about the rest of the record. He just wanted that one hit."
Of course, that doesn't mean Templeman was willing to simply step aside and let Eddie and Landee run wild — even if that's essentially what they ended up doing. Looking back on the mixing process, Van Halen recalled how he and Landee managed to hold off the album's planned Dec. 31, 1983, release date by playing keep-away with the masters while they labored over a final mix they could be happy with.
"Donn and I would be in there mixing, and the phone would ring," said Van Halen. "It would be Ted at the front gate to my house, wanting to come in.
"So Donn would grab the master tapes, put them in his car, go out the back gate and wait as Ted was coming through the front gate, because Ted wanted the tapes. He'd ask where Donn and the tapes were, and I'd say that I had no idea. This went on for about two weeks."
Ultimately, the album's incredible success vindicated all of Eddie's struggles.
"Everybody was afraid that Donn and I were taking control," he recalled. "Well … yes! That's exactly what we did, and the results proved that we weren't idiots. When you're making a record, you never know if the public is going to accept it, but we lucked out and succeeded at exactly what my goal was."
It's probably worth noting that in a 1991 interview with Guitar World, Templeman downplayed his own contributions to "1984," telling the magazine: "By the time we did '1984' he had his own studio, so he'd just lay out the solos in the middle of the night and I'd come in the next day and say, 'Hey that's great.' I'm not kidding. I'd like to take credit and say I helped, but I didn't. Never once did I say, 'Hey, let's do that again.' I think Eddie's evolved enough now that he can take control of his own music — he doesn't need a producer that much."
Templeman also complimented Landee, saying that he's "such a great engineer, he really took a major part in capturing that raw guitar sound. See, certain guitar players no matter how well they play, just don't have a sense of how to make their instrument sound distinct. I mean, Donn would get a great echo sound on something like 'Running With the Devil,' which could really help with the echo return on the guitar … As far as I was concerned — and Donn would probably tell you the same thing — recording [Eddie] was pretty much a queston of sticking a mike in front of his amp."
Source:
Eddie Van Halen Recalls '1984' Battles with Producer [Video]