Bono Says U2's 'Best Work Might Be to Come'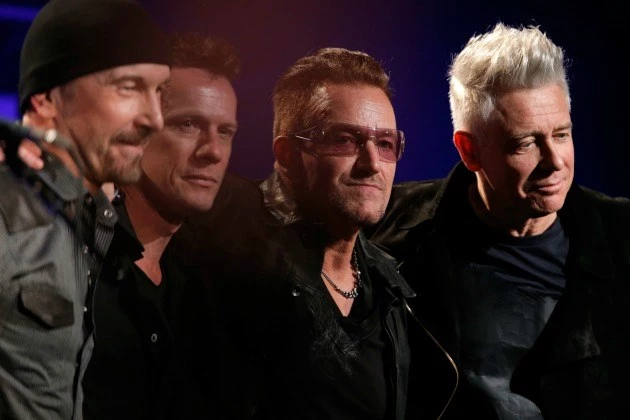 When you're a big enough band to warrant a Super Bowl commercial for your new single, it's pretty safe to say you've made it. But U2 frontman Bono still has the same hopes and fears as any multimillionaire musician after decades of rock stardom.
Bono discussed his mindset heading into the band's upcoming 13th studio album during a recent interview with the BBC, admitting that any act in U2's position has to be concerned with remaining relevant — but adding that for him, it all starts with making music that's relevant to the band members themselves.
"We're on the verge of irrelevance," he explained. "You have to make stuff relevant to you and where you're at, make an honest account of what you're going through. If that's relevant to other people, great. But we don't know."
Musically speaking, the group renewed its outlook during this album's sessions by going back to its roots. "We went back to why we wanted to be in a band in the first place," Bono said. "We were listening to the Ramones and Kraftwerk — you can hear both on 'Invisible.' It opened up a whole valve for me writing, it was like a dam burst of sorts."
If that sounds like the band is looking toward the past, Bono still has his eye firmly on U2's future. Speaking with the Irish Times, he mused, "Looking as a rock 'n' roll band, there's no one — no band — who has done their best work who has been around for 30 years. . . . So we're going to see, but that's not true for filmmakers, that's not true of a novelist, that's not true of a poet. So why should that be true of a rock 'n' roll band? . . . And I'm humbled that in our little post-punk combo from the Northside of Dublin, to think that maybe our best work might be to come, even if the odds are against us."
Source:
Bono Says U2's 'Best Work Might Be to Come'