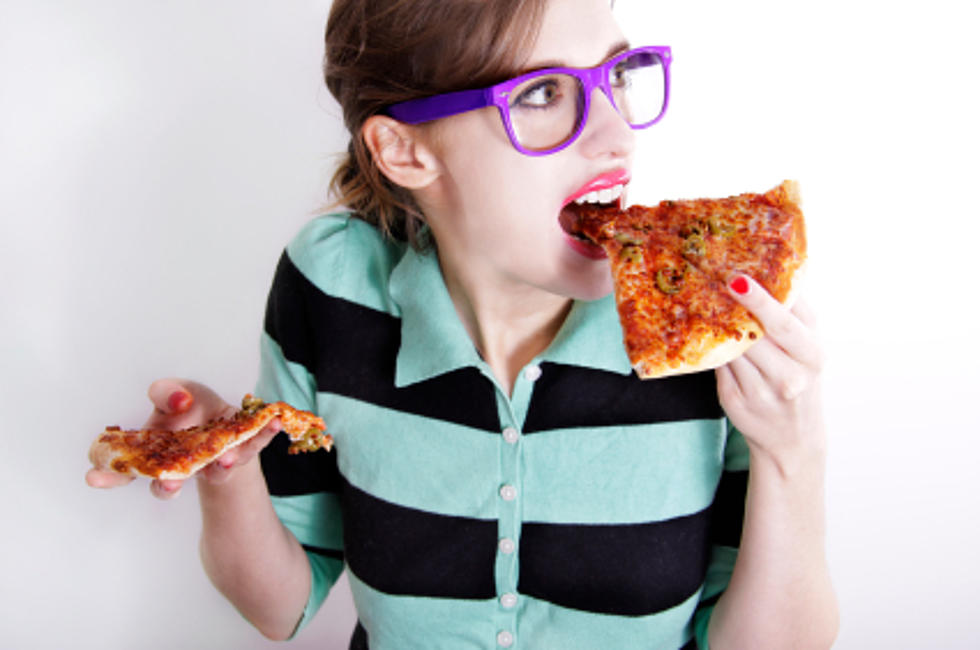 10 West Michigan Foods to Devour on 'Eat What You Want Day'
ThinkStock
Today, May 11, is national "Eat What You Want Day", and it got me to thinking, "Which West Michigan favorites should I devour on this glorious day where calories don't exist?"
After pondering long and hard, I think I've come up with my must-have list. Take a look and see what you think.
1

Yesterdog is an institution here in Grand Rapids. You're not a true West Michigan resident until you've tasted the fare at Yesterdog, located on Wealthy St. in East Grand Rapids. Whether you prefer the Yesterdog, the Ultradog, the Cheddardog, or any of the other great dogs they have to offer, everyone, and I mean everyone has a favorite dog at Yesterdog.

Courtesy of the West Michigan Whitecaps

Courtesy of the West Michigan Whitecaps

2

Anything on the Menu at a Whitecaps Game

The West Michigan Whitecaps have made it a point to offer some of the most interesting foods you'll find at a ballpark anywhere in the country. From the famous "Fifth Third Burger" to this year's newest item voted in by fans, the Beer Cheese Poutine, there are tons of options for fans of all ages.

3

HopCat has quickly become a West Michigan staple, and here at the station, we think that's largely due to their "crack fries". These fries are like none you've ever tasted before, as they come coated in a mix of spices that makes them truly addictive. Want a little more out of your fries? You can order crack fries the original way, with bar cheese for dipping, or "sloppy" (where they add melted cheese, sloppy joe meat, and scallions).

Wendy Reed/Townsquare Media

Wendy Reed/Townsquare Media

4

If you aren't aware what poutine is, let this Northern Michigander give you a little insight - poutine is generally french fries covered in cheese curds and brown gravy, and you'll find it everywhere in Canada. I've searched high and low for the best poutine in Grand Rapids and my personal opinion is that it can be found at Logan's Alley on Michigan St. Logans' take on this Canadian dish is definitely not traditional, but it's delicious. Their poutine features hand-cut Michigan potato fries smothered in their chef's "to die for" brown gravy, and is then topped with bacon, gorgonzola cheese, and an over-easy egg. So. Good.

Justin Sullivan/Getty Images

Justin Sullivan/Getty Images

5

KFC Buffets Across West Michigan

Did you know that some Kentucky Fried Chicken locations in West Michigan have buffets?!? Well, you do now! Head on over to the KFC in Greenville, Ionia, or Hastings, and you'll be able to eat all of the chicken, mashed potatoes, gravy, mac and cheese, and biscuits your little heart desires!

Justin Sullivan/.Getty Images

Justin Sullivan/.Getty Images

6

Pronto Pups in Grand Haven

You may think, "Eh. A corndog is a corndog." And you'd be right. But, Pronto Pups aren't corndogs, they're magical, delicious, must-haves on a stick! They've been around for over 60 years, so you know that they're good. The coating that they use is almost pancake-y to me, and is very specific to the Pronto Pup. And seriously, these are one of the best things I've ever eaten in my life.

Brendon Thorne/Getty Images

Brendon Thorne/Getty Images

7

South Haven's Sherman's Dairy Ice Cream

Now to appeal to those of you with a sweet tooth. Sherman's Dairy Ice Cream in South Haven has been a staple in the community for nearly 100 years. According to my resident Lakeshore expert, their ice cream is the best around. With flavors that range from your usual chocolate and vanilla, to specialties like Amaretto Cherry Amour, Red Velvet Delight, and their own take on Michigan's ever-popular Superman, Sherman's is a can't miss when you're out in that neck of the woods.

Charley Gallay/Getty Images

Charley Gallay/Getty Images

8

I wanted to make this one more specific, but honestly, if you've lived in West Michigan for any amount of time, you've been to Arnies, and you have your favorites. Their baked goods are a favorite around here, from their Mile High Lemon Meringue Pie to their Red Velvet cupcakes, there's something for everyone.

9

'Anything From the Itty Bitty Bar in Holland'

I've been hearing tales about the Itty Bitty Bar in Holland for a few years, and haven't had a chance to head out there yet. A co-worker informed me today that "anything" you get there is delightful. With an interesting menu that includes Country Fried Meatloaf, the "Interracial Cowboy", and a Garlic Mashed Potato Quesadilla, there's something at the Itty Bitty for every palate.

Johnnie Walker/Townsquare Media

Johnnie Walker/Townsquare Media

10

'Gargantuan' Bowls of Pho at Golden 28

Another place that my co-workers rave about is Golden 28 on 28th St. According to one co-worker, they have "gargantuan" bowls of Pho with crispy noodles that are absolutely to die for. I've been hearing rumblings about this place for years, and today may just be the day that I go and check it out. One co-worker, who fancies himself as a bit of a "Pho connoisseur" has stated that Golden 28 is hands down his favorite Pho place ever (and he's been all around the country).