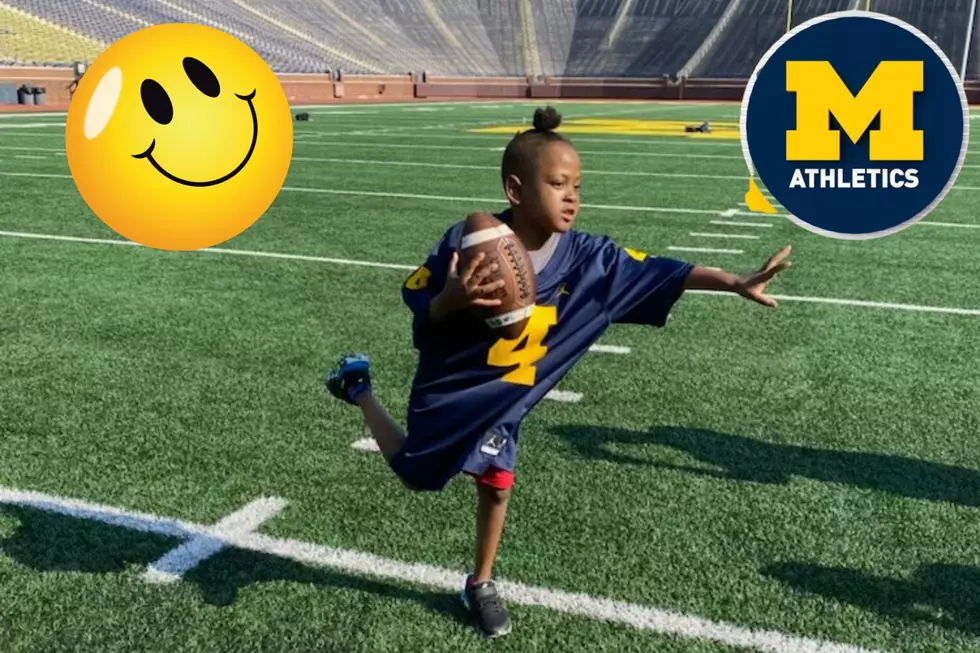 8-Year-Old Who Spent 2 Years in UofM Hospital Celebrates Birthday on the Big House Field
Credit: Canva & Mott Children's Hospital via Facebook
If you love the University of Michigan, there is now a heartwarming reason to love them more!
On July 12th, 2022, it was little Gage's birthday.
You are probably wondering who Gage is.
Gage is a (now) 8-year-old who has spent nearly the last two years in C.S. Mott Children's Hospital.
According to the hospital's Facebook page, while looking through a telescope from the hospital, Gage told his nurse, Kristen "I'd like to go to the stadium where they play football."
Let's just say nurse Kristen made sure this young man had the best day ever!
In honor of this Little Victor turning eight years old, for his birthday, Kristen partnered with the University of Michigan Athletics to bring Gage to the stadium.
Gage was able to meet some of the U of M football team, took a personal tour of the facilities, and even got to show his football moves on the field.
Moments like these bring joy and warmth to my heart. That is why one of my first internships in radio was at Ryan Seacrest Studios in Atrium Health Levine Children's Hospital.
The men and women who work tirelessly to bring light to children's lives deserve the world!
I am a big advocate for supporting the work being done at children's hospitals. If you want to support Mott Children's Hospital, here's how.
This is one task that I want to do now that I have moved to Grand Rapids. Volunteers are important to helping the hospital's operations. If you want to volunteer, visit the Volunteer Services Department or call 734-936-4327.
Buy goodies from their Wish List
The hospital says the wish list has items that are commonly used for the patients and their families, including but not limited to age-appropriate toys, arts and crafts supplies, and items for birthdays or any celebration.
If you want to purchase anything from the WIsh List, there are two ways you can do so:
Visit the Amazon Wish List or the Full Wish List
Order the gifts online and deliver them directly to:
C.S. Mott Children's Hospital
Child and Family Life
1500 East Medical Center Drive
F2519
Ann Arbor, MI 48109-5251
Give annual or monthly monetary donations
Annual gifts "provide critical funds that are immediately available and vital for the success of our hospital and the lives of those who count on us."
You can make your annual donations here.
Children's Hospitals in West Michigan
Here are some of the Children's Hospitals in West Michigan