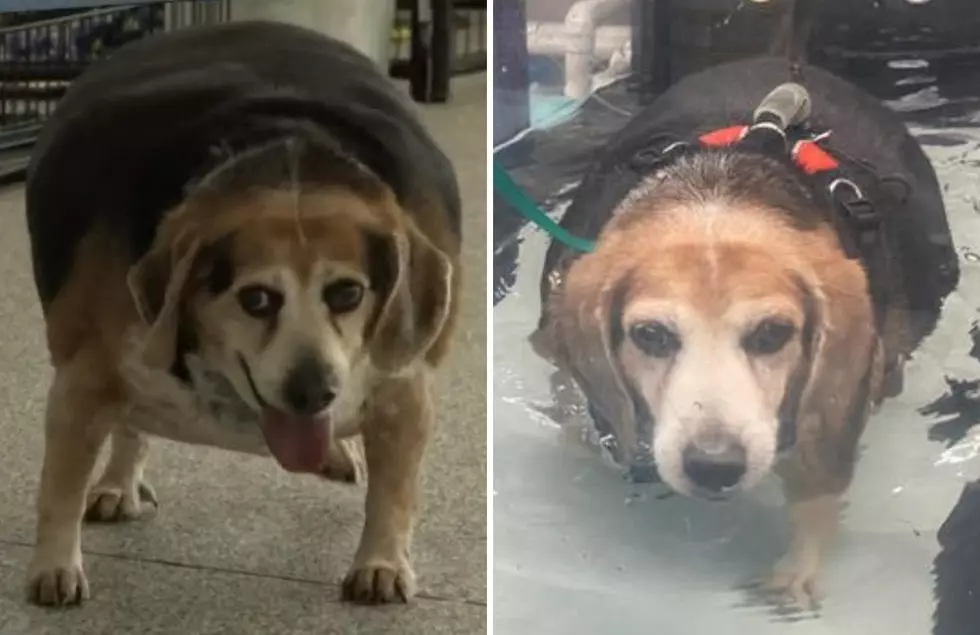 What A Good Boy: 96lb Beagle Rolo Has Lost 20lbs Since Being Adopted
Credit: WZZM 13
Back in July WZZM 13 reported on a 96lb beagle that was surrendered to Pound Buddies in Muskegon after its owner had a medical emergency.
Before they could find Rolo a new forever home they had to start the difficult task of helping him lose weight and get healthy.
96lbs Beagle Rolo Turned Into Pound Buddies In Muskegon
When Rolo was turned into Pound Buddies earlier this year in July he weighed in at 96.3lbs. If that number seems extremely high for a beagle it is. An adult beagle typically weighs 30 pounds, Rolo was three times that amount.
Rolo came to Pound Buddies after his owner had a medical emergency. Lana Carson the director of Pound Buddies told WZZM 13
"Rolo had been left out on a porch, there were feces just all over, and food and garbage, It kind of looked like a neglected situation for quite a while."

 
Rolo Gets A New Name And Workout Plan
After being adopted by a couple from Mecosta County he was renamed from Rolo to Winston. Besides only eating dog food and no human foods Winston started going to Four Paws Rehabilitation Center in mid-August.
Canine physical therapist Amy Barr-Tickle Told WZZM 13 about Winstons Therapy
"On his first day, he could only walk for two or three minutes going half a mile per hour. Now, he can walk on the treadmill for 12 minutes at the same speed. During most appointments, he does three sets of walking with a three-minute break in between. The benefit is we can put the water level up high, so it's close to shoulder level, and that takes the weight off of his legs and off of his joints, and as he gets better, then we can start to lower that water level so that he's using more muscles in his legs."

 
Watch: Rolo The 96lb Beagles 1st Day At Pound Buddies
What a good boy! Keep up the hard work Winston.
10 West Michigan Dogs You Should Be Following On Instagram
There are so many good boys and girls in West Michigan that will leave you wagging your tail