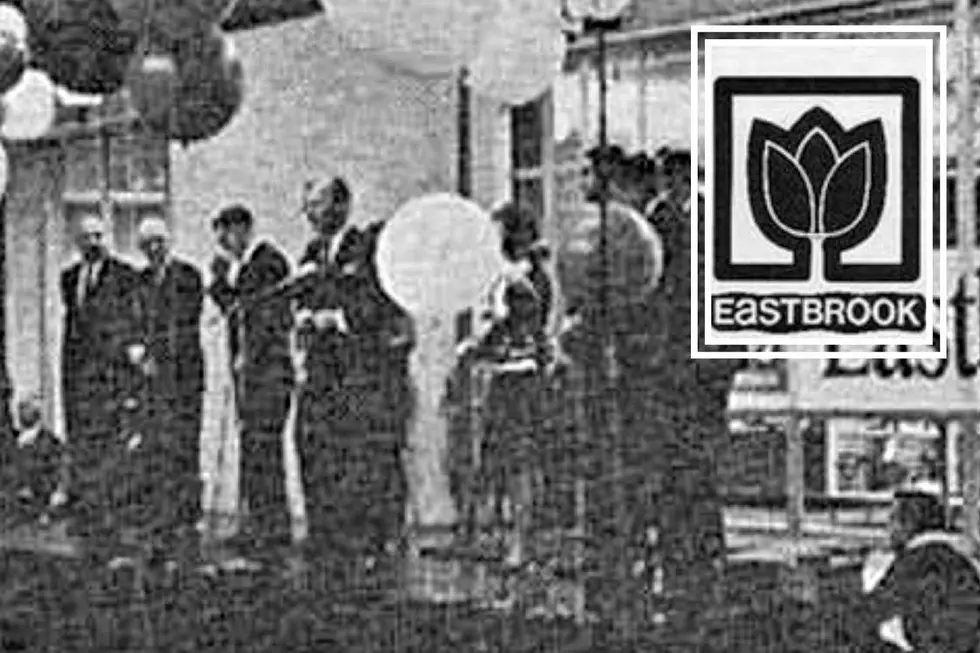 A Look Back at the Grand Opening of Eastbrook Mall
Photo: Kim Rush/Matt Weber via If You Grew Up in Grand Rapids/Kent County, then you remember... Facebook Group
If you lived in Grand Rapids back in the 60s and 70s, you remember Eastbrook Mall, located on the northeast corner of the intersection of the East Beltline and 28th Street.
It later was transformed into an open air strip mall in 2012 and 2013. Just recently there was news that the Shops at Centerpoint (it's new name after the transformation) was sold for $63.5 million. It was purchased by the Illinois based Pine Tree Commercial Realty LLC.
Since the major construction to make it an outdoor strip mall a decade ago, the shopping center now has 537,948 square feet of retail space with stores like DSW Designer Shoe Warehouse, Dunham's Sports, Five Below, JOANN Fabrics, HomeGoods, Nordstrom Rack, Planet Fitness, Sierra Trading Post, T.J. Maxx, and Ulta Beauty.
A Look Back at the Beginning of the Eastbrook Mall
Originally, the building was an indoor mall that opened on Wednesday, September 27th,1967. It was called Eastbrook Mall when it officially opened. At the time there were about 50 stores in the mall, with anchor stores on both ends. Woolco was a discount department store on the east end and local department stores Wurzburg's and Steketee's anchored the west and north ends. The mall cost $10 million to construct and featured 400,000 square feet.
When the store opened in the late 60s it was about 80% full. Along with the three anchor stores, other retailers included Eberhard's grocery store (in a nearby free-standing building), Lerner's, McCrory, Fox's Jewelry, Crown Card, Bulliss, Zondervan, Regal Shoes, and Schensul's Restaurant.
In a Grand Rapids Press story from September 26, 1967, they described the anchor stores and the mall this way...
All three have entrances off the air-conditioned mall of Eastbrook as well as entrances off the black-topped parking area which will accommodate 5,500 cars.
They also went on to say...
Customers will shop in 'Hawaii-type' weather, 72 degrees at all times.
Here is a flyer that was published about the opening. It was scanned by Kim Rush and posted on Facebook by Matt Weber in the If You Grew Up in Grand Rapids/Kent County, then you remember... Facebook group...
Then U.S. Representative Gerald R. Ford was at the opening of Eastbrook Mall. He was also at the opening of another Grand Rapids Mall that no longer exists -- North Kent Mall on the northeast side of town on Plainfield Avenue...
North Kent Mall opened in 1971, a few years after the opening of Eastbrook Mall. The biggest of the three shopping malls at the time, Woodland Mall, opened in 1968, just one year after Eastbrook Mall opened. The original indoor shopping mall in the Grand Rapids area was Rogers Plaza on 28th Street in Wyoming. It was built in 1960. Those malls would be the big four for the area until the opening of Grandville's Rivertown Crossings Mall in 1999.
Do you have any old photographs of Eastbrook Mall? We'd love to see them. You can email them to scott@wfgr.com.
ABC's of Grand Rapids
Here is an interesting, alphabetical look at the people and places that played a part in Grand Rapids history.