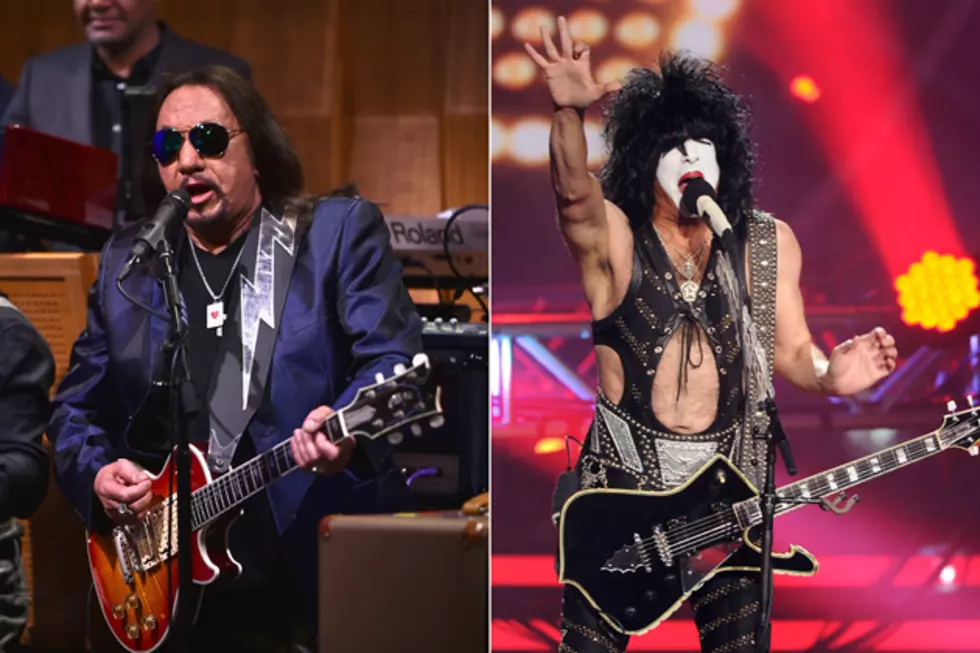 Ace Frehley Calls Paul Stanley A Sloppy Guitar Player
Theo Wargo / Kevin Winter, Getty Images
Another day, another entry in the never-ending war of words between former and current members of Kiss. In the latest round, Ace Frehley questioned Paul Stanley's competence on the guitar.
"I think that's hysterical," he told Metropolis Nights. "For Paul to try and say something negative against me as a guitar player? Come on! He should listen to himself playing live. He's one of the sloppiest guitar players out there. He's more worried about jumping around and pointing his finger. That's been the problem since the beginning of Kiss. We all used to yell at him for making so many mistakes. I would try and cover for him. So for him to take a shot at my guitar playing...Is he out of his mind?"
Frehley was responding to comments made six months ago in an interview with Guitar World where Stanley said that, between his substance abuse issues and an unwillingness to practice, Frehley "threw away incredible potential and talent." While Frehley doesn't deny his past, he feels his new album, 'Space Invader,' speaks for itself.
"Any of my critics now look foolish," he continued. "That includes Paul and Gene [Simmons] and whoever else is on the bandwagon. They like to call me a drunk and a drug addict and everything else under the sun. The fact is I'm now enjoying eight years of sobriety as of yesterday. I continue to follow that road and put one foot in front of the other. One day at a time I get through it. It's really disheartening for people to continue to badger me and call me a loser just because I made some mistakes in the past. We should put that to bed. That's ancient history at this juncture. My body of work has stood the test of time and I know what I'm capable of doing. One thing Paul and Gene can never say about me is that in concert I always came through and delivered."
Oddly, this news comes only a day after Frehley complimented Stanley's ability as a songwriter and said that he was far more subdued than his onstage persona would indicate.
Ace Frehley on 'The Joker,' 'The Tonight Show' and His Tour Plans