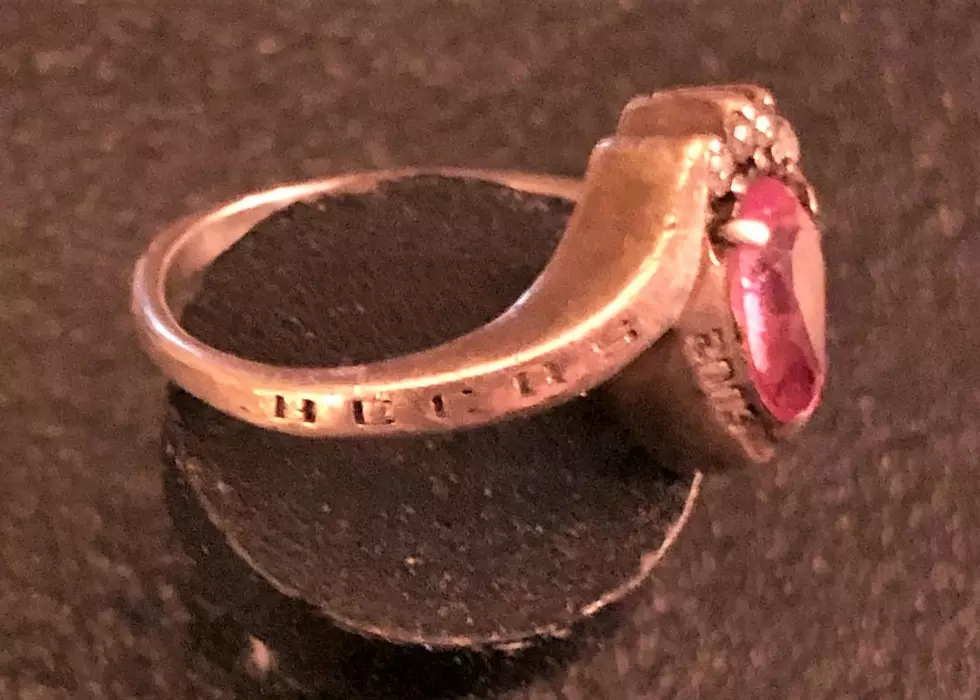 Lost Class Ring Makes Unexpected Journey Back To Its Battle Creek Owner
Mindy Jackson's BC Central class ring (Courtesy Linda Davenport)
It began when two teenage friends were walking down a road in Battle Creek kicking leaves around. Bradie Davenport and her friend were in a neighborhood on West Bidwell Road and heard a strange noise on the pavement. She looked down and saw something sparkling and picked it up.
It was a ring, and later at home she discovered it was a 2005 class ring from Battle Creek Central High School. It was in decent shape, but definitely needed to be cleaned and looked like it hadn't been handled in quite some time. The name on it was "Mindy".
That's when Bradie approached her mother, Linda Davenport, and they decided to take some photos of the ring and post them on Facebook to see if they could locate the owner. Over 300 shares and a few days later...
Meet Mindy Jackson. With the help of Linda and Bradie, not to mention the hundreds of people who shared the photos on Facebook, the ring is back with its owner and Mindy says it still fits. She says she lost the ring about a year ago, but doesn't remember exactly how or when it went missing. But she was surprised and very thankful to find out that her ring had been located.
It's important to me as it was a gift from my mom back in 2004. She had my birth stone put into it instead of the school colors. The only thing I could think of is I might have lost it while attending the balloon festival? I really don't know. I remember having it in my jewlery box over a year ago. And I'm so thankful they found it! The girl who found it said she was cleaning it off with a tooth pick to try and read my name. That was very thoughtful! - Mindy Jackson
It turns out Mindy used to live near the area where the ring was found, but had moved about six months ago. So it's a good thing Bradie and her friend were kicking up leaves that day in Mindy's old neighborhood.
It's also a good thing that we have tools like social media to help spread information quickly in ways we weren't able to do in the past. There are plenty of things about Facebook that are bothersome, but it sure has its upside too and can be very handy in helping people. Whether it's a missing item, pet, or even a person, you never know what might happen when you click "share". That simple action could make a big difference in the life of someone you don't even know.