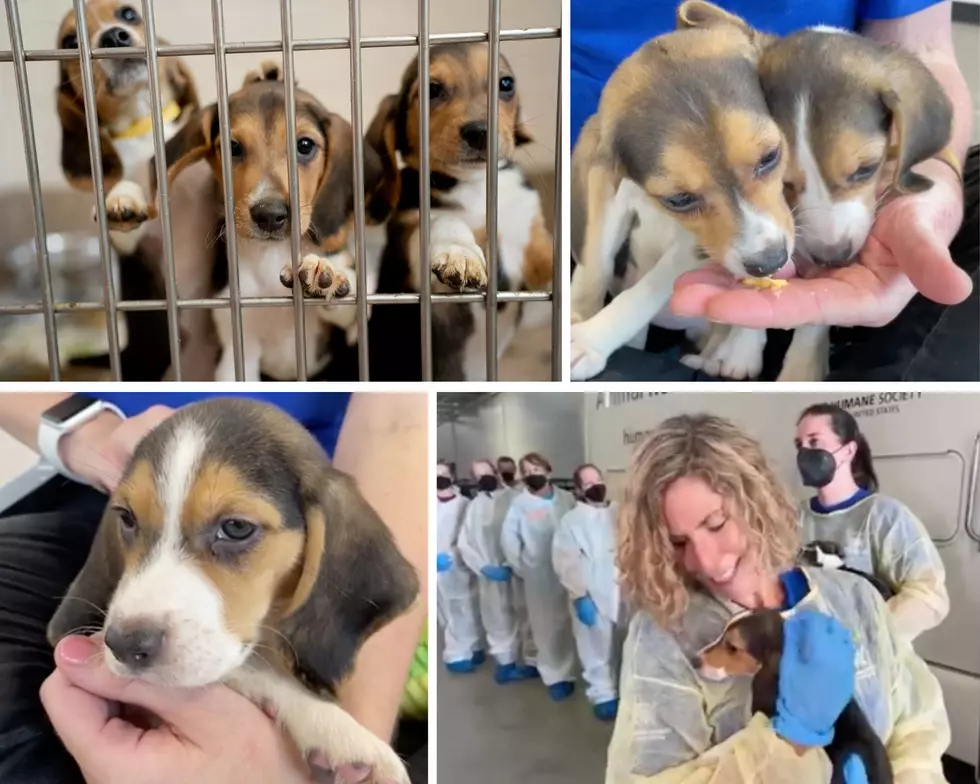 UPDATE: All 25 Beagles Rescued from Testing Facility Find Loving Homes in West MI
Humane Society of West Michigan, Humane Society of the United States
UPDATE: 9/7/22: All 25 beagles rescued from "deplorable conditions" at the Envigo testing facility in Virginia have been adopted in West Michigan.
The beagles arrived at Harbor Humane Society and The Humane Society of West Michigan in mid-August.
The Humane Society of West Michigan shared an update to Facebook, saying,
We are THRILLED to announce that as of today, all of our rescue beagles have officially been adopted!
We'd like to thank each and every member of this community that offered to support these pups however you could. We received over 200 adoption applications, nearly 100 applications to foster these pups, and raised over $10,000 to help support the medical and behavioral care these dogs required. As a 100% donor-funded organization, NONE of this would have been possible without you!
Way to step up to save these pups, West Michigan!
There are still many animals looking for loving homes. You can find out more on The Humane Society of West Michigan's website and Harbor Humane's website. 
UPDATE 8/11/22: The Humane Society of West Michigan shares that after "much planning, traveling, and problem-solving, 25 of the testing facility rescue beagles have arrived in Grand Rapids."
They say staff is hard at working at caring for the dogs, getting them medical treatment, and preparing them for adoption.
Anyone interested in adopting can fill out an application here. The Humane Society is also raising funds for the beagles' care - you can donate here.
Harbor Humane Society in West Olive has taken in ten of the dogs rescued from the Envigo testing facility in Virginia.
They say some of the pups will be available for adoption this week.
ORIGINAL STORY 7/29/22: Thousands of beagles are being rescued from deplorable living conditions at a Virginia research facility. More than two dozen of the dogs and puppies are being transported to West Michigan
Humane Society Rescues 4,000 Beagles From Cumberland Virginia Testing Facility
The Humane Society of the United States shared earlier this month that with the support of their shelter and rescue partners, they'd be removing approximately 4,000 beagles from a mass breeding facility in Cumberland, Virginia.
According to the Humane Society, the Envigo breeding and research facility has received multiple violations for issues such as inadequate veterinary care and insufficient food.
A few days ago, the Humane Society said the transportation process has begun.
In the latest update, shared July 27, they say,
A second set of beagles has been removed from the laboratory breeding facility in Virginia and transported by our shelter partners. This brings the total to more than 900 dogs removed from Envigo's facility.
The Humane Society of West Michigan is helping the effort and bringing 25 of the beagles to West Michigan to help to rehabilitate and rehome them.
They describe the conditions in which the dogs were kept:
The dogs in this facility were kept in filthy prison-like conditions and were hungry, sick, mistreated, and in some cases, dead. Those who were able bodied were headed for testing labs and they didn't know how to play. They didn't have names. But after this large rescue operation, ALL of these beagles are set to be released to loving owners for new lives of grassy yards, couches, and walks!
How Can You Help the Rescued Beagles From Virginia?
The Humane Society of West Michigan says that working to rescue, medically treat, and relocate these beagles has been an enormous undertaking that has required the help of veterinarians, volunteers, drivers - and now they need OUR hep!
They are holding a fundraiser to help support the effort. You can donate here.
Are the Beagles Rescued From Virginia Testing Facility Up For Adoption?
Late this week, the Humane Society of West Michigan shared they were working on transporting 25 beagles to our area.
They say,
We don't know what condition these poor pups will arrive in, but we want to make sure that we give them every possible chance at living happy, healthy lives!
Once they assess the animals, they will likely make further announcements when they are ready for adoption.
Follow the Humane Society of West Michigan on Facebook for updates on the rescued beagles!
Here is a July 21 video showing the first beagles arriving at the Humane Society of the United States' facility.
Check out these 50 fascinating facts about dogs: