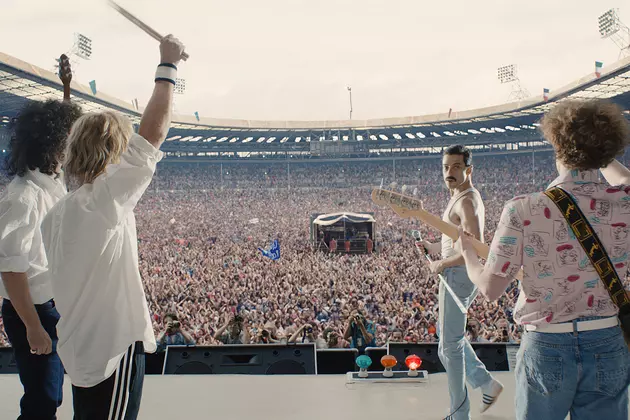 Queen 'Bohemian Rhapsody' Movie Will Premiere at Wembley Arena
Twentieth Century Fox
The upcoming Freddie Mercury biopic Bohemian Rhapsody will premiere at London's SSE Arena – which is adjacent to the original Wembley Staidium, where Queen performed a triumphant Live Aid show in 1985.
The opening night was announced in a statement from the band. "Twentieth Century Fox and Regency Enterprises are delighted to announce that the World Premiere for feature film Bohemian Rhapsody will be held at the SSE Arena, Wembley in London on Tuesday, 23rd October 2018," it read.
"Guests and fans will be welcomed to the iconic venue to celebrate the highly anticipated release of Bohemian Rhapsody, walking the red carpet alongside stars of the film Rami Malek, Lucy Boynton, Gwilym Lee, Ben Hardy, Joe Mazzello, Allen Leech, Aidan Gillen, Mike Myers and producers Graham King and Jim Beach. Joining the cast on the red carpet will be Queen legends Brian May and Roger Taylor. Twentieth Century Fox and Regency Enterprises are pleased to announce that the premiere will benefit the Mercury Phoenix Trust, the organisation founded in Freddie's name which supports HIV/AIDS initiatives globally."
In a recent interview with Jimmy Kimmel, Malek, who plays Mercury, revealed that the Live Aid scenes were the first to be filmed: "Our first shot was the four of us coming out onto Wembley Stadium stage as the members of Queen." He also noted that the stadium had had to be recreated digitally since its demolition in 2003.
Queen announced last week that the Bohemian Rhapsody soundtrack album will be released on Oct. 19 and feature some previously unreleased material. There's also a new trailer showing Mercury pushing the band to higher achievements while working on the hit song that gives the movie its name. You can watch it below.
Everything You Need to Know About the Queen Movie 'Bohemian Rhapsody'