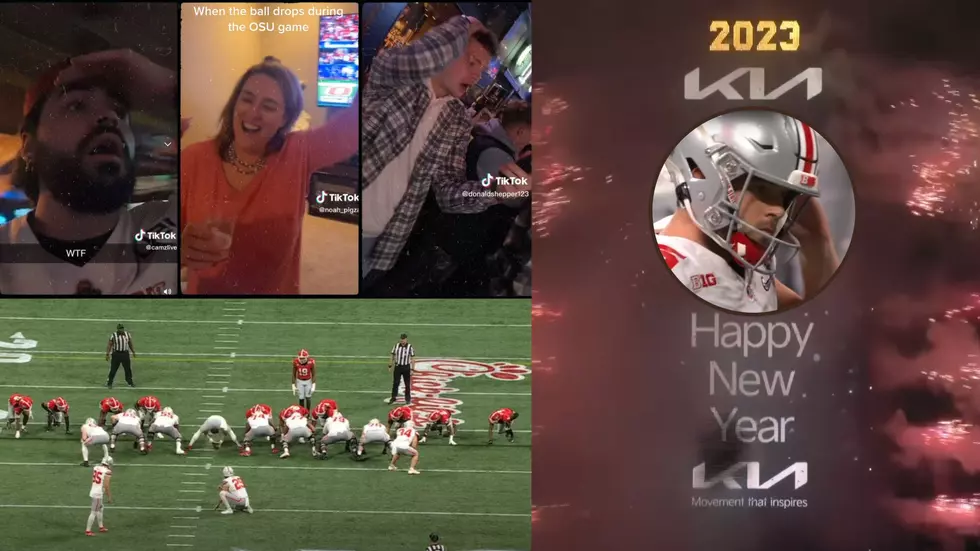 Happy New Year! Buckeyes Lose – OSU Missed FG Happens At EXACTLY Midnight on New Years Eve
TikTok/Youtube
"Three... Two... One... Happy New Year!"
That's what MOST of us heard on New Years Eve at Midnight. But for Buckeyes Fans, it was more like....
"Three... Two... One... NNNOOOOOOOO!!!!!!!!"
Yeah, the timing was impeccable, and people are complaining now, two days after the Peach Bowl, that the game carried over to Midnight, forcing them to miss the ball drop. But if you're a Buckeyes fan, you should have been more worried about the ball going hard left.
For those who had already flipped over to Dick Clark's Rockin' New Years Eve, and missed the end of the Peach Bowl, here's the kick....
Ohio State had led most of the game, but Georgia led a late-game comeback, and took the one-point lead with under a minute left in the game. Ohio State took the ball, and drove it halfway down the field, setting up the 50-yard kick, which... I mean, it's a HUGE ask for a college kicker, even for one who has been pretty good on the year.
The drama was already set. It would come down to that field goal kick... but the TIMING of the drama was even crazier, as it nearly exactly, poetically, coincided with the Ringing in of the New Year into 2023.
Need proof? Here it is synced up with the all of the ESPN broadcasts, and Dick Clark's Rockin' New Years Eve in Time Square.
I mean... NEARLY on the dot! It couldn't have synced up any more perfectly.
Now, understandably, a LOT of people across the Eastern Time Zone were gathered for two things that night - This game, AND New Years. So, videos have started to surface of people recording the moment 2023 began... AND catching Ohio State fans just being CRUSHED.
Understandably, there's some STRONG LANGUAGE AHEAD, because these fans were NOT happy.
Again.. I emphasize....
STRONG LANGUAGE AHEAD!!!
And just for a little diversity, as to what the OTHER side of the fanbases looked like at New Years....
At this point... you just have to laugh at it. But Congrats on a great 2022 season to Ohio State AND Michigan... But officially, Michigan can say they start 2023 with a better record than Ohio State... who kicks off 2023 0-1.
Happy New Year!
Michigan Defeats Ohio State In Columbus For First Time Since 2000