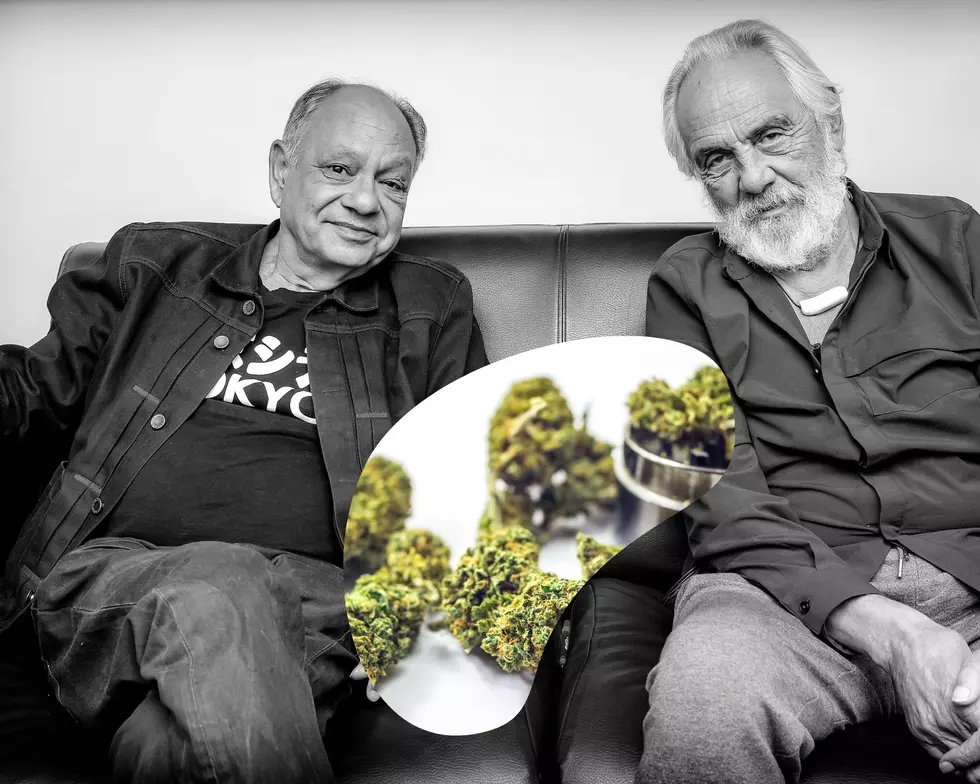 Cheech And Chong Bringing Their Cannabis Products To Michigan
Getty Images/Canva
Talk about staying true to their brand...who else would be better to buy weed from, than the guys who defined the word "stoner" in the '70s?
Cheech And Chong Created The Stoner Stereotype
The guys who single handedly created the stoner stereotype are now bringing their cannabis products to Michigan. The Cheech and Chong brand debuted in the Mitten State last Thursday at all Nature's Medicines locations.
Nature's Medicines has dispensaries in metro Detroit, Bay City, and Battle Creek.
The Cheech and Chong branded line of products includes flower, edibles and concentrates with names like D.A.V.E. (any fan will recognize THAT name) an acronym for Dave's Awesome Vape Extract.
The duo is best known for their marijuana-themed comedy albums, which sold in the millions back in the '70s. Later, those same characters came to life in several stoner themed movies by the duo in the '80s.
Chong Was Busted For Selling Bongs Online In 2003
The pair was synonymous with the counterculture for their entire careers, so it was no surprise that Tommy Chong eventually moved into the marijuana space as weed began its slow crawl to legalization.
But it wasn't fast enough. Chong was arrested, convicted and served nine months in federal prison for selling marijuana related pipes through his online company.
Talking about the current wave of state's legalizing cannabis, Chong told the Metro Times, "My feeling really was vindication, with Cheech being Mexican, and me being half-Chinese, we grew up experiencing racism, you know, in one form or another. .... Our existence was against the law. We were always the outlaws."
Chong Has Licked Cancer Twice, And Says Marijuana Helped
Chong was diagnosed with prostate cancer in 2012, and colorectal cancer in 2015. Chong is cancer-free today and says he owes it all to lifestyle changes, and his continued love of cannabis.
"That's right, I kicked cancer's ass!" Chong wrote on the website CelebStoner.com. "So the magic plant does cure cancer with the right diet and supplements. I'm due for another blood test, MRI, etc, but I feel the best I've felt in years. And now for a celebration joint of the finest Kush …"
Celebrities with Cannabis Lines in Michigan