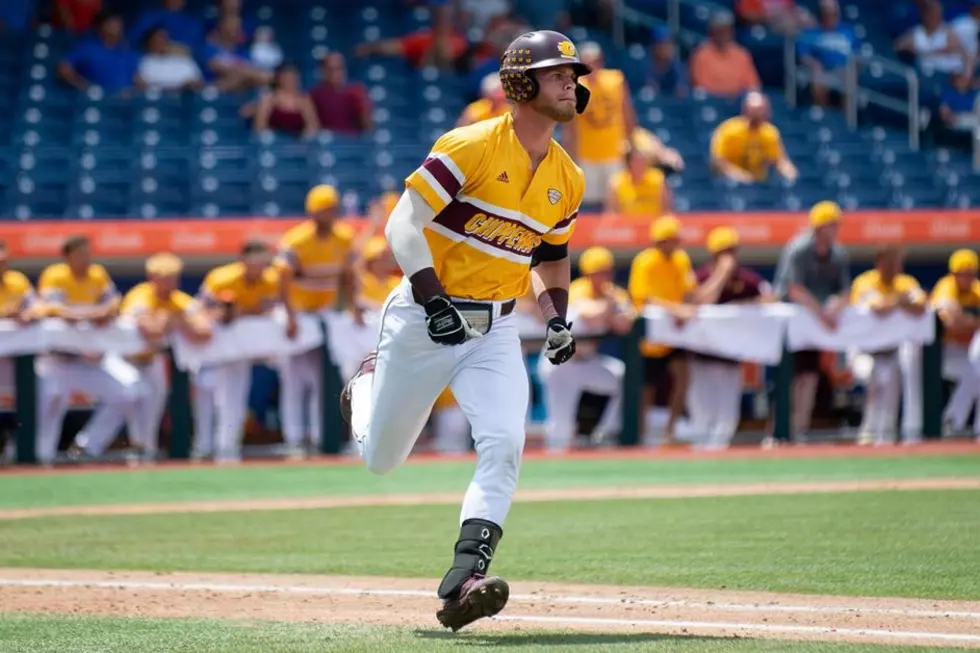 CMU Loses, But I Learned The Joy Of College Baseball
Courtesy CMU Baseball
Central Michigan's Chippewas were knocked out of the NCAA Baseball Tournament Sunday, but they taught me something.
Never Say Die Chippewas Rally, But Fall Short
After a thrilling 12 inning come from behind win Saturday against Liberty University, the Chips rally fell short against SEC power Florida on Sunday.
Central had fallen behind 5-0, as they have done time after time in the post season, only to rally and pull out a dramatic win. And Sunday was no exception. The Chippewas batted around in the bottom of the sixth to score four runs to tie the game, and it looked like they may pull off another miracle.
Alas, this time it wasn't to be, as the Gators scored in the top of the ninth, and even though the Chippewas loaded the bases in their half of the ninth, they couldn't push the tying run across.
No Lead Is Big Enough In The NCAA Tournament
As it turns out, the only way I could watch the CMU-Florida regional game was by accessing my Hulu app and watching a show called "Squeeze Play."
"Squeeze Play" is an online ESPN show that hops from game to game in short order, and this way I could watch several regional games at once, all of which seemed to have one team who rallied from way behind to tie a game late, which is exactly what happened in the CMU-Florida match up.
But it turns out NO lead is big enough in any NCAA Baseball game. While waiting for the "Squeeze Play" crew to send the feed back to Florida, I saw team after team rally from big deficits.
For example, Coastal Carolina rallied from six back to defeat Virginia, 7-6, and Oklahoma State rallied from a whopping 12-0 deficit to wallop Missouri State 29-15. Yeah, that's a real score, 29-15, and if that wasn't enough offense, in their next game, OSU scored 14 to defeat Arkansas, 14-10. That's 39 runs in two games!!
As It Turns Out, Bad Pitching Is The Key To Exciting Baseball
Most college teams (outside of the elite four or five top teams) have one, maybe two good pitchers. All their other pitchers can be wildly erratic, and that's why you never know what's gonna happen. (Although this also leads to lengthy games that run upwards of five hours, because there is a lot of walks issued.) Which made Sunday's games crazy close.
Here's some highlights from Sunday's game to give you a taste. I think I've just become a die hard college baseball fan.
NCAA Tourney Continues Monday With Michigan Hoping To Advance
The Wolverines will play at noon today against Louisville in Louisville in a winner take all game for the regional title. Louisville came out of the losers bracket to spank Michigan 20-1 last night to earn the one game playoff.
10 Notable Baseball Stadiums in Michigan
Here are 10 baseball stadiums in Michigan for you to check out if you love the game of baseball or just want to have a good time.
Top 10 Foods You Can Eat At A Baseball Game