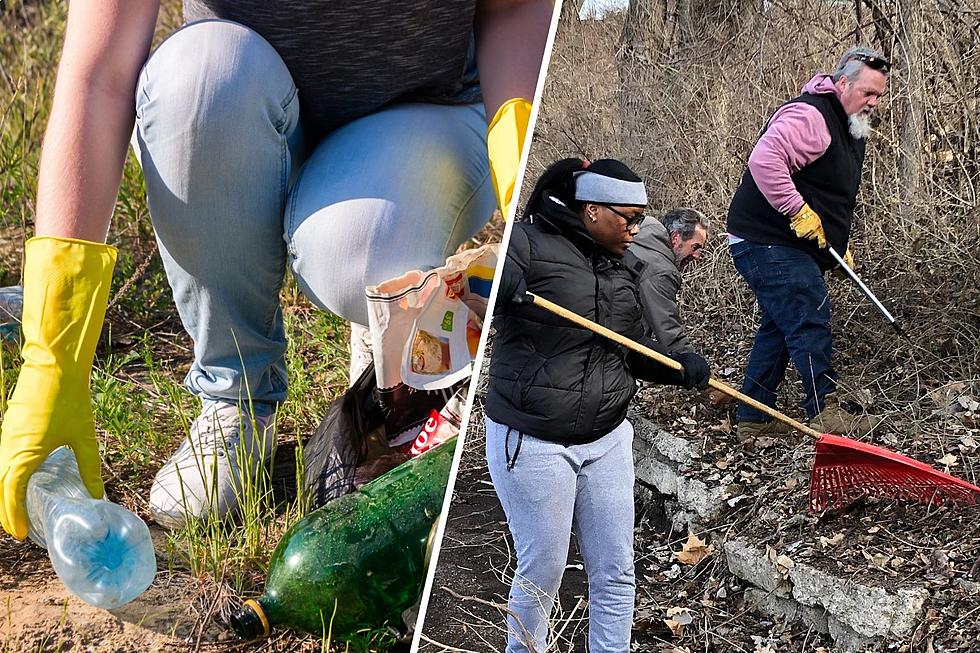 Community Clean Up Days Coming up in Grand Rapids Area This April
Gettystock/ City of Grand Rapids Parks Facebook
When we talk about spring cleaning, its usually vacuuming, dusting, and picking up around our own houses - but there are some community-wide events coming up to help clean up Grand Rapids' great outdoors.
In honor of Earth Day coming up April 22, these different events help to clean parks and waterways and take care of the earth in our Grand Rapids' neighborhoods.
West Side Clean Up Day
Organized by the West Grand Neighborhood Association, the West Side Community Clean Up Day is April 23 8:30a.m. to 3p.m.
The West Side Community Cleanup started as a grassroots effort in 2009 when a pair of westside residents got together with their neighbors to give the West Side some TLC. The event has gown throughout the years, with more than 200 volunteers participating in 2021.
This year they are spreading out the event out to make it more accessible to neighbors. Volunteers can choose to clean in one of multiple districts in the 1st ward. Afterwards, volunteers will be invited to attend a Block Party at John Ball Zoo with food, music, games and more. You can find more information and the schedule for the clean up here.
Downtown Grand Rapids Heartside Neighborhood Clean Up Day
Heartside Clean Sweep is Saturday, April 23rd, 9a.m. to 12p.m.
The event will begin at Heartside Park at 301 Ionia Ave SW, Grand Rapids, then disperse for projects throughout the neighborhood.  A Heartside Neighborhood Association meeting follows at 1p.m.
Sign up here for your group assignment and to get a T-shirt for participating.
Kentwood Community Clean Up Day
Kentwood Community Cleanup Day is May 7, 2022. This event sounds more like a "dumpster day" - which does help keep the community clean by offering a place where people can drop off their debris, rather than dump it someplace random.
The City of Kentwood says that between 8 a.m. and 2 p.m., residents may bring yard waste, trash and general debris for disposal and electronics for recycling at the Kentwood Department of Public Works, 5068 Breton Ave. SE. Items for donation and household hazardous materials are not accepted. Participants are asked to enter the drive off Breton Avenue and show proof of residency.
The City of Kentwood will be adding more information here as the date nears.
Southtown Neighborhood Clean Up
Organized by Friends of Grand Rapids Parks, the Southtown Neighborhood Clean Up is April 16 10a.m. to 1p.m.
Volunteers will be meeting at Gerald R. Ford Middle School to clean up trash and prune trees in the Mayor's Greening Initiative footprint, the Southtown neighborhood.
More on the Mayor's Greening Initiative
The
Mayor's Greening Initiative
is an annual tree planting event hosted by Mayor Bliss, Friends of Grand Rapids Parks and the City's Forestry Department.
The
event
this year is April 29 and 30.
Volunteers come together to plant 300+ trees in a different neighborhood each year in an effort to achieve 40 percent tree canopy cover.
10 Spring Cleaning Chores Only Midwesterners Have To Do
Midwest winters sure give us a lot of extra things to do when the weather warms up. Here are some things you won't want to forget in your spring cleaning endeavors.