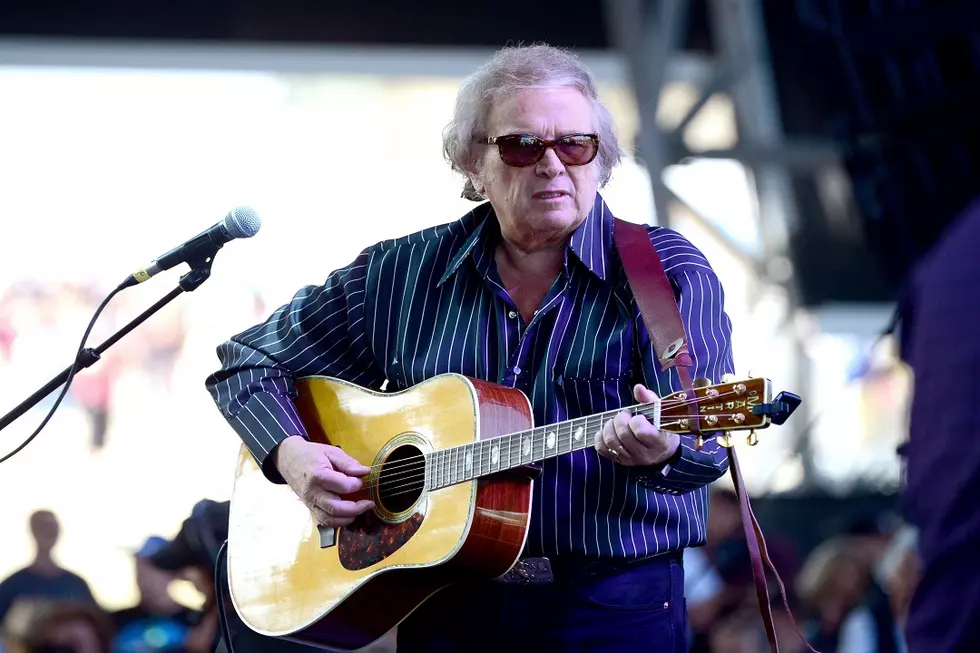 Don McLean Speaks Out Following Domestic Violence Arrest
Frazer Harrison, Getty Images
"This last year, and especially now, have been hard, emotional times for my wife, my children and me," the 70-year-old artist, best known for his 1971 hit "American Pie," says. "What is occurring is the very painful breakdown of an almost 30 year relationship … Our hearts are broken, and we must carry on.
"There are no winners or losers," McLean continues, "but I am not a villain ..."
At around 2AM Monday morning, police were called to McLean's Camden, Maine, home. He was charged with a domestic violence misdemeanor and spent a few hours in Knox County Jail before posting $10,000 bail and being released around 11:30AM. While it has not been confirmed that McLean's wife, Patrisha, was the victim in the incident, CNN reports that the singer-songwriter is not allowed to contact, directly or indirectly, the woman he allegedly assaulted, as a condition of his bail. An arraignment has been scheduled for Feb. 22.
"I may never recover from this, but I will try, and hope to continue to entertain you all as I always have ...," McLean's tweets continue. "I ask God to give us the strength to find new happiness ... and I hope people will realize that this will all be resolved, but I hope I will not be judged in this frantic media environment."
McLean moved to Maine in the 1980s, according to a profile in Memories of Maine magazine. In 1987, he married Patrisha, who is a photographer. The couple has two children and live on a 200-acre estate dubbed Lakeview. According to the Portland Press Herald, McLean's only prior encounter with Maine law enforcement came in 2013, when he was fined for speeding in a school zone.
After releasing his debut album, Tapestry, in 1970, McLean scored the biggest hit of his career with "American Pie" one year later. In 1980, he earned a Top 10 hit on the country charts with "Crying," originally recorded by Roy Orbison, from his Chain Lightning album. McLean also covered Hank Williams' "Your Cheatin' Heart" on Chain Lightning.
In 2015, McLean auctioned off handwritten "American Pie" lyrics, earning more than $1 million. The lyrics include a "lost" seventh verse, which McLean ended up crossing out.
"I have two children and a wife, and none of them seem to have the mercantile instinct," McLean explains of his decision to sell the lyrics. "I want to get the best deal that I can for them. It's time."
Country Stars Who Have Suffered Terrible Tragedies