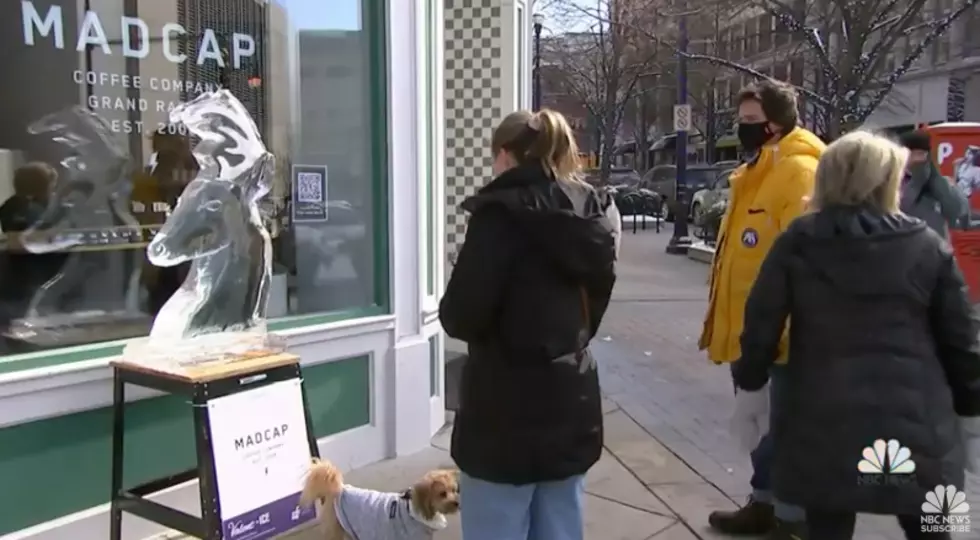 Downtown GR Ice Sculptures Featured on NBC Nightly News [VIDEO]
NBC News via YouTube
Downtown Grand Rapids was featured on NBC Nightly News' "Inspiring America" report Friday night.
The segment talks about how people are making the most out of the cold weather and comes at about 19:45 in the below video.
Reporter Kevin Tibbles starts out,
As the cold winds blow and the nation hunkers down, a few hearty souls embrace the vortex, turning the white stuff into a thing of beauty.
First we travel to Chicago, where a couple has created a giant dragon out of snow. Then we head to Grand Rapids where more than 80 ice sculptures are spread out across downtown in the World of Winter Festival, helping to support local businesses.
Love's Ice Cream owner Chris McKellar tells NBC,
This year has been a challenge for business like ours... it's almost like a symbol of hope for the year ahead.
The World of Winter Festival is free and runs through the end of February. This year, it's bigger than ever, offering more things to see and do outdoors, where we can all socially distance.
You can take in 15 unique interactive art installations, including a 20-minute light show projected onto the exterior façade of the Civic Auditorium at DeVos Place. There are also walking tours highlighting local Black History and the Heartside neighborhood.
Check It Out: A Look At Grand Rapids From Up High