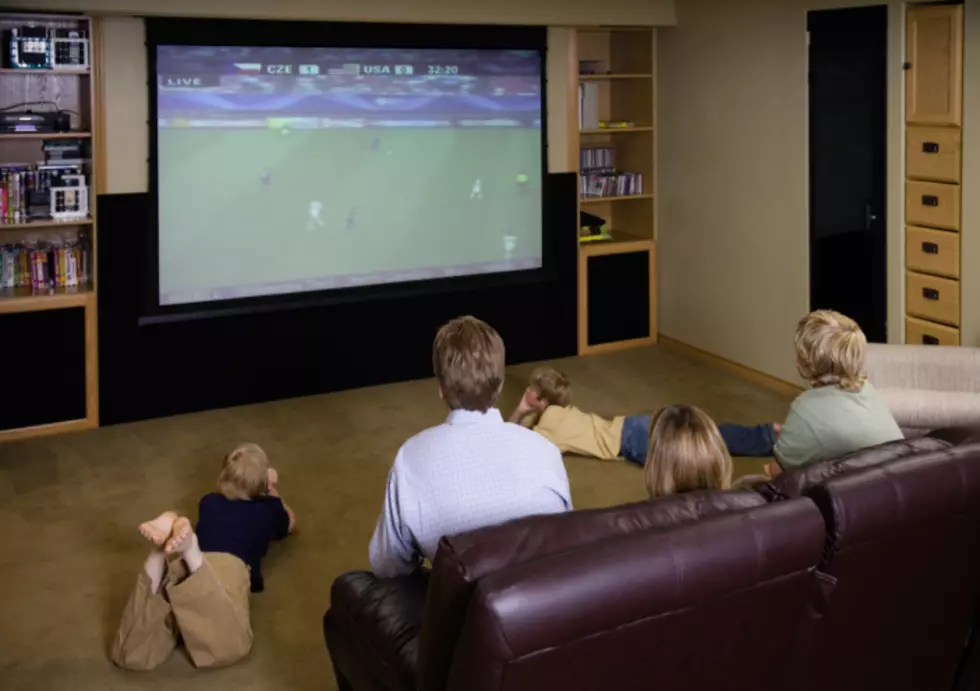 Fans Get Your TVs Ready for 1st Weekend of Big 10 Football
Fuse/Getty Stock / ThinkStock
We've waited long enough and this weekend we finally get to see some Big 10 college football. Sure It's been fun to watch college football - rooting for my girlfriend's team Oklahoma beat Texas in overtime a week ago. But that's not the Big Ten and the teams I grew up rooting for here in Michigan.
So are you ready for some football? How about your TV setup? My brother goes all in with a set up that's better than the bars on Bridge Street. Check out these set-ups and see how your Man Cave stacks up.
This is my brother's set up at his new house. 70 inch and two 40 inch TVs on the wall. Yes, I'm jealous.
The price of TV's now is a better deal than my first HD TV. A check of Best Buy and you can now buy an 85" LED 4K TV for under $1,800. I paid over two grand for my first one. So after last week's Prime Day and the deals at Walmart and Best Buy, why not go all out and set up your Man Cave.
I set up this 65" TV in my basement. Need to add more TVs to keep up with my bro. But this is a start. And it has a good Bose Surround System.
You used to have to pay for multiple feeds on Direct TV to power all your TVs. Now with antenna and Hulu you can fire up extra channels out of your HDMI output from your laptop.
This was my brother's first setup back in Columbus and he was paying for each feed from Direct TV. Five TV sources is good way to watch.
So plug in and get ready for some Big 10 Football. Remember the Big 10 will play eight games and an extra game on December 19 with two of the Big 10 playing for the championship.
Halloween we get the treat of the Michigan State Spartans at the Michigan Wolverines in the big house at 12 noon. Plenty of time to watch the game and be ready for the trick or treaters.
Some other key matchups - Ohio State will have to face the Michigan teams back to back. December 5th at Michigan State and December 12 the Wolverines will travel to Columbus with the Buckeyes in the Horseshoe. Schedules below.
MICHIGAN @ MINNESOTA
RUTGERS @ MICHIGAN STATE
NEBRASKA @ OHIO STATE
ILLINOIS @ WISCONSIN
SATURDAY 10/31 (HALLOWEEN)
MICHIGAN STATE @ MICHIGAN
OHIO STATE @ PENN STATE
WISCONSIN @ AT NEBRASKA
PURDUE @ ILLINOIS
MICHIGAN STATE @ IOWA
MICHIGAN @ INDIANA
RUTGERS @ OHIO STATE
PURDUE @ WISCONSIN
WISCONSIN @ MICHIGAN
INDIANA @ MICHIGAN STATE
OHIO STATE @ MARYLAND
MICHIGAN STATE @ MARYLAND
MICHIGAN @ RUTGERS
INDIANA @ OHIO STATE
WISCONSIN @ NORTHWESTERN
PENN STATE @ MICHIGAN
NORTHWESTERN @ MICHIGAN STATE
OHIO STATE @ ILLINOIS
MINNESOTA @ WISCONSIN
OHIO STATE @ MICHIGAN STATE
MARYLAND @ MICHIGAN
INDIANA @ WISCONSIN
MICHIGAN @ OHIO STATE
MICHIGAN STATE @ PENN STATE
WISCONSIN @ IOWA
BIG 10 CHAMPIONSHIP EAST VS. WEST - ALL TEAMS PLAY, TOP TWO FOR CHAMPIONSHIP.
MORE: Eight Spartan Athletes to Watch This Year