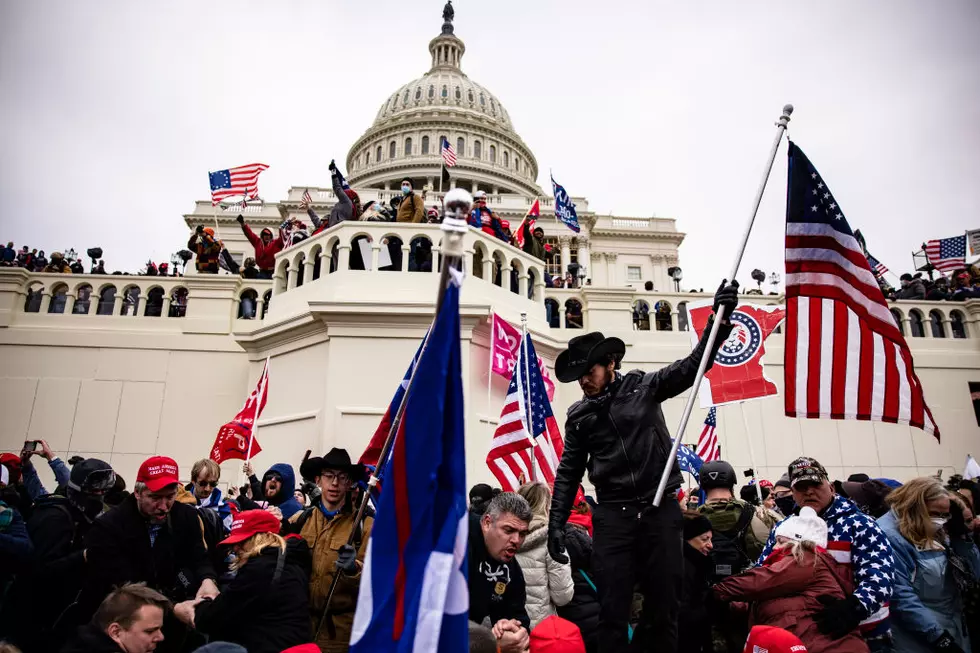 FBI Arrest MI Man for Attack at the Capitol… Thanks to His Dad's Facebook Post
Samuel Corum/Getty Images
A Michigan man has been arrested for their role at the storming of the Capitol on January 6.
FBI Detroit shared the news on Twitter that they arrested 29-year-old Michael Foy of Wixom on Thursday morning. They also listed what he's been charged which includes a violent attack against an officer.
NBC News reports that officials identified Foy thanks to none other than a Facebook post by dear ol' Dad.
The father posted one picture of Foy, carrying a "Trump 2020" flag - affixed to a hockey stick - in front of the Washington Monument on Jan. 6, according to the affidavit. In another image, the suspect was draped in an American flag.
Authorities put two and two together when they connected the pictures posted to social media by his dad with a video [via an article on the New York Times] showing a man attacking a D.C. police officer with a hockey stick while the officer was on the ground. The man, who was eventually identified as Foy, was wearing the same exact clothing in both the pictures and the video. The pictures plus how the FBI was able to connect the dots can be found in the affidavit here.
NBC News says that the 29-year-old suspect appeared in court about seven hours later after getting arrested. He will remain in jail until his next hearing on Monday.
Foy wasn't the only Michigan resident to be linked to the riots at the Capitol. A man named Karl Dresch was arrested on Wednesday and charged in the Western District of Michigan for entering the Capitol without lawful authority. Can you guess how FBI was able to identify him? If you're thinking Facebook... ding, ding, ding!! Except in this scenario, the guy ratted his own self out by posting about what he did on his personal Facebook page. Dresch is a resident of Calumet, a city in the U.P.
Here's a list of everyone who's been charged thus far for the role regarding violence at the Capitol.
Since the storming of the Capitol, Michigan unanimously voted to ban open carry of guns at the Capitol in Lansing.
Enter your number to get our free mobile app
PHOTOS: Scene at U.S. Capitol shows chaos and violence