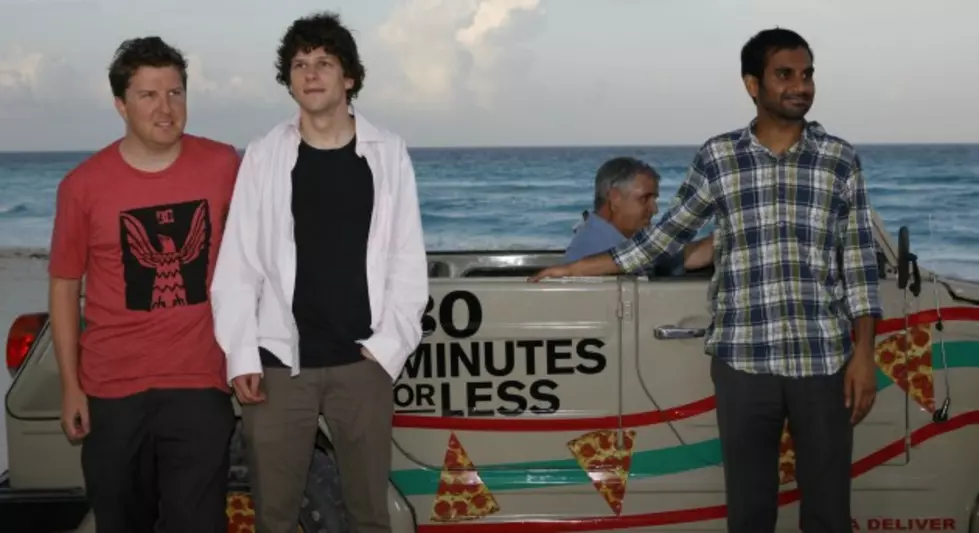 Starring Jesse Eisenberg and Jason Segel, 'The End of the Tour' Filming in Grand Rapids
Jesse Eisenberg is back in Grand Rapids to film "The End of the Tour," a biopic about a celebrated author's book tour with a magazine writer. He is shown, at center, with Nick Swardson and Aziz Ansari, members of the cast "30 Minutes or Less," which was filmed in Grand Rapids in summer 2010. (Photo: Matt Dames/Sony Pictures Entertainment via Getty Images)
An independently-made film about a celebrated author's book tour at his fame's rise with the magazine writer who accompanied him recounting that five-day trek is being shot for about a month in greater Grand Rapids.
Starring Jesse Eisenberg and Jason Segel, "The End of the Tour" is the story of the travels of novelist-writer David Foster Wallace (being portrayed by Segel) at the end of a 1996 book tour accompanied by Rolling Stone's David Lipsky (Eisenberg).
This is the second time that both Eisenberg and Segel are making movies in Michigan.
Filming for "The End of the Tour" started today, with shoots in Grand Rapids at an apartment building on Wealthy Street SE and at the downtown radio station studios and offices of Townsquare Media Grand Rapids.
Shooting in the Grand Rapids area is expected to take 23 days, with filming also to be done in Minnesota and New York, co-producer David Kanter said. The casting for the film includes about 25 speaking parts, with a core cast of about a half-dozen, he said.
Wallace, who committed suicide in September 2008 at the age of 46 years old, taught creative writing and English at Pomona College in Claremont, Calif., and Illinois State University in Normal, Ill. He was known for his versatility and depth. His works included the fictional 1,079-page "Infinite Jest," published in 1996 and casting United States society as obsessive on many fronts.
"The End of the Tour" is based on Lipsky's 2010 book about his tour with Wallace, titled "Although Of Course You End Up Becoming Yourself: A Road Trip With David Foster Wallace." The screen adaptation, written by Pulitzer Prize-winning playwright and Yale University professor Donald Margulies, is about the two writers' discussions and interactions during their tour promoting "Infinite Jest."
"Lipsky wrote an homage as much as a memoir," Kanter said of Lipsky's book. The tour "was a turning point for David Foster Wallace. ...
"As for Lipsky, 12 years of his life had passed when Wallace died. This is a story about some of the things learned from the road at a turning point in your life."
He is co-producing "The End of the Tour" with Anonymous Content's Matt DeRoss, along with Mark Manuel and Ted O'Neal and Modern Man Films' James Dahl. The film's executive producer is Anonymous Content's Paul Green.
"The End of the Tour" is being financed by Los Angeles-based Kilburn Media, with state tax credits for the production through the Michigan Film Office. No public announcement to date has been made to date on the amount of those credits by state officials.
"The End of the Tour" is being made with a budget much less than "30 Minutes or Less," said Kanter, politely declining to share detailed figures for the project.
Sony Pictures Worldwide Acquisitions just reached an agreement this month on distribution rights in international English-speaking territories, Latin America and other key European territories for "The End of the Tour," according to a news release from Sony Pictures and Prodigy Public Relations.