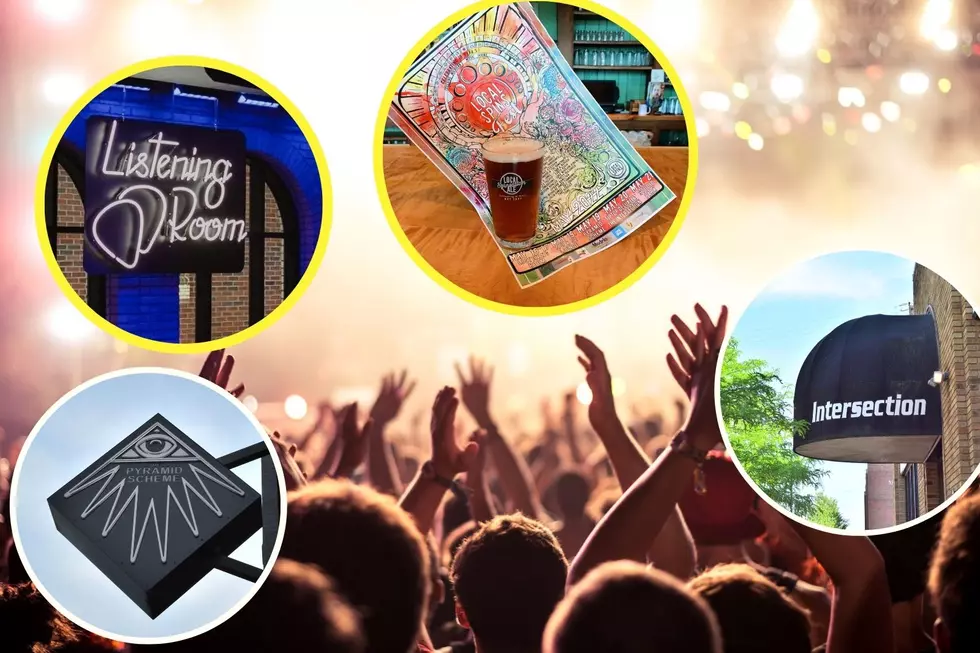 First Ever 'Local Spins' Music Festival Celebrating Michigan Bands Kicks Off Next Week
Listening Room, Rockford Brewing Co./ Facebook
The West Michigan-centric music website Local Spins is celebrating its 10th anniversary with a weeklong festival highlighting Mitten State Musicians.
First Ever 'Local Spins' Music Festival in Grand Rapids May 16-21
Local Spins Fest runs May 16-21 and features more than 20 Michigan-bred artists at six Grand Rapids venues. Participating venues include: Listening Room, SpeakEZ Lounge, The Pyramid Scheme, The Intersection, Studio Park Listening Lawn, and Tip Top Deluxe Bar & Grill. As Local Spins says, "all venues affected by the COVID pandemic and deserving a renewed surge of attention."
The genre-spanning performances include folk, rock, hip hop, bluegrass, blues, pop, R&B, surf rock, and more.
The weeklong festival will wrap up with and outdoor party at downtown Grand Rapids' Studio Park piazza, headlined by Traverse City's The Accidentals, plus five more acts.
Local Spins publisher John Sinkevics tells MLive
There are so many talented bands that have come out of this region, and we've been through so much over the last couple of years that I really felt it was important to celebrate in style. I think it's going to be a feel-good event for the whole community and really celebrate what West Michigan's music scene is all about... It's a very collaborative, uplifting scene here and (we're) really overdue to have an event like this after two years of a pandemic... Doing this in late May, too, I think it really serves as a kickoff to summer.
Local Spins Music Festival Schedule
Here is the full line up, courtesy of Local Spins:
MONDAY, MAY 16 – Listening Room: Luke Winslow-King & Roberto Luti with special guest Ralston Bowles, 7:30 p.m., $20, tickets on sale here.
TUESDAY, MAY 17 – Listening Room: A special Local Spins edition of "Songtellers, Stories & Songs" hosted by Nicholas James Thomasma with rock multi-instrumentalist Patty PerShayla, hip hop cellist Jordan Hamilton, punk rock guitarist Julio Gomez and singer-songwriter Eric Engblade, 7 p.m., $10, tickets on sale here.
WEDNESDAY, MAY 18 – SpeakEZ Lounge: Earth Radio and the return of The Concussions, 8 p.m., free. Donations accepted.
THURSDAY, MAY 19 – The Pyramid Scheme: Local Spins 10th Anniversary Hip Hop Showcase with Les Creatif, J. Rob & Bedrock and Wuzee & Samil, 8 p.m., $8 advance, available online here.
 FRIDAY, MAY 20 (Early Show) – Tip Top Deluxe Bar & Grill: Blues Night with Jake Kershaw and Hank Mowery & The Hawktones, 7 p.m., $10, tickets available online here.
FRIDAY, MAY 20 (Late Show) – The Intersection: Desmond Jones and The Legal Immigrants at Elevation, 9 p.m., $10, tickets on sale now at sectionlive.com.
SATURDAY, MAY 21 – Local Spins Fest at Studio Park
2 p.m. – Doors open
3 p.m. – DJ SuperDre
4 p.m. – Cabildo
5 p.m. – Hannah Rose Graves
6 p.m. – Full Cord
7 p.m. – Public Access (wsg Emilee Petersmark of The Crane Wives)
8:30 p.m. – The Accidentals
Guests can enjoy refreshments at the outdoor bar and snacks will be available too. Sponsor booths and merchandise are also a part of the event. Tickets are $20 and on sale now at listeningroomgr.com.
Rockford Brewing Co. to Release the 2022 edition of Local Spinsation Ale
There's also a new beer in honor of Local Spins 10th anniversary! For the first time in five years, Rockford Brewing Company is releasing a new edition Local Spinsation Ale . The special brew will be available at a variety of West Michigan venues.
16 Notable and/or Famous People From Grand Rapids, Michigan
Check out just 16 famous or notable people from Grand Rapids, Michigan.