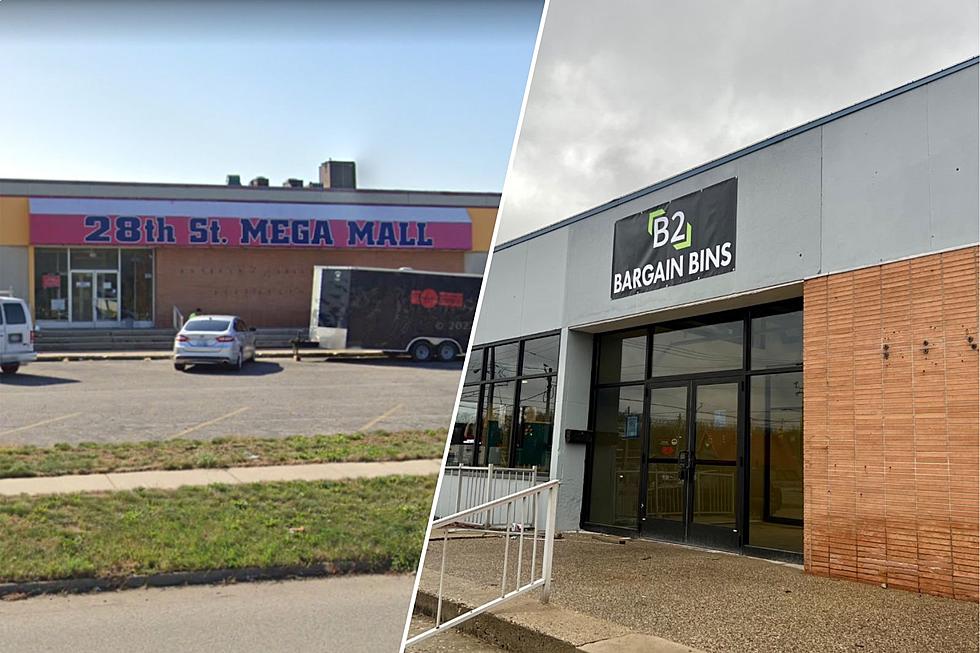 Grand Rapids' 28th Street Mega Mall Reopens as New 'Bargain Bin' Outlet Store Tuesday
Google, Janna/ TSM
Have you missed shopping at the 28th Street Mega Mall? Or just LOVE a bargain? A Grand Rapids' retail center that shuttered last year is set to reopen as a new outlet store next week.
New B2 Outlets Bin Store to Open on 28th Street in Grand Rapids
Last month we told you that the warehouse at 350 28th St. SE that once housed more than 30 vendors was being transforming into a new B2 Outlets bin store.
Wood TV 8 reports that the new retail space will open Tuesday, March 22 at 10 a.m.
According to Loopnet, the 76,370 SF building was first erected in 1957. From posts to the 28th St. Mega Mall Facebook page, it appears the location was in business for more than 15 years, with different vendors selling clothes, shoes, toys, bedding, and more. There were also Mexican restaurants on site. It closed at the end of January 2021.
The building has undergone more than $300,000 in renovations, which include moving the restrooms, installing new flooring, and repainting.
Who Owns B2 Outlets?
Father and son team Duane and Matt Smith founded B2 Outlet Stores in Hudsonville in 2013.
Since then, they've grown to more than 20 locations throughout West Michigan (Including another location on 28th Street. More on that below.)
The products they sell come from different big box stores that are liquidating excess, overstock, and seasonal merchandise.
How Will the New B2 Bin Store Operate?
The new 28th Street location is the second of its kind.
According to Wood TV 8, the Smiths launched the "bin" concept at their store in Hudsonville at 5790 Balsam Dr. They hope to expand the idea to more locations:
Prices start at $6 on Tuesday and fall each day until everything sells. Wednesday prices are $4, Thursday prices are $2, Friday prices $1 and anything that's left on Saturday is $0.25. The store is closed Sunday and Monday for restocking and pricing starts back at $6 when the store reopens on Tuesday.
Wood TV 8 reports that most of the items at B2 Bargain bins are new, however some may have packaging damage or minor imperfections. All sales are final.
The new store will be open:
Tuesday - Friday 10a.m. to 6p.m
Saturday - 10a.m. to 2p.m.
Another B2 Store Opening on 28th St. Soon
In addition to the new store opening at the former 28th St. Mega Mall, B2 has another location opening soon on 28th St. soon.
B2 is relocating from their Kentwood location at 4325 Breton Road. They've purchased multiple storefronts in the plaza near Buffalo Wild Wings at 2035 28th Street SE.
This new location will be about 2 times bigger than the previous location for a total of 5,500 square feet bigger! We will carry around 10,000 pieces of clothing compared to only 4,000 in the previous store.
The ribbon-cutting ceremony will be at 8:45am on Thursday, March 24th.
Hours of operation will be:
Monday - Thursday 9a.m. to 8p.m.

Friday - Saturday 9a.m. to 9a.m. to 9.p.m.
Sunday 12p.m. to 7p.m.
Grand Rapids Businesses People Love Going Back To
These are local businesses Grand Rapids Reddit users love going back to time and time again because of the amazing food, drinks, atmosphere, and customer service.