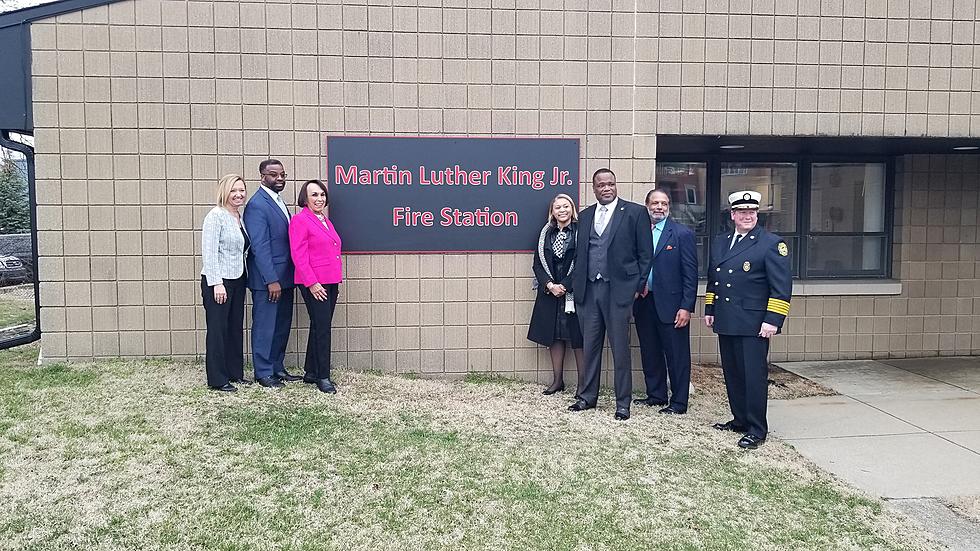 Grand Rapids' Fire Station Renamed to Honor Martin Luther King Jr.
GRFD/ Facebook
Grand Rapids now has the only fire station in the country that carries Dr. Martin Luther King Jr.'s name.
On March 30, the Grand Rapids Fire Department (GRFD) celebrated the Franklin Street Station officially becoming the Martin Luther King Jr. Fire Station.
The re-dedication of the station follows the renaming of Franklin Street to Dr. Martin Luther King Jr. Street earlier this year.
City leaders, including Mayor Rosalynn Bliss, GRFD personnel, Grand Rapids residents, and representatives from the National Forum for Black Public Administrators (NFBPA) attended the re-dedication ceremony Wednesday.  NFBPA is holding its annual meeting in Grand Rapids March 30 to April 3.
City Manager Mark Washington said in a release,
Names are important. Today's action by the fire department further recognizes the legacy of Dr. King and how this city actively chooses to honor him. The recent renaming of Franklin Street as Martin Luther King Jr. Street, which coincided with the renaming of Grandville Avenue as Cesar E. Chavez Avenue, continues to reverberate through our community. The renaming of this fire station is an important example of the renaming's impact on public service. I appreciate the work of the City Commission and Moving Ahead for Remarkable Civil Rights Heroes (MARCH) Committee in making this moment possible.
The Martin Luther King Jr. Fire Station is one of Grand Rapids' superstations and it employs the most firefighters of any in the City.
The station covers a 2.6-square mile response district, with 62.25 road miles on either side of US 131. It  houses one fire engine, one 100-foot ladder unit, GRFD's Hazardous Materials Team which responds to incidents city-wide, and Utility 2, a repurposed and retrofitted service vehicle designed to control traffic and provide a safety buffer in high-speed environments.
GRFD says the renaming does not impact operations and the station will maintain its current response district.
LOOK: 50 essential civil rights speeches
Many of the speakers had a lifetime commitment to human rights, but one tried to silence an activist lobbying for voting rights, before later signing off on major civil rights legislation. Several fought for freedom for more than one oppressed group.
Keep reading to discover 50 essential civil rights speeches.