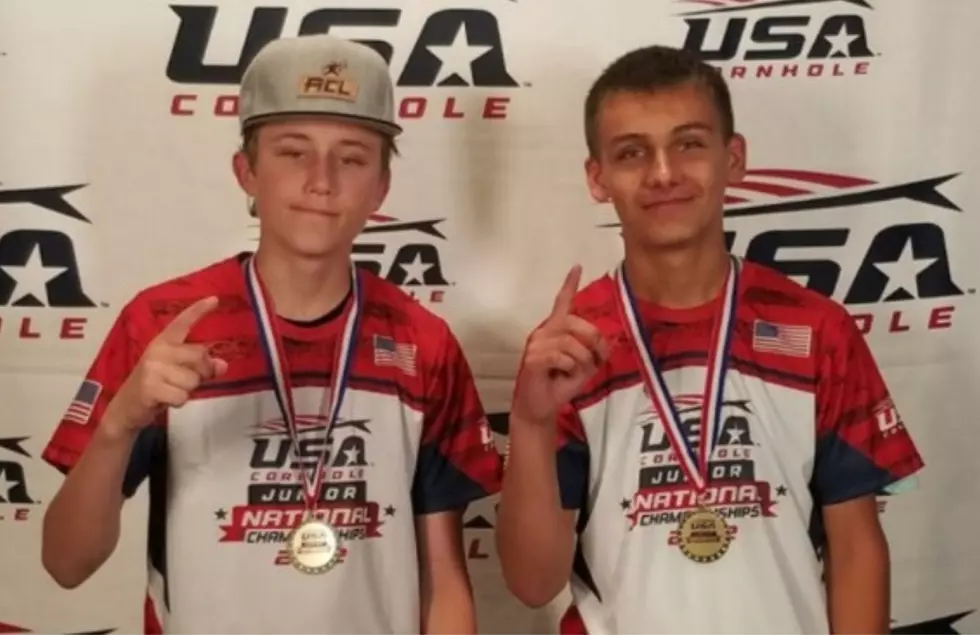 We Are The Champions! Two West Michigan Teens Win National Cornhole Title
Credit: USA Cornhole
Two Grand Rapids teens are national cornhole champions after winning the 2022 USA National Junior Cornhole Champions.
How Did The Qualify For The Tournament?
17-year-old Evan Vanos and 13-year-old Jayden Ellis qualified through the 2022 American Cornhole League Final Chase tournament held in Bedford, Park Illinois last month. According to Wood TV After qualifying, they went through a bracket of 50 teams to get to the national championship in South Carolina.
How Long Have They Been Playing Cornhole?
To be champions I would assume they've been playing since they could stand up and walk but according to Wood TV The two have only been playing the sport for over a year.
How Often Do They Practice Cornhole?
Evan said he usually practices three days a week while Jayden usually plays every day for a couple of hours.
How much does a professional cornhole player make?
The ACL paid out $250,000 to pros like Henderson last season, and the total payout this season could reach $1 million. 
Top players make up to $60,000
, including payouts from local events.
How To Play Cornhole
The American Cornhole Association offers up the following basics of playing Cornhole.
Players: Cornhole can be played with two or four players.
PLAYER 1 VS. PLAYER 2 or TEAM 1 VS. TEAM 2.
Who Goes First: Determine which player or team throws first by flipping a coin.
Toss The Bag: Throw your bag (underhand) at the opposite board. Alternate throws with the player next to you.
Scoring Points: 1 POINT for each bag that lands on top of the board.
3 POINTS for each bag that is tossed through or knocked into the hole.
Add Up The Score: Tally points after all (8) bags have been thrown per inning by using the cancellation method. TOTAL = YOUR POINTS - OPPONENT'S POINTS
Win The Game: The game is over when a Player or Team reaches (or exceeds) 21 POINTS.
Get the full list of Cornhole rules by clicking here
This House Comes With An Iconic Golf Hole Straight Out The PGA
This house for sale in Illinois is impressive all by itself but the thing that's got people talking is the incredible replica of hole #17 of TPC Sawgrass. Let's take a look at this one-of-a-kind home.
Which Foods Add Or Subtract Time From Your Life?