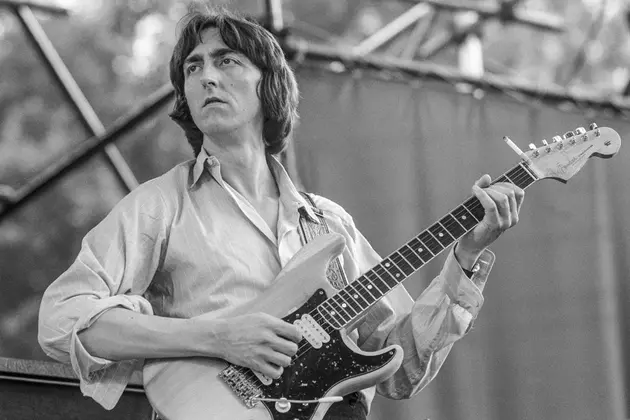 Guitar Pioneer Allan Holdsworth Dies
Michael Putland, Getty Images
Progressive rock and jazz fusion guitar pioneer Allan Holdsworth, who Eddie Van Halen called "the best, in my book," has died of unknown causes at the age of 70.
Holdsworth's daughter Louise confirmed the news on Facebook, saying "it is with heavy hearts that we notify everyone of the passing of our beloved father. We would appreciate privacy and time while we grieve the loss of our dad, grandad, friend and musical genius. We will update close friends and family when service arrangements have been made and will notify the public of an open memorial service, which all would be welcome. We are undeniably still in shock with his unexpected death and cannot begin to put into words the overwhelming sadness we are experiencing. He is missed tremendously."
Holdsworth first appeared on a record in 1969 with the group 'Igginbottom. After '70s stints in groundbreaking progressive rock and jazz fusion acts such as Soft Machine, the New Tony Williams Lifetime, Pierre Moerlen's Gong, Bruford and U.K., he released his first official solo album, I.O.U., in 1982. Later in the decade he became an early proponent of a synthesized guitar known as the SynthAxe, and his experimentation with the instrument would define much of his work over the next decade and a half.
"Holdsworth is so damned good that I can't cop anything. I can't understand what he's doing," Van Halen raved in 2008. "I've got to do this [does two-hand tapping], whereas he'll do it with one hand."
Holdsworth's 11th and most recent studio album was 2001's Flat Tire: Music for a Non-Existent Movie. In 2009 he released the live album Blues for Tony - a tribute to drummer and former bandmate Tony Williams - alongside Alan Pasqua, Chad Wackerman and Jimmy Haslip.

Upon hearing of his death, Holdsworth's guitar playing peers were quick to sing his praises on social media, with Toto's Steve Lukather saying he "changed the game" and Peter Frampton describing him as "brilliant, unique." You can see many more testimonials below.
Rocker Deaths: Artists We Lost in 2017