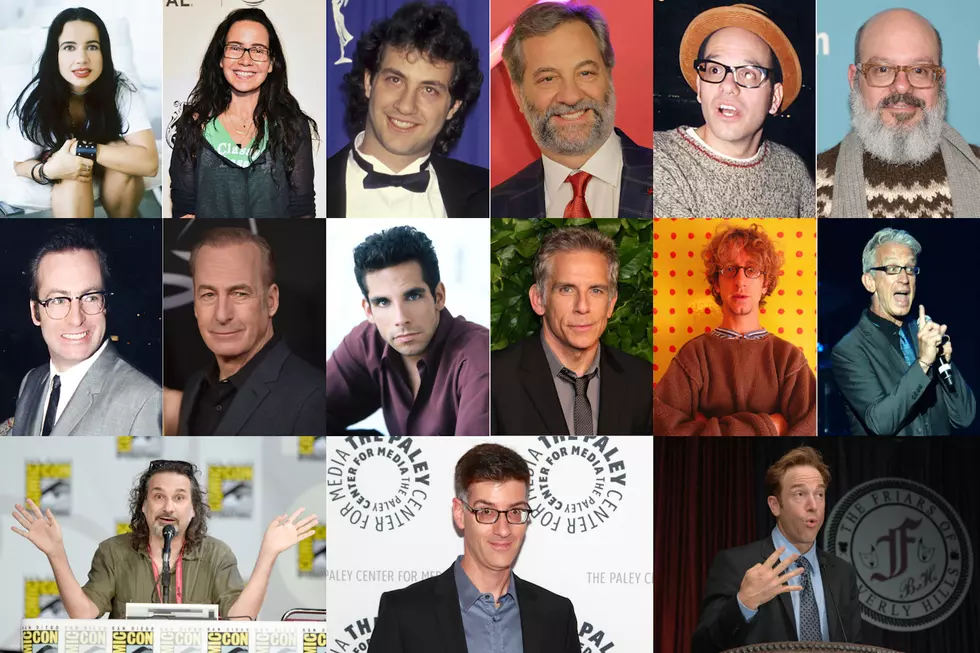 'The Ben Stiller Show': Where Are They Now?
UCR
The Ben Stiller Show ran for only one, 13-episode season, but its legacy casts a long shadow.
Looking at the cast list and writers' room is to see the germination and cross-pollination of comic talents that would go on to redefine sketch comedy and cross over into motion picture and television successes even fans of the show couldn't have seen coming.
Airing on MTV in 1990-91 and then brought over and revamped by Fox in 1992-93, the sketch series surrounded rising comedy star Stiller with Andy Dick, Janeane Garofalo, and Bob Odenkirk, while the writers' room boasted future mainstays from Judd Apatow to David Cross to Dino Stamatopoulos, with the show eventually winning the Emmy for Outstanding Individual Achievement in Writing in a Variety or Music Program. Sadly, by then The Ben Stiller Show, one of the lowest-rated series of the year, had been canceled by Fox, sending the cast and crew off to find success elsewhere. To an almost universal degree, that's what they all did.
Ben Stiller
The son of married comedy legends Anne Meara and Jerry Stiller, the young Stiller had already tasted sketch TV success when he was added as a writer and one of Saturday Night Live's featured players in 1989. Having previously gotten Lorne Michaels' attention with his short The Color of Money parody (the bowling world spoof "The Hustler of Money" aired as an SNL pre-tape in 1987), Stiller was ultimately frustrated at not being allowed to create similar comedy shorts for the show, leaving after only four episodes. That led the ambitious Stiller to MTV, where The Ben Stiller Show mixed Stiller's stable of celebrity impression-led sketch parodies (Tom Cruise, Bono and Bruce Springsteen among his regulars) with music videos, and then to Fox, which gave Stiller greater exposure and a talented roster of supporting talent. None of that helped The Ben Stiller Show's consistently abysmal ratings, and the series was canceled after only 12 episodes. An unaired 13th episode finally saw the light of day when the show was picked up in syndication by Comedy Central.
Undeterred by the cancellation, Stiller pursued writing, acting, and directing, with rapid success. His directorial debut, the Gen-X slacker dramedy Reality Bites was a financial hit and cultural touchstone, and while his second turn in the director's chair, The Cable Guy, underperformed as a Jim Carrey vehicle, the darkly comic film has undergone a critical reappraisal in the years since. Alternating between broad comedies and indie fare, Stiller has received critical praise for dramatic turns in films from Wes Anderson (The Royal Tenenbaums) and Noah Baumbach (Greenberg, While We're Young, The Meyerowitz Stories), and scored massive box office success in the Meet The Parents, Night at the Museum and animated Madagascar franchises. His third directorial outing, Zoolander, saw writer/director/star Stiller score another box office hit, while his fourth, the Hollywood satire Tropic Thunder, similarly succeeded, even netting a Best Supporting Actor Oscar nomination for Robert Downey Jr. Married to actress Christine Taylor since 2000, Stiller, having pulled back from full-time acting since 2017's Mike White-directed drama Brad's Status and the ill-advised 2016 Zoolander follow-up, has focused on producing and directing on acclaimed series such as Severance and Escape at Dannemora.
Andy Dick
Known now more as a cautionary tale than the talented and versatile presence he was on The Ben Stiller Show, Andy Dick is virtually a Hollywood pariah thanks to his long history of drug and alcohol-fueled misbehavior. On The Ben Stiller Show, Dick more than held his own as part of the series' stellar ensemble, a feat he replicated as the station's resident oddball on the excellent workplace sitcom NewsRadio from 1995-1999 and on Less Than Perfect from 2002-2006. Stiller gave Dick cameos in his films Zoolander (and its sequel) and Reality Bites, and the actor debuted his own, self-titled MTV sketch series, The Andy Dick Show in 2001. That show, lasting three seasons, saw Dick diving into the reality TV world for inspiration, which foreshadowed his participation in actual reality shows Dancing With the Stars and Celebrity Wife Swap. His semi-autobiographical directorial debut, Danny Roane: First Time Director, about a washed-up former TV star attempting a comeback, went direct to DVD.
Dick's fame now stems mostly from his long string of arrests, criminal complaints and substance-fueled incidents, both on and offscreen, with his most recent arrests, for felony burglary and sexual assault, coming in 2022. The comic was also physically removed from the set of Jimmy Kimmel Live! for groping future first daughter Ivanka Trump and ejected from the AVN pornographic film awards for doing the same to adult actress Tera Patrick. While continuing to find work here and there, Dick's last high-profile part was in one 2017 episode of the Wachowskis' sci-fi series Sense8.
Janeane Garofalo
Already an established stand-up by the time she was cast on The Ben Stiller Show, Jeneane Garofalo continued her association with Stiller, costarring in Stiller's directorial debut Reality Bites, and starring alongside him in the cult superhero comedy Mystery Men in 1999. Breaking out as an unconventional rom-com lead in films like The Truth About Cats and Dogs and The Matchmaker, Garofalo was a steady presence in Hollywood through the 1990s, including a compelling dramatic turn as a deputy in the Sylvester Stallone film Cop Land in 1997. Cast as the head of a dysfunctional summer camp in the teen movie parody Wet Hot American Summer in 2001 proved a major and fruitful endeavor, as the cult hit has gone on to spawn two acclaimed and belated sequel streaming series in 2015 and 2017.
Always outspoken, Garofalo notably quit Saturday Night Live midway through that sketch institution's 1994-95 season over what she considered demeaning and homophobic writing and the show's perceived boys' club sexism. Much happier was her time on Garry Shandling's exquisite talk show satire The Larry Sanders Show, where Garofalo scored two Emmy nominations for her role as a beleaguered talent booker for Shandling's egotistical late-night host. Garofalo voiced the female lead in Pixar's smash hit animated film Ratatouille in 2007, joined The West Wing for its final season, costarred with Forest Whitaker in the short-lived 2011 police spinoff Criminal Minds: Suspect Behavior and remains a staple of the New York comedy scene.
Bob Odenkirk
While The Ben Stiller Show was largely engineered to spotlight its star's broadly silly celebrity impressions, the series increasingly made room for inspired, inimitable premises like "Manson," a black-and-white parody of the old Lassie TV show, only substituting Bob Odenkirk's wild-eyed, rambling Charles Manson for the original's loyal collie. It was on this show that Odenkirk met writers David Cross and Dino Stamatopoulos who would join in creating HBO's Mr. Show With Bob and David, a sketch series where such brilliantly strange and inventive ideas were the standard throughout the show's four seasons. Odenkirk, like Jeneane Garofalo, had experienced a frustrating tenure as a writer for Saturday Night Live from 1987-91. After honing his on-air presence during The Ben Stiller Show, Odenkirk emerged as one of the most original and hilarious practitioners of sketch comedy ever, as he, Cross and a stacked staff of writers and costars shone for four stellar seasons.
If that were all that Odenkirk accomplished, the unassuming former Second City star and Late Night With Conan O'Brien writer would hold a secure place in American comedy. But, post Mr. Show, Odenkirk took to producing, discovering and promoting the work of influential alternative comics Tim Heidecker and Eric Wareheim in their series, Tom Goes to the Mayor and Tim and Eric Awesome Show, Great Job. He later did the same service for the sketch comedy troupe The Birthday Boys, executive producing the group's IFC series in 2013. Meanwhile, Odenkirk was a welcome and regular presence on TV, livening up sitcoms from Everybody Loves Raymond to How I Met Your Mother. Odenkirk also directed the underrated indie talk-fest Melvin Goes to Dinner before helming two underwhelming studio comedies in Let's Go to Prison and The Brothers Solomon.
But it was Breaking Bad creator Vince Gilligan's canny casting of Odenkirk as sleazy attorney Saul Goodman in that Emmy-winning drama's second season that revealed an entirely new side to Odenkirk. Parlaying his work on that acclaimed series onto the prequel spinoff series Better Call Saul saw Odenkirk emerging as one of television's finest dramatic leads as well, with that show's six seasons arguably surpassing its parent series in critical acclaim, largely due to Odenkirk's performance as the conflicted, corruptible Jimmy McGill. Nominated for a Best Actor Emmy every year of the series run, Odenkirk has continued to work in both comedy and drama. He wrote and starred in the Netflix crime dramedy Girlfriends Day, and he and Cross reunited the Mr. Show team for a sequel sketch series W/Bob & David for the streaming service in 2015. Odenkirk also stretched into the action genre, starring in the unlikely critical and commercial hit Nobody, as a seemingly ordinary suburban dad revealed as a former deadly assassin. Odenkirk suffered a heart attack soon after completing Nobody, collapsing during the filming of Better Call Saul's sixth season, but recovered to finish out the series. The title of his 2022 memoir Comedy Comedy Comedy Drama ably sums up Odenkirk's career path, with the actor currently preparing to play the lead in AMC's Lucky Hank, a series based on the novel Straight Man by Richard Russo, debuting in March 2023.
David Cross
Brought in toward the end of The Ben Stiller Show's run, David Cross' smartly outrageous sensibilities (see the Cross-written sketch "The Legend of T.J. O'Pootertoot's") quickly meshed with those of Bob Odenkirk and Dino Stamatopoulos. After this show's cancellation, the three Emmy-winning writers would go on to sketch greatness, with Cross and Odenkirk creating and starring in Mr. Show for HBO, with Stamatopoulos in the writers' room. Mr. Show's four seasons redefined the sketch form even if, like The Ben Stiller Show, viewers were hard to come by.
Post-Mr. Show, Cross launched a steady career as a character actor, his turn as the clueless Dr. Tobias Fünke, originally intended as a minor character on Arrested Development, becoming a fan favorite and regular. Cross created the darkly comic series The Increasingly Poor Decisions of Todd Margaret for Britain's Channel 4 and IFC, which ran for four critically acclaimed seasons, and the British series Bliss, starring Stephen Mangan, all while turning up in lucrative supporting roles in Hollywood (Cross has been hilariously frank about his reasons for appearing in the Alvin and the Chipmunks films). Cross directed the indie film Hits in 2014 before he, Odenkirk, and most of the Mr. Show crew returned for the Netflix follow-up sketch series W/Bob & David. The comedian has been a headlining stand-up throughout his career, with multiple specials and albums to his credit, and branched out to a leading man with a sensitive performance in 2020's The Dark Divide.
Judd Apatow
After serving as co-creator and writer for The Ben Stiller Show, Judd Apatow has gone on to become one of the most successful and influential comedy voices in Hollywood. His one-season TV series Freaks & Geeks and Undeclared are held up as neglected gems, while his string of big-screen hits includes such improv-heavy comedies as The 40 Year Old Virgin, Knocked Up, Funny People, This Is 40, Trainwreck and The King of Staten Island. The pandemic proved a stumbling block, as the filmmaker's 2022 shutdown-inspired Hollywood satire The Bubble flopped, but Apatow continues his hot hand as producer, with big screen hits from Bridesmaids to Forgetting Sarah Marshall, to the Oscar-winning The Big Sick, to last year's Bros. His golden touch has stretched to TV as well, with critical hits like Girls, Love and Crashing. Apatow has also paid tribute to his comedy heroes in the documentaries The Zen Diaries of Garry Shandling and George Carlin's American Dream.
Dino Stamatopoulos
After writing on The Ben Stiller Show, Dino Stamatopoulos has gone on to work on some of the most acclaimed and ambitious TV comedies of recent years. Best known as the recurring character Alex "Star Burns" Osbourne on the outstanding sitcom Community (where he was also a writer), Stamatopoulos has also written for Late Night With Conan O'Brien, the similarly short-lived and ahead-of-its-time sketch series The Dana Carvey Show, The Late Show With David Letterman and Mr. Show With Bob and David, where Stamatopoulos is credited with creating such classic sketches as "Pre-Taped Call-In Show" and "The Audition." Stamatopoulos also teamed with SNL's Robert Smigel for the lone season of Comedy Central's version of Smigel's TV Funhouse and created the darkly brilliant stop-motion Adult Swim series Morel Orel and Mary Shelley's Frankenhole.
Robert Cohen
Brought onto The Ben Stiller Show's writing staff with a single, albeit memorable Simpsons credit under his belt (Season 3's "Flaming Moe's"), Robert Cohen was part of the team that won the show its Emmy before going on to a prolific career in TV comedy. He's served as writer, director and/or producer for everything from The Big Bang Theory to MadTV, and has written episodes for Maron and Lady Dynamite, both semi-autobiographical sitcoms built around acclaimed stand-ups Marc Maron and Maria Bamford, respectively.
Cohen, a sought-after awards show writer and co-creator with Dana Gould of the current talk show parody Hanging With Dr. Z, found his Ben Stiller Show legacy rearing up unexpectedly in 2012 when, while filing paperwork for his marriage to Jimmy Kimmel Live producer Jill Leiderman, he was informed that he and Ben Stiller star Janeane Garofalo were married. The onetime couple had gone through a Las Vegas drive-thru chapel in a taxi, imagining their joke nuptials wouldn't be formal unless they filed the proper paperwork. The couple's 20-year goof marriage was dissolved soon after.
Brent Forrester
Never a household name, Brent Forrester has yet been front and center for some of the most influential TV comedies of all time, having written six classic episodes of The Simpsons (including "Homerpalooza," which drew from the straightlaced Forrester being called a "narc" while doing Lollapalooza research), The Office and King of the Hill. Forrester, alongside Ben Stiller Show vet Dino Stamatopoulos, also co-wrote the Mr. Show sketches "Pre-Taped Call-In Show" and "The Audition," widely acclaimed as two of the series' best, and is currently re-teamed with The Office's Steve Carell, writing several episodes of Space Force.