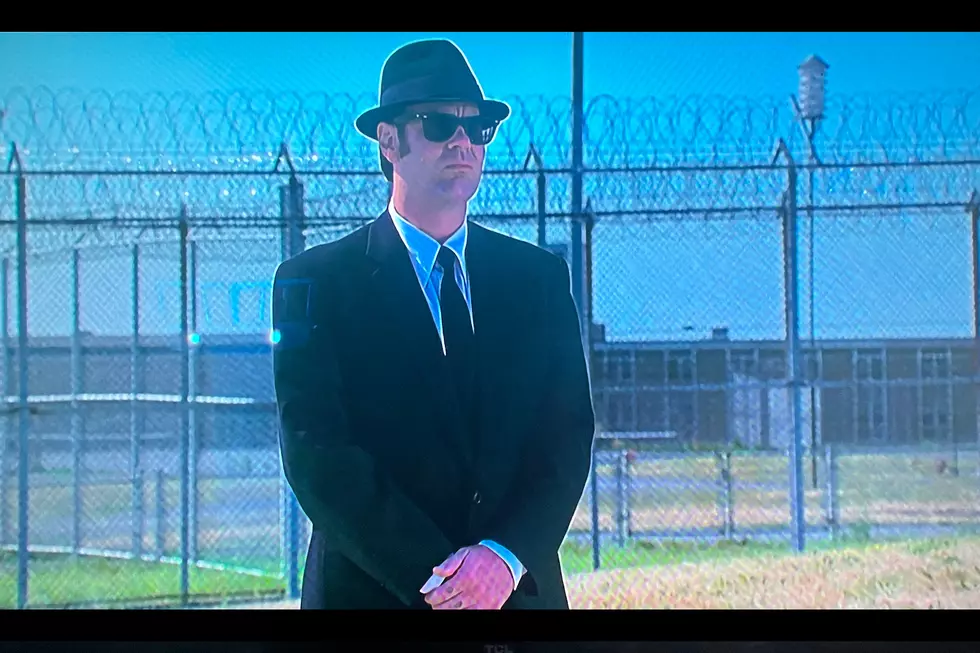 'Blues Brothers 2000′ Is Awesome … for About Five Minutes
YouTube
Thirty-six years after the death of his close friend and bandmate, Dan Aykroyd paid a touching tribute to John Belushi with the opening scene of the otherwise forgettable Blues Brothers 2000.
The 1998 sequel opens just as 1980's The Blues Brothers did, with one of the Blues Brothers being released from jail. This time around, it's Aykroyd's Elwood Blues, not Belushi's Jake, who has earned his freedom. While Elwood arrived early and was waiting to take his brother away immediately in the first movie, Jake was never shown to be as good with schedules. So Elwood waits silently and patiently all day and night by the side of the road as Son House's "John the Revelator" plays.
The following morning, when the prison warden realizes Elwood hasn't moved an inch, he walks outside to deliver the news that Jake has died. The camera keeps a respectful distance, but you can see Elwood silently recoil and bow his head as the warden offers the scene's only audible words: "I'm sorry." The spare, somber moment is the perfect onscreen acknowledgment of Belushi, who died in 1982.
Then an exotic dancer in a red sports car shows up, and the rest of the movie proceeds to offer less effective rehashes of the original film's most famous scenes, as Elwood and his new singing partner, Mack (played by John Goodman), once again recruit various members of the Blues Brothers band to hit the road for a series of preposterous adventures. In addition to running afoul of the cops and a group of racists (again), Elwood must learn to bond with a 10-year-old orphan foisted upon him by Mother (formerly Sister) Mary Stigmata, in a casting decision that feels more suited to a fading sitcom than a big-screen movie.
Granted, the first Blues Brothers was also built on ridiculousness, from Jake and Elwood casually ignoring multiple explosive attempts on their lives from Carrie Fisher's mystery woman to the Bluesmobile repeatedly defying the laws of physics as the siblings outsmarted police departments and a vengeful country band.
But nearly everything in Blues Brothers 2000 is too shiny, broad and senseless. The grit, wit and internal logic of the original movie (as outlandish as it was) are nowhere to be found. Most importantly, there are no real stakes, no "mission from God" this time around. Elwood doesn't get the band back together to save an orphanage or any other good cause in Blues Brothers 2000; he does this just because that's all he knows how to do.
Watch the First Two and a Half Minutes of 'Blues Brothers 2000'
Near the end of the movie, Ellwood attempts to justify the need for the band's road trip, and the movie, with a speech about the importance of preserving the blues in the face of modern music scourges such as sampling and digital recording. It's a get-off-my-lawn moment that doesn't fit with the Blues Brothers' inclusive blending of genres and is quickly wiped from memory by a climactic battle of the bands featuring Bo Diddley, Isaac Hayes, Dr. John, Travis Tritt, Steve Winwood and Eric Clapton.
It was Aykroyd who helped foster Belushi's love of the blues when the duo was among the breakout stars of Saturday Night Live's original cast. They began performing as a musical act together in between SNL tapings and were eventually allowed to serve as the show's pre-air warm-up act.
On Jan. 17, 1976, they performed on the show itself for the first time wearing bee costumes instead of their famous suit, sunglasses and hat ensemble. Two years later they assembled an all-star backing band and recorded the live Briefcase Full of Blues album, which shot to the top of Billboard's album chart not long after National Lampoon's Animal House made Belushi a big-screen star.
The next step was to bring the Blues Brothers to the big screen, and after a long and complicated production process, the John Landis-directed movie debuted in June 1980. It was one of the 10 highest-grossing movies of the year and has become one of the most beloved film musicals.
After Belushi died in 1982, Aykroyd kept working to support the music he loved, co-founding the House of Blues music-venue chain in 1992 and occasionally performing with the Blues Brothers, often with Goodman or John Belushi's brother Jim Belushi at his side.
Blues Brothers 2000 - which was dedicated to Belushi and late The Blues Brothers stars Cab Calloway and John Candy - received unfavorable reviews and wound up earning about a quarter of its predecessor's box-office take.
But that hasn't deterred Aykroyd from considering a third Blues Brothers movie. In 2015, he told CBS News, "I would have to get a call from someone at Universal, saying, 'You know what? We would fund a third story' - whether it's direct-to-video, cable or maybe Netflix. ... I have a story of course, but it involves handing it off to a younger generation."
'Saturday Night Live' Movies That Were Never Made