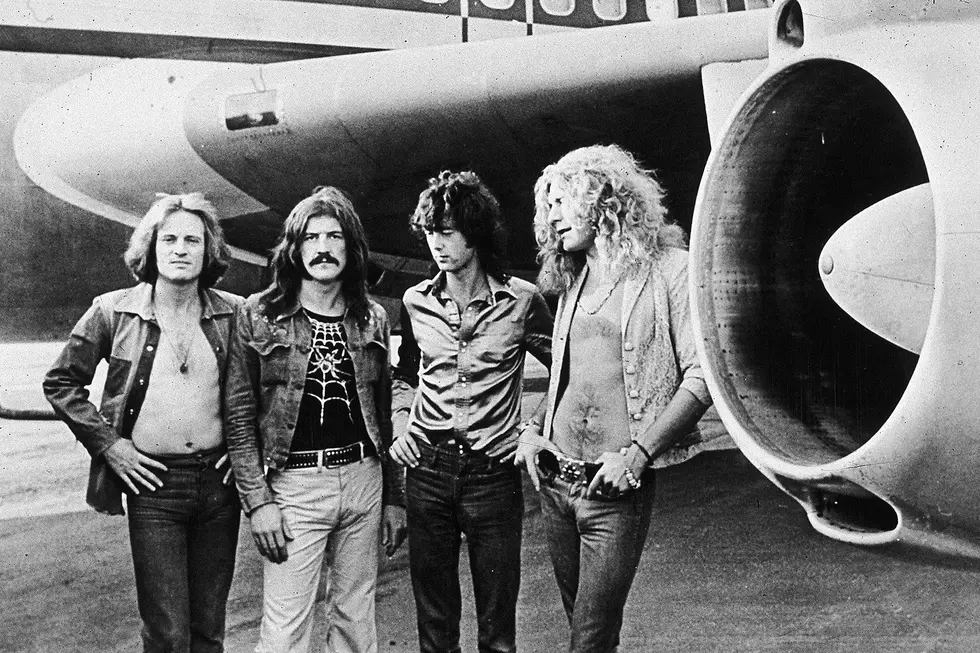 When John Bonham Lost His Hat in Led Zeppelin's Plane Toilet
Getty Images
Robert Plant recalled the moment when John Bonham lost his hat in the toilet of Led Zeppelin's private plane. Known as the Starship, the long-scrapped Boeing 720 has been the subject of speculation for decades, with rumors of excessive behavior always circulating. But in a new interview with Vulture, Plant decided to focus on a "nice and PG" story involving the band's drummer.
"It was a thrill because it meant we could leave shows, get to the next place, and get some rest and all the stuff that people do," the singer said of the jet. "When the plane landed for our first journey on one of the tours, you could barely see through the dry-paint work on the side of the plane that read, 'Led Zeppelin, Elvis Presley.' They hadn't quite finished the paint job."
He recounted the story of a flight from Dallas to New Orleans when "John Bonham was in that period of time where he wore a fedora and a black cane with a silver top. We got up to about 8,000 feet or whatever it was – pretty low. He finds it's time to quickly visit the bathroom. And as he opened the door, his hat blew off and was sucked down the toilet. There was this great sort of whoosh. The guys that were back down on the airstrip had forgotten to re-screw the chute where the toilets were emptied, so there was a tank underneath the bathroom and they forgot to put the cap back on."
As a result, it wasn't possible to pressurize the cabin. "So John had lost his hat, but then we all lost our minds because we realized that we couldn't go any higher because our ears were starting to go," Plant laughed. "We flew from Dallas to New Orleans at 8,000 feet."
"See, this is the trouble," he noted. "There are so many … things I know that are absolutely hysterical. I mean, never mind the mystery. We can do without the mystery and just talk about the crazy things that happened. All's well that ends well. It was just another night in paradise."
Led Zeppelin Albums Ranked
Counting down every canonical Led Zeppelin album, from worst (relatively speaking, of course) to best.