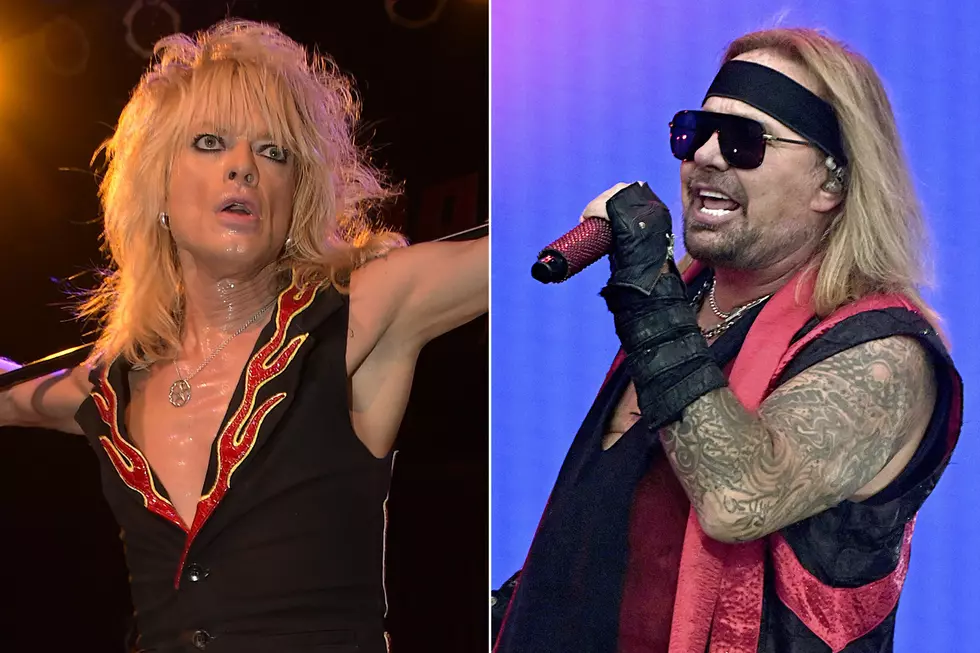 Michael Monroe Finally Meets Vince Neil Decades After Tragedy
Theo Wargo / Anthony Devlin, Getty Images
Hanoi Rocks vocalist Michael Monroe finally met Motley Crue counterpart Vince Neil, 39 years after the fatal car crash in which Rocks drummer Nicholas "Razzle" Dingley died.
On the night of December 8, 1984, the members of Crue and Rocks were partying together at Neil's, although Monroe was absent. Despite being drunk Neil drove with Razzle to buy more beer, but lost control of the vehicle, killing Razzle instantly and permanently injuring the occupants of another car.
The incident led to the collapse of Hanoi Rocks, although they reunited years later. But Monroe and Neil had never met until they were both backstage at the Rockfest event in Finland on June 9. Posting a picture of the pair together, Monroe wrote on social media: "One of the most important moments of my life was meeting Vince Neil for the first time last night. Razzle always wanted us to meet as he thought 'us singers' were a lot alike.'
He added: "Under different circumstances both bands probably would've ended up as good friends, but fate had other plans… Thank you for your time, Vince. We didn't say much but your eyes told me more than 1000 words ever could. And your singing was great at the show. Nice to finally see you guys live!"
Nikki Sixx also commented, saying: "What a wonderful surprise seeing Michael Monroe at the show tonight. Haven't seen this fine gentleman for years with everybody's personal life on top of careers and then living in different parts of the world. You're a class act, Michael – and please bring your harmonica next time."
Monroe responded: "It was truly wonderful to see you again, my friend. I had the greatest time and meeting you all meant the world to me. I will definitely bring my harmonica next time so we can do some rockin' together! Love, respect and rock 'n''roll!"
In another exchange alongside a picture posted by Monroe, Sixx said: "Great seeing you" and Monroe responded: "It was so lovely to see you. And Vince too for the first time. It was very touching. And Tommy, of course! You guys sounded great! See you again soon!"
Motley Crue continue their World Tour with Def Leppard, while Monroe tours Finland between June 23 and Sept. 29.
Motley Crue Lineup Changes: A Complete Guide
The complete story of Motley Crue's lineup changes.