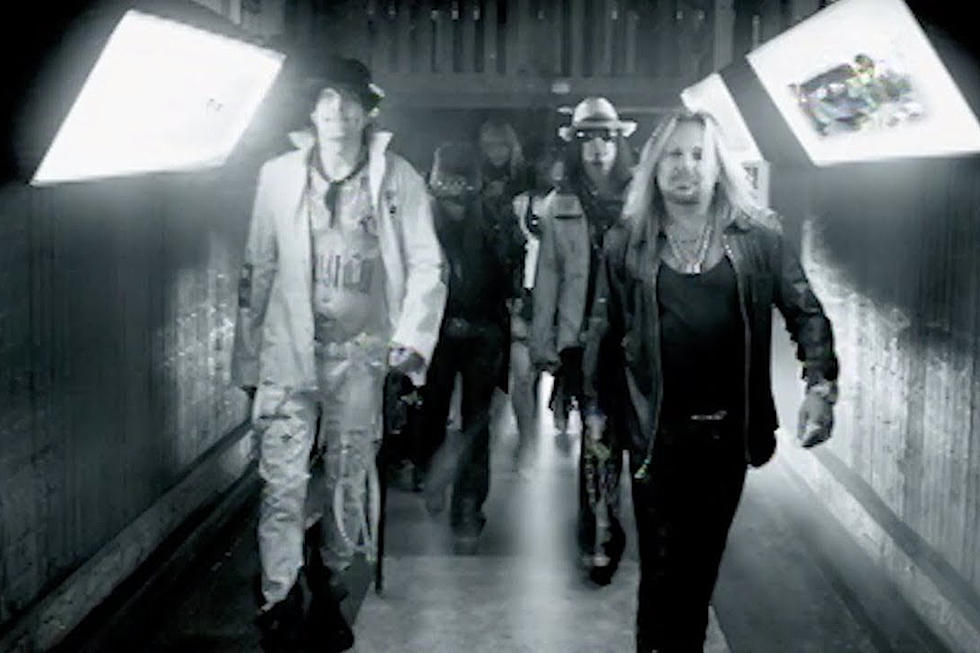 Does Motley Crue's 'Saints of Los Angeles' Hold Up? Roundtable
Motley Records
Motley Crue had a lot to prove when they roared back with Saints of Los Angeles, released on June 24, 2008. It was the glam-metal hedonists' first album since 2000's underperforming New Tattoo, and their first since reuniting with drummer Tommy Lee in 2004. It was also loosely tied to the band's 2001 memoir The Dirt, a salacious tell-all whose sheer ludicrousness would be tough to translate to music.
Against all odds, Saints of Los Angeles was a success, debuting at No. 4 on the Billboard 200 and spawning a set list staple with its swaggering title track. Has the album held up over time? How does it stack up against the rest of Motley Crue's discography? Our writers answer five crucial Crue questions below.
Where does Saints of Los Angeles rank among Motley Crue's post-Dr. Feelgood output?
Gary Graff: It's the best, right? Not that it's had a lot of competition. Some new songs on compilations or The Dirt Soundtrack? The Raw Tracks series?  They haven't done a fully realized album since this, and I don't think they've released a song that's better than the best on Saints. The album wasn't really cutting-edge or wholly original at the time, and the hedonistic chest-thumping was pretty well-worn even back then. But you truly won't find anything better during the past 15 years.
Matt Wardlaw: It's probably the album that feels the most "Motley Crue" out of the three albums they released with Vince Neil following Dr. Feelgood. But looking at it album by album, I'd rank Generation Swine at the top with Saints and New Tattoo rounding things out.
Bryan Rolli: It's their second-best behind the 1994 self-titled album with John Corabi — which is also better than a large chunk of their peak '80s output, but I'll die on that hill another day. Otherwise, the competition is practically nonexistent. Generation Swine was an experimental disaster, and New Tattoo was a respectable but unremarkable attempt to regain their footing (and Tommy Lee's drumming was sorely missed). I won't even bother dignifying "Sex" or the new songs on The Dirt Soundtrack with an explanation.
Matthew Wilkening: It's better than anything except the Corabi-fronted self-titled album. But here's some blasphemy for you: As amazing as its singles are, Dr. Feelgood was overproduced and overpolished and stripped away something that was raw and unique about Motley Crue. Saints of Los Angeles is more consistent than New Tattoo, but "Hell on High Heels," "She Needs Rock & Roll" and "First Band on the Moon" capture the early spirit and vibe of the band better than anything on Saints.
Watch Motley Crue's 'Saints of Los Angeles' Video
What song should have become a set list staple (besides the ones that did)?
Graff: I'm partial to "Down at the Whisky." I think it's one song on Saints on which Motley sounds their age — gracefully, even. It's very specific, but to a band that really lived the story the song tells. And it captures that metal-glam balance that was so crucial to why we loved the band in the first place.
Wardlaw: I wish they would have given "Face Down in the Dirt" a shot. It's high-energy, classic Crue, and one can visualize that it would have been a great opener. That's one thing that really sticks out as a whole — while they played a good amount of songs from the album, there were plenty more that were road-ready and should have gotten stage time.
Rolli: "Face Down in the Dirt" is a monstrous album opener and a thundering statement of purpose that would have worked brilliantly in a live setting. "Down at the Whisky" is also a readymade live cut, expertly toeing the line between misty-eyed nostalgia and swaggering, salacious pop-metal. I can already picture the band performing in front of video screens showing a top-down drive along the Sunset Strip in its heyday.
Wilkening: I think having the title track and "Mutherfucker of the Year" in the set list like they did on the 2014-2015 tour was about perfect. There's deep cuts from other albums I'd much rather see them perform live. If you need to pick a third then "Face Down in the Dirt" is the best choice.
Listen to Motley Crue's 'Down at the Whisky'
How does Saints of Los Angeles work as a companion to The Dirt? Compared to the actual Dirt soundtrack?
Graff: It's definitely an aural companion piece, or vice versa. Complementary, let's say. Saints rekindles past glories, whereas The Dirt relives them, which is a crucial difference. Now, if you just feel like a Crue fix, you'd certainly pick The Dirt Soundtrack just about every time. And it's telling that there's nothing from Saints on it, even the tracks that perfectly fit the narrative.
Wardlaw: I think some folks might have missed the purported Dirt connection when it was originally released. That being said, I think it's honestly a better audio companion than the eventual soundtrack, which was released later.
Rolli: Saints of Los Angeles succeeds narratively because it doesn't get bogged down in all the depressing, post-1991 drama that threatened to destroy the Crue. It neatly charts their path to stardom, makes vague references to drugs, toxic relationships and music industry chicanery, then reasserts their status as triumphant survivors who lived to pack another arena. That makes it a more effective companion piece to The Dirt than its actual soundtrack, which is essentially a decent (albeit incomplete) greatest hits collection. For somebody just getting into Motley, I'd recommend The Dirt first, but I would just as quickly point them toward Greatest Hits or Red, White & Crue.
Wilkening: The movie is far more fun and lively than the Saints of Los Angeles album, and tells a more complete story. Other than the fact that "Primal Scream" is on Decade of Decadence, I don't know why anybody would bother with a Motley Crue greatest hits album. It barely takes an hour to listen to Too Fast for Love and Shout at the Devil in one sitting - that's where I would send anybody who wanted to learn about the Crue.
Listen to Motley Crue's 'Face Down in the Dirt'
Did outside writers help or hinder the album?
Graff: There's the rub. With Nikki Sixx, James Michael and DJ Ashba writing the songs (along with Marti Frederiksen), Saints could be considered the second Sixx:A.M. album, just performed by Motley Crue. That's a little unfair, given that Neil, Lee and especially Mick Mars do bring their own flavors into play here. That creative quartet ensures a consistency and polish that was different than the sometimes more chaotic feel of its predecessors, and it understandably takes a minute to get our ears around a "grown-up" Motley Crue. But that's what they achieved, and for the better at that juncture of the Crue's career.
Wardlaw: I would have loved to see Motley Crue thrown into the studio with someone like Rick Rubin to find out what it would take to make a real Motley Crue record — no bullshit, no outside writers. While many of these songs sound like Motley Crue, they also get overly formulaic. It seems like that probably could have been avoided if they'd had an actual producer guiding the process, and not just people from inside the Motley circle overseeing the album sessions.
Rolli: It depends on what you're comparing it to. Saints of Los Angeles obviously lacks the savagery and indelible hooks of Motley Crue's best albums, but it's also way catchier and more cohesive than their other post-1994 efforts. Keep in mind, the last Motley Crue album written almost entirely by the band was Generation Swine, so it's not like James Michael, DJ Ashba and Marti Frederiksen were holding them back from greatness. On the contrary, the synergy between Sixx, Michael and Ashba was palpable, and Frederiksen brings the same polish that's evident in his latter-day Aerosmith collaborations. It's a little more sanitized than your average Crue record, but it's also got far fewer major blunders - that's a win in my book.
Wilkening: Well the general vibe here is that the album didn't fully scratch the Motley Crue itch, right? The biggest difference between early and later Crue seems to be a diminished focus on front and center guitar riffs in favor of more complex arrangements. So in an alternate universe where the four original guys did all the writing together, we might get something closer to the classic Crue sound? Or maybe that connection has yielded all the fruit it ever will? Or maybe they would have gotten into seven different fistfights and we would have gotten no record at all?
Watch Motley Crue's 'MF of the Year' Video
Should it have been their final release? Why or why not?
Graff: At this juncture it is, at least by the original foursome. But I'm game to see what the Crue can cook up with John 5 onboard. He's well-versed in both craft and metal mayhem and is a good candidate to give the band a kickstart into its fifth decade.
Wardlaw: Motley's ship seems to have sailed a long time ago in a lot of respects, both in the studio and as a live band. Even though Saints of Los Angeles isn't anywhere close to being a perfect Motley Crue album, it would have been a much better endnote compared to the music they've released since it came out.
Rolli: Without a doubt. Everything they've released since then proves they either lost the ability or desire to write good songs. Can you blame them? No rock band from their era sells records anymore, which is why most of them stopped trying. In a perfect world, Motley Crue would have cemented their comeback with Saints of Los Angeles, then ridden happily into the sunset with a series of cash-grab nostalgia tours before retiring - and sticking to it. Instead, they're subjecting the entire world to a protracted legal battle with Mick Mars and threatening to release new music with John 5. It's possible some fresh blood could light a fire under them, but I'm not holding my breath.
Wilkening: Hope springs eternal, right? I'm always in favor of older bands releasing new music, and not just because our site needs more current events to write about. It will be very interesting to see how different, if at all, they sound without Mars. Now that he's gone and openly feuding with his former bandmates it seems clear the two sides weren't seeing eye to eye for quite some time. Maybe that's one of the reasons his playing hasn't had its former prominence or distinctiveness on any of the band's more recent efforts. (UPDATE: About five minutes after I got done writing this, Mars declared he's barely played on any Motley Crue records since 1994.)
Listen to Motley Crue's 'Goin' Out Swingin''
Motley Crue Albums Ranked
We look back at everything from Too Fast for Love to Saints of Los Angeles to see which albums hold up best all these years later.