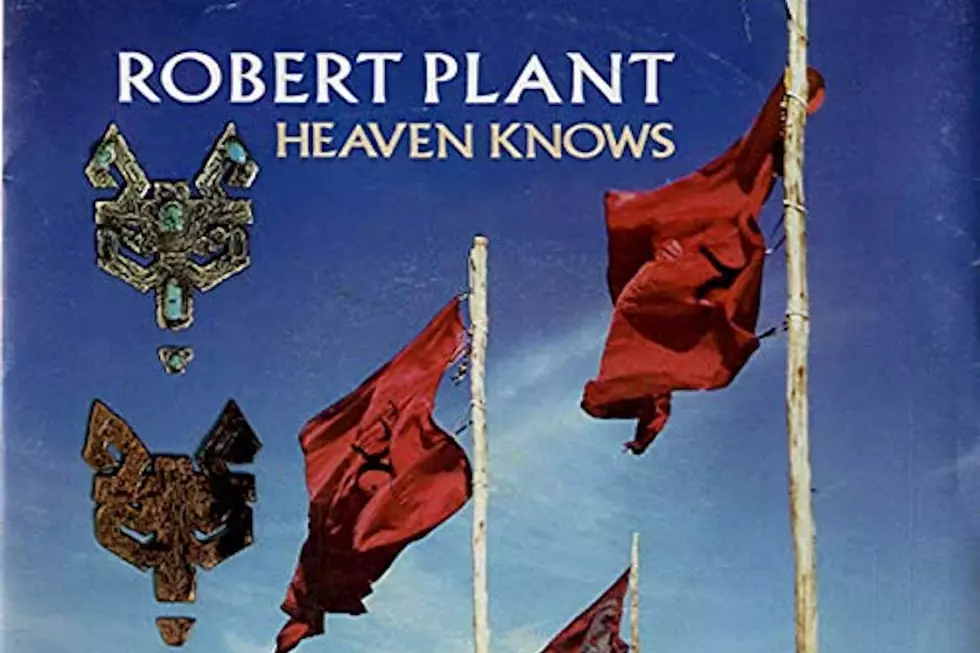 35 Years Ago: Robert Plant's 'Heaven Knows' Embraces Both Past and Present
Es Paranza
Robert Plant resisted most forms of reminiscence after the 1980 dissolution of Led Zeppelin.
He simply wasn't interested in looking backward following the sudden death of John Bonham. "I knew that I could never replace Led Zeppelin in the eyes of the public," Plant told the Chicago Tribune in 1988, "And I knew, also, that I have got a lot to offer. So I figured that the best thing I could do was to distance myself as much as possible musically, and yet still keep the theme of constant change."
Plant adopted this mindset for his first three solo albums, as 1982's Pictures at Eleven, 1983's The Principle of Moments and 1985's Shaken 'n' Stirred employed a variety of new musicians – many of whom he'd never worked with before – and generally explored sounds that were unlike what he'd created before. All three LPs made the U.S. Top 20. To Plant, it was evident: Led Zeppelin was the past, this was the future.
Until it wasn't. Plant continued working with new people for 1988's Now and Zen, including Phil Johnstone, a younger songwriter and producer Plant met "through fate and luck" and his music publishing company, who sent him one of Johnstone's songs. Something about him struck Plant and the pair started working together.
"His input was great, because he comes from the punk era, and yet he has a great love of classic pop music," Plant told the Tribune. "So as a musical entity, he is very strong, and yet a little aggressive and crazy, which is what I desperately need – because I can't work with the old brigade, which is a little boring, any more."
Plant's new partnership was cemented over a demo of "Heaven Knows," which Johnstone co-wrote with David Barratt in a band called the Rest Is History. (The British group never released any finished recordings and split up in 1986.) It hadn't occurred to Plant at first, but Johnstone was essentially a disciple of Led Zeppelin, as many young musicians his age were. "It was bang!" Plant told Rolling Stone in 1988. "The guy had been a Zeppelin fan, and I suddenly remembered that, yeah, so had I."
After finishing "Heaven Knows," Plant and Johnstone immediately wrote two more songs "Tall Cool One" and "White, Clean and Neat," in the same afternoon. The rest of the core studio band included guitarist Doug Boyle, bassist Phil Scragg and drummer Chris Blackwell.
Johnstone encouraged Plant to honor the merit of what Led Zeppelin had accomplished, as they began a collaboration that would last through Plant's next two albums. "I've stopped apologizing to myself for having this great period of success and financial acceptance," Plant told Rolling Stone. "I want to have a great time instead of making all these excuses."
Watch Robert Plant's 'Heaven Knows' Video
Part of this included inviting Jimmy Page into the studio to appear on "Heaven Knows," as well as "Tall Cool One." Page's presence also helped appease Plant's distributor. (Now and Zen was released under Plant's Es Paranza label, but he was under contract with Atlantic at the time, the same label that had produced the first five Led Zeppelin albums, and helped distribute the rest.)
"The album featured less of a rock sound and more of an '80s aesthetic – keyboards, etc.," Now and Zen co-producer Tim Palmer told Music Radar in 2013. "Robert was enjoying this, but the label was not so happy. They were pushing for more guitars."
Page brought in the electricity Plant was looking for – literally. "I don't feel particularly acoustically minded right now," Plant mused in a 1988 interview with MTV. The songs were already constructed, so Page's job was made easy. "All he had to do was play," Plant told the Chicago Tribune, "which he did, admirably."
By his admission, Plant spent a lot of time listening to the contemporary music being made around him, using it to find inspiration for his sound. "I don't know whether Jimmy goes out and listens. It's his business," Plant told Rolling Stone. Through the '80s, Plant repeatedly implied in interviews that he mostly enjoyed every opportunity to play with Page post-Zeppelin, but they had an "unspoken rivalry," separate interests and priorities. "But all he has to do is play guitar on a contemporary-sounding track, like 'Heaven Knows,' and it sounds great."
Page was also working on his first solo album. Released four months after Now and Zen, Outrider included a guest appearance from Plant but didn't depart quite as much from the Led Zeppelin sound. Page was just fine with that. "Well, I'm not trying to be flippant here, but I just play the guitar, don't I?" he told Guitar World in 1988. "That is my characteristic, and it's my identity as you hear it."
As for working with Plant, Page viewed things through a simple lens: "He's a great singer," Page told The Los Angeles Times in 1988, "and I've always enjoyed working with him." Still, the studio became a crowded place as others jockeyed for a chance to see these two legends reunite.
"The day Jimmy arrived at the studio to add some solos, suddenly we had four assistants and the tech in the room, all ready to help," Palmer remembered. "Everybody wanted to be there." Page was credited with his Zoso symbol in the album's liner notes.
The results merged Plant's Led Zeppelin history with Middle Eastern inspirations and contemporary studio technology, resulting in something entirely his own. "Heaven Knows" then served as the first single from Now and Zen, reaching the Top 40 in the U.K. while becoming Plant's third No. 1 hit on the Billboard Album Rock Tracks chart in just five years.
This one was different, though. "Heaven Knows" helped bring Plant to a new era of his career, one in which he could both acknowledge the legacy of Led Zeppelin while still emerging as a solo artist. "If you had asked me a year ago about Led Zeppelin or my relationship with Pagey," Plant told Rolling Stone, "I'd have just beat around the bush, given you the runaround. But it feels okay to talk about it now."
Led Zeppelin Solo Albums Ranked
There have been vanity projects, weird detours and huge disappointments – but also some of the best LPs of the succeeding eras.
Why Led Zeppelin Won't Reunite Again