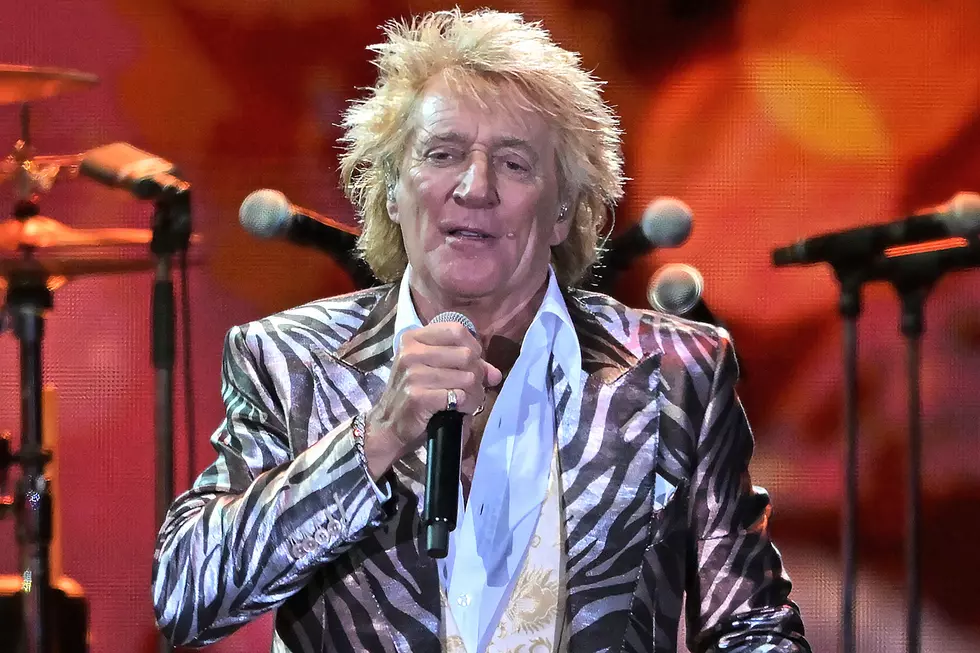 Mystery Over Who Cut Short Rod Stewart Concert
Kerry Marshall, Getty Images
When Rod Stewart's concert in the English city of Plymouth was cut short on June 24, the singer grumpily told the audience the lord mayor was to blame.
But the executive in question – a Stewart fan – denied having called for a curfew to be enforced, and so did the local authorities.
A muffled video clip shows Stewart making an unhappy noise as he's interrupted during his performance. He's summoned to the side of the stage where a short conversation takes place with crew members. Stewart then goes back to finish the song and tells the crowd the show is over, clearly mentioning the lord mayor as being involved with the decision. The concert ends without an expected performance of Stewart's classic 1975 song "Sailing."
In an interview with Plymouth Live, lord mayor Mark Shayer said he was "horrified" to have been associated with the sudden end, adding that he's suffered verbal abuse that left him "livid." He explained that both he and his late father had served in the Royal Navy, and the only video footage he had of his late dad was a TV appearance with "Sailing" being played in the background. "To say I stopped Rod Stewart singing what is one of my favorite songs … it's ridiculous," he argued.
Watch Rod Stewart Being Told to End His Show in 2023
Shayer would have been at the show if it didn't clash with Armed Forces Day, requiring him to attend ceremonial events. "There are even some words from 'Sailing' on [Dad's] headstone," he said. "So how could I stop something as important as Rod singing that song?"
Plymouth City Council also denied involvement, saying neither it nor the operators of the Home Park Stadium ordered the show to end. "As with any concert, should a performer decide to end their set before the licensed curfew set out in the Special Events Certificate, it is not because of any decision made by the local authority or the venue," a spokesperson said.
Rod Stewart Albums Ranked
From soulful early records to that huge disco hit to five volumes of the Great American Songbook, there isn't a genre he hasn't tried.