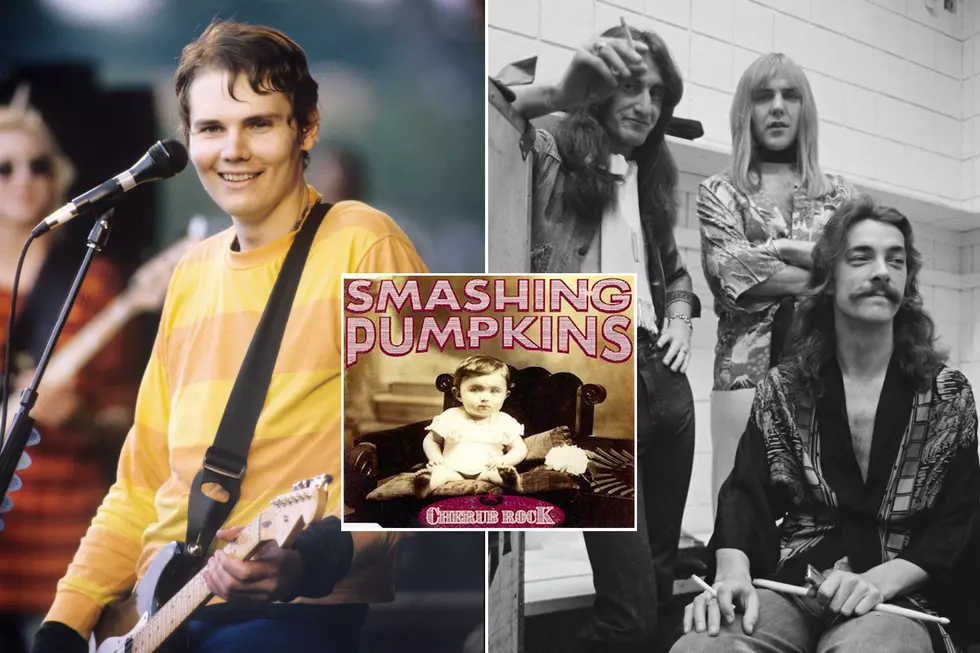 How the Smashing Pumpkins 'Ripped Off' Rush for 'Cherub Rock'
Gie Knaeps / Fin Costello, Getty Images / Virgin
As the lead single from the Smashing Pumpkins' sophomore album – and first release on a major label – "Cherub Rock" marked a big step forward in the band's rise to fame. It also generously borrowed from one of their biggest influences. "That's basically us doing Rush," frontman Billy Corgan admitted during a 2022 interview. "Basically, the beginning of 'Cherub Rock' is ripped off from 'By-Tor and the Snow Dog' by Rush. It's a straight rip-off of Rush."
Corgan was an ardent Rush fan in his youth, a topic he brought up when speaking at the Hollywood Walk of Fame in 2010, as the Canadian legends received their star. "These guys are the best of the best," the Smashing Pumpkins frontman said at the time, adding that his first rock band was a Rush cover group.
Even though Corgan tapped into his inner-Neil Peart when creating "Cherub Rock," there was much more to the song than its influence. The track, which was released as a single on June 21, 1993, arrived as the Smashing Pumpkins were suffering through serious growing pains. While the band's second album, Siamese Dream, represented the culmination of years of hard work cutting their teeth as an independent act, Corgan was deeply depressed during its creation.
"I was suicidal, and I'd been plotting my own death for about two months," the singer and guitarist admitted to NME. "And if you've ever read anything about the warning signs of suicide, one of them is you give away all your stuff, and I'd given away all my stuff, I gave away all my records, I started giving away my guitars."
Listen to the Smashing Pumpkins' 'Cherub Rock'
Corgan began fantasizing about his death: "I started thinking what my funeral would be like and what music would be played, I was at that level of insanity."
This darkness influenced Siamese Dream, as Corgan bled his emotions into the music.
"Almost every song is about a relationship," the frontman noted to Us."'Cherub Rock' is about my relationship to the indie world and the media."
Watch the Smashing Pumpkins Perform 'Cherub Rock' in 1994
It was Corgan who insisted that "Cherub Rock" be the first single from Siamese Dream, pushing back against label executives who wanted to go with "Today." And though the latter track became the bigger hit, "Cherub Rock" peaked at No. 7 on Billboard's Alternative chart, the Smashing Pumpkins' first song to chart in the U.S.
"Cherub Rock" remains a mainstay of the Smashing Pumpkins' set lists, ranking among the most performed songs in the band's history. Meanwhile, Siamese Dream holds a place among the defining rock albums of the '90s, having sold more than 4 million copies in the U.S. "As dark a record as Siamese Dream is, there's a lot of fun in it," Corgan opined to NME. "It's almost like we're kind of laughing at how stupid the whole thing is. It's like, here's my pop song about suicide ('Today'), and here's my epic song about child abuse ('Disarm'), and here's my big middle finger to the indie world ('Cherub Rock')."
Smashing Pumpkins Albums Ranked
Everything is cyclical is Billy Corgan's world, no entryway ever fully shut. As a wise man once sang, "The End Is the Beginning Is the End."