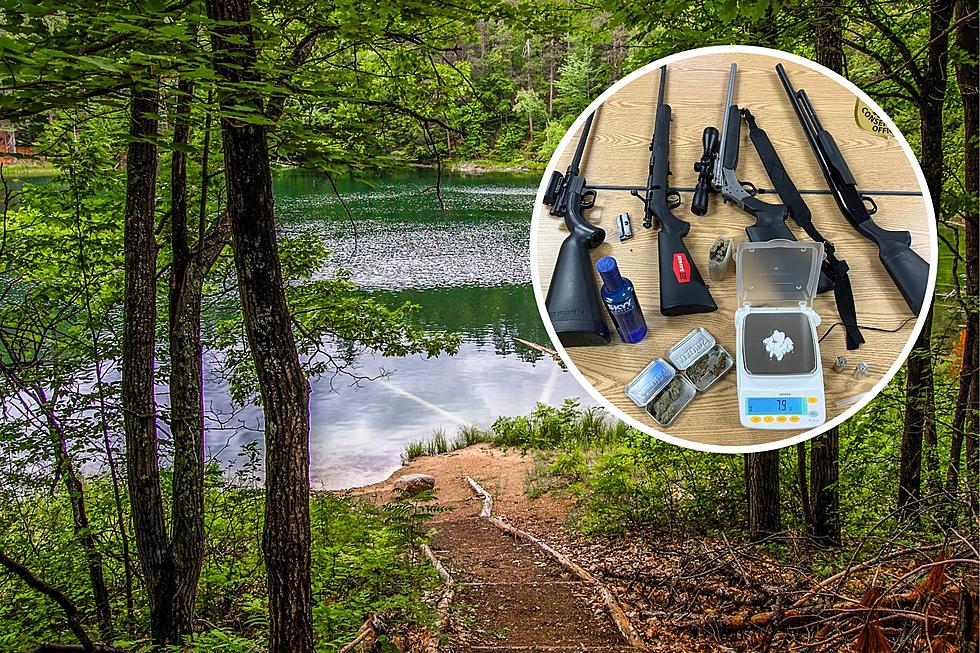 Michigan DNR Officers Seize Crystal Meth, Guns During Traffic Stop in the Woods
Michigan DNR
A car driving on the wrong side of the road in a Michigan forest tipped off a Department of Natural Resources conservation officer that something was up...
The officer pulled over the vehicle this past Saturday in Pigeon River Country State Forest, in Otsego County, which is known as "The Big Wild".
At 12 miles wide and 20 miles long, it is the largest block of contiguous undeveloped land in Michigan's Lower Peninsula.
During the traffic stop the two vehicle occupants told the officer, "We are just out looking to hunt stuff."
The officer saw that the passenger had an uncased .308 rifle near their right leg with a rifle round on the door handle. Additionally, the driver – who had binoculars around their neck – had a loaded .22 caliber rifle behind the seat.
More conservation officers soon arrived on scene to assist.
They searched the rental car the suspects were operating and found two additional illegal firearms, used rifle casings, alcohol, several containers of crystal meth, marijuana, and evidence of drug use.
DNR officers confiscated three rifles and one shotgun, along with the ammunition and drugs.
The pair was arrested and now face multiple felony charges. The names of the suspects will not be released until they are arraigned in court.
The DNR said in a statement,
Michigan DNR conservation officers are fully commissioned law enforcement officers who provide natural resources protection, ensure recreational safety, and protect people through general law enforcement and conducting lifesaving operations in the communities they serve.
Hunting Seasons in Michigan
There are a TON of opportunities to hunt in Michigan, but many are only open for certain windows through the year. See which seasons are open and about when, as some exact dates will fluctuate from year to year.
Michigan Hunters