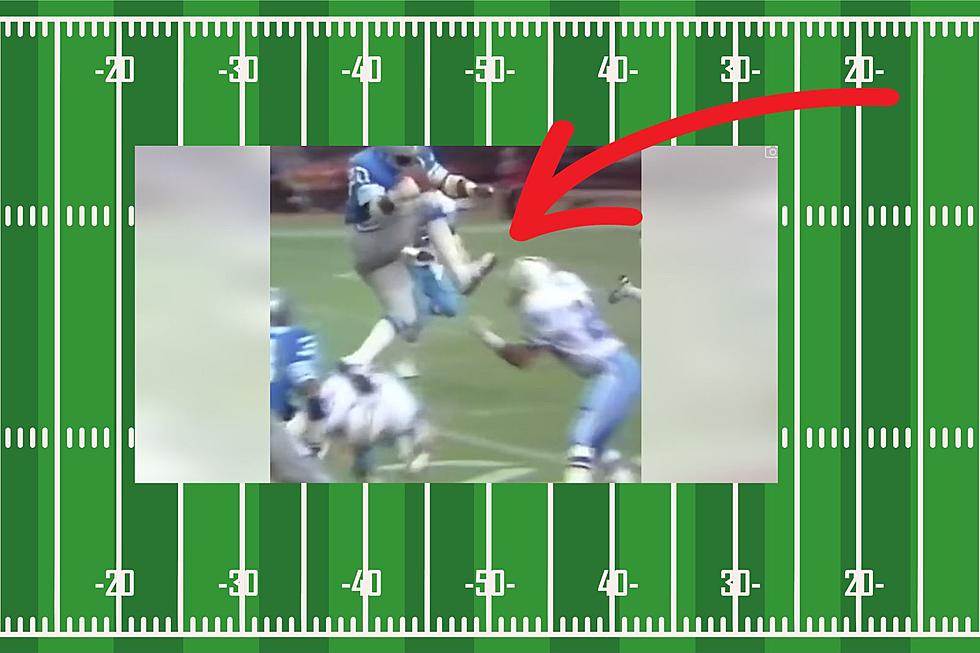 Some NFL Fans Just Discovered the Detroit Lions Epic 1983 'Karate Kick Run'
NFL Legacy via CBS Sports/Facebook + Canva
Think of number 20 on the Detroit Lions are you're likely to think of Hall of Famer Barry Sanders. But a decade before Sanders was busting out of the Detroit backfield, number 20 was worn by Billy Sims. He earned the name 'Kung Fu' after a karate kick run that NFL fans recently rediscovered.
The CBS Sports Facebook shared the video of the 1983 incident on November 13 to commemorate the 40th anniversary of the maneuver.
Take a look at how the play went down.

Sims earned the 'Kung Fu' gloss from ESPN's nickname kingmaker Chris Berman as the play against the Houston Oilers showcased Sims
rather than be tackled during a rushing attempt, Sims ran at, jumped, and, while fully airborne, kicked Oilers cornerback Steve Brown in the head.
It's quite the move and it left the announcers flabbergasted, "oh my goodness, did you see that? He hit Steve Brown with what looked like a karate kick....It's as though he used his foot as a straight arm. Whoo. Brown actually got up. It amazes me."
As another baller from that era, and a one-time broadcast partner of Chris Bermen would say, "Chris Brown got jacked up."
With today's sensitivities about concussions and long-term effects to head injuries and CTE, a hit like that wouldn't likely not go un-flagged in today's NFL.
Fans who commented on the video shared either that they remembed the play or how different it was compared to today's NFL.
nowadays that dude be on blast and career over

That wasn't Billy Sims, that was Mr. Miyagi and he waxed Steve Brown on that play

Brazil (Houston #52) gave him a receipt at the end. They both moved on. No harm, no foul.

If he tried that now, he'd be thrown out of the league

The Antonio Brown of his time

Hurdles! Kicks a man!

That would have been a flag an ejection and probably a half a million dollar fine with a 2 game suspension in today's football
Detroit Lions Great Billy Sims
Sims has a storied career earning a Heisman trophy and his time at his alma mater, Oklahoma, is memorialized with a statue at the stadium there.
40 years on the 'Kung Fu' Sims is still amazing NFL fans, and showing the younger generation some action that wouldn't happen on a field today.
Sims remains a part of the Detroit Lions family. Here he is on the sidelines during the 2019 season during a promotion recognizing an "All Time" team for the Lions who made him the #1 overall draft pick in 1980.
Sims played his career in the Lions Honolulu Blue. Check out these best-of uniforms from around the league throughout history.
TACKLE THESE: Check Out the Best Uniforms In Each NFL Team's History