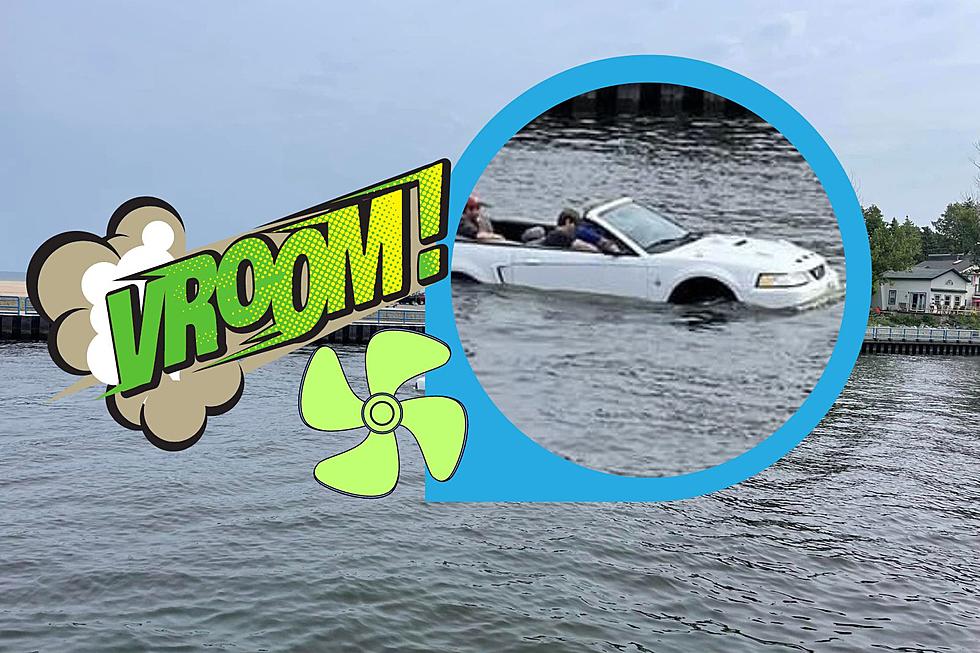 Ahoy! Yes, There Really Was Mustang In The Waters of This Michigan Marina
South Beach Café via Facebook/Canva
Here's something you don't see every day-- beachgoers and boaters at a West Michigan marina must have done a double take when they saw this "experimental" craft floating down the channel. But fear not, this was actually on purpose.
Naturally, I have some questions!
South Haven coffee shop the South Beach Café shared a photo on social media over the weekend that made my head spin. Simply captioned, "The things you see on South Beach." I had to scroll back for a closer look to make sure everything was ok!
In the photo you can clearly see a Ford Mustang submerged in the waters of the Black River channel but what's puzzling is the fact that its passengers don't seem to be panicked in the slightest.
That's because it's an experimental watercraft!
South Beach Café offered up some additional info in the comments writing,
Car boat. Don't call 911
I can't help but wonder if some panicked folks scrolled past the warning and still called 911 anyway-- and I don't blame them! At first sight it truly does look like the car in trouble and about to go under. Judging by the post comments I wasn't the only one confused:
"I'm confused lol. Why are they just chilling like nothing happened?" - Nessa Joy
"Even the ducks can't figure it out!" - 

Gwen Spencer Walsh
"What the heck is that a for real car wreck pic" - 

Kimberley Ruiz
Who Owns the Car?
Unfortunately, we don't know much about the car or its owner. A woman named Kimber Lee commented on the cafe's photos, and even shared one of her own, saying she spotted the car boat being pulled by a trailer earlier that morning. In Kimber's photo you can clearly see an Indiana license plate as well as a label reading "experimental" on the body of the boat.
That's about all we know so far! Hopefully these folks visit Southwest Michigan again soon and stir up some more fun soon.
At Least 4 Airbnb Houseboats You Can Rent in the Midwest
Why stay by the water when you can stay ON the water?
Street Art of Downtown South Haven
Public sculpture is growing in downtown South Haven.