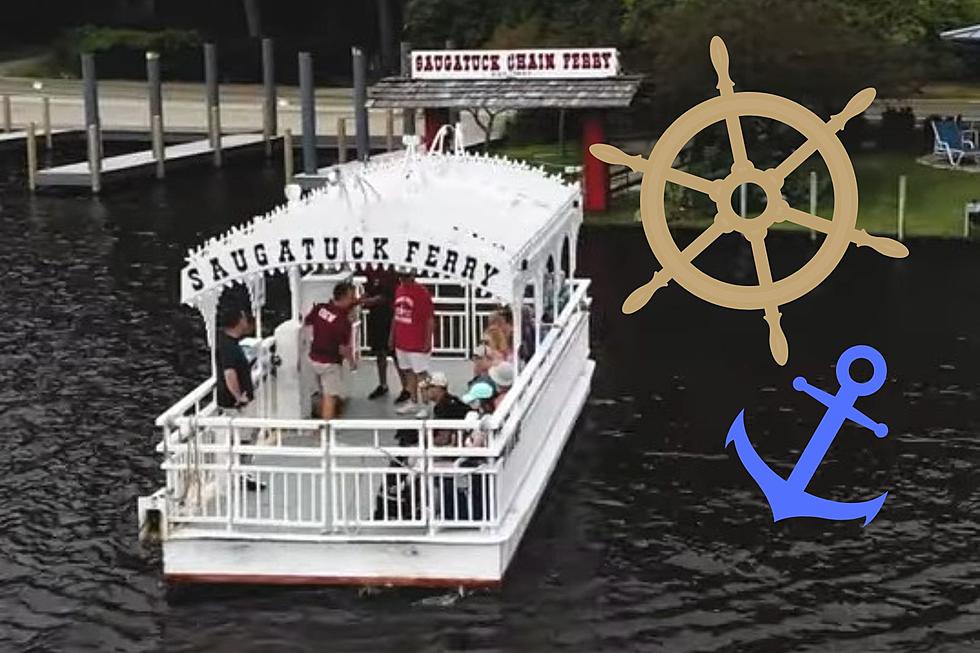 Saugatuck's Historic Chain Ferry Prepares to Return For Summer Season
MLive via YouTube/Canva
In operation since 1857, the historic hand-cranked chain ferry in downtown Saugatuck is set to return for the 2023 summer season.
The last of its kind, the City of Saugatuck says they are home to "the only remaining hand-cranked chain ferry of its kind remaining in the United States." Here's what you need to know before you hop aboard!
Saugatuck, Michigan
Downtown Saugatuck is one of my favorite places in all of Michigan. After spending the day at Oval Beach my family and I always make sure to head into town to visit our favorite shops and restaurants, like The Mermaid.
Of course, we love to sit in the gazebo at Wicks Park and watch the boats sailing by, and that includes watching the Saugatuck Chain Ferry cross the Kalamazoo River!
Did you know the Saugatuck Ferry is so iconic it even has its own Wikipedia page?
Meet "Diane"
After the bridge that connected Oval Beach to downtown Saugatuck washed away, the first ferry was put into operation in 1857. It remained in operation until the 1940s when it was superseded by a bigger automobile bridge, but returned in 1965 when local businessman R.J. Peterson restored the chain ferry-- naming it after his wife, Diane.
The ferry is guided by a chain that runs beneath the Kalamazoo River. The chain is connected to docks on both sides of the river and as the ferry operator hand-cranks the gear, the ferry is guided from one side of the river to the other. The ride lasts about 3 minutes and is a unique way to get from downtown Saugatuck to the 303 steps of Mt. Baldhead!
All Aboard!
Starting each Memorial Day weekend, the chain ferry departs daily every 10-15 minutes, based on demand. For the 2022 season, a one-way ride cost $2 with dogs, bikes, and strollers riding for free. "Diane" can accommodate up to 26 passengers.
The 2023 schedule has not yet been updated, but be sure to check the official website and Facebook page for current information. It's also important to note the ferry may not be in operation due to weather and water conditions so again, be sure to check for updates before you head downtown.
If you've never taken a ride along the Saugatuck chain ferry, it's worth doing at least once as it's a unique piece of history that's right here in Pure Michigan!
Take a Look at Saugatuck-Kalamazoo's New Location, And Some of the Food!
Saugatuck Brewing in Kalamazoo has FINALLY re-opened, and with it, they're bringing the same great beer selections, a new look, and a new menu! Check out our early view of what you'll find inside the new spot!
Vintage Saugatuck: 1860s-1950s