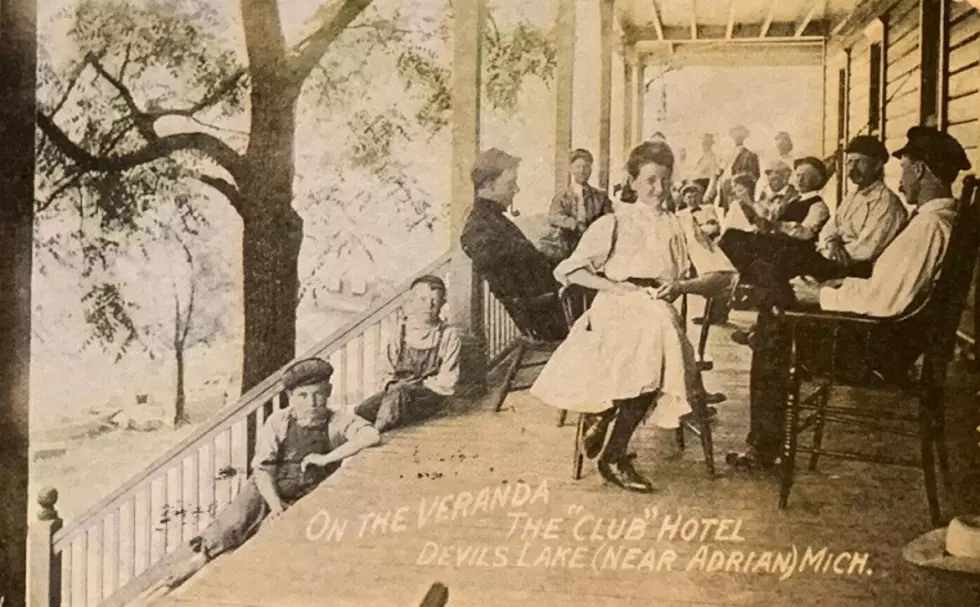 Vintage Photos of Devil's Lake, Michigan: 1900-1950s
available @ worthpoint.com
Devil's Lake was once home to one of Mid-Michigan's best rock halls. It began as the Lakeview Dance Pavilion in 1914 and brought in all the top-notch musicians and vocalists from the 1910s thru the 1950s. Then Rock 'n Roll came along. With that, the hall was purchased by O.E. Green, who began booking the top rock acts of the day.
The pavilion burned down in 1963, was re-built and destroyed in 1965 by a tornado, re-built once again as "Green's Pavilion", and presented sure-fire, solid nationally-famous rock bands until it closed down in 1973.
As for Devil's Lake itself, it was more than just the name of a lake – it was a community. Before 1830 it was a Potawatomi village until they were forced out by president Andrew Jackson's Indian Removal Act.
The lake's Manitou Beach quickly became one of the most popular places for Mid-Michiganders to go for swimming, camping, and renting summer cottages. Boats brought in customers from the depot to the hotels, inns, restaurants, and amusements every day.
THE NAMES:
Legend says Devil's Lake was named by Meteau, leader of the Potawatomi tribe. His daughter had drowned in the lake under strange circumstances; she was a good swimmer and her body was never found. Metau believed her life was taken by evil spirits.
The name Manitou Beach came from the Potawatomi name for Devil's Lake, "Michemanetue" which means "Lake of God".
BRIEF TIMELINE:
1833: European settlers arrive.
1885: Devil's Lake post office is established.
1889: Manitou Beach post office established.
1892: Manitou Beach post office discontinued.
1893: Manitou Beach post office re-established.
1936: Devil's Lake post office closed.
1965: Tornado devastates many business establishments.
2010: Manitou Beach Inn destroyed by fire.
The gallery below has many photos of old-time Devil's Lake and Manitou Beach, going back to the early 1900s...
Vintage Photos of Devil's Lake, 1900s-1950s
MORE MICHIGANIA:
Park Lake Resort & Beach, Bath
Concerts, Dances & Socials: 1855-1980s
Lake Lansing's Spiritualist Camp, 1882-1890s