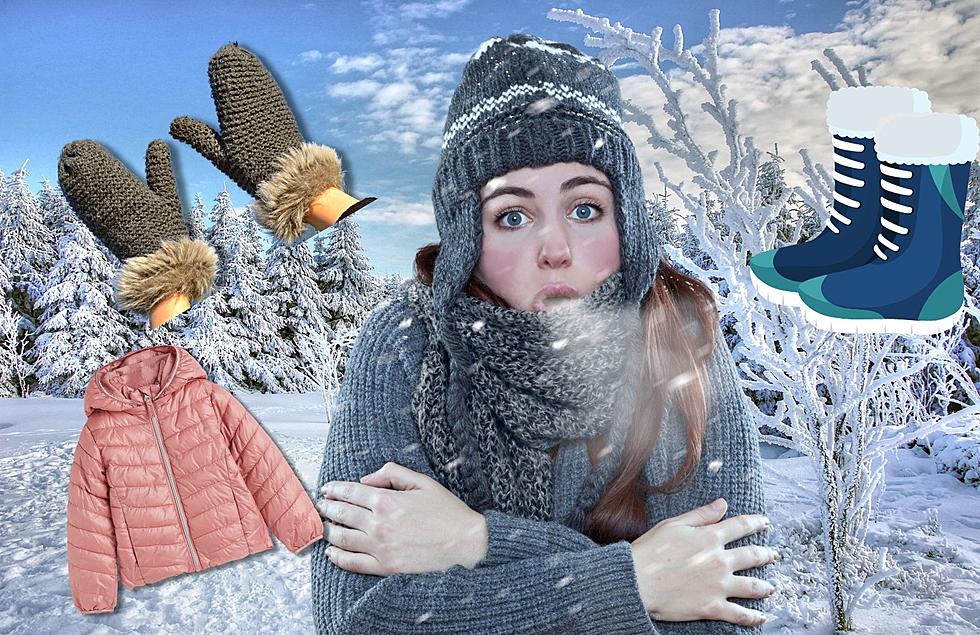 BURRRRR! 5 Tips On How to Dress for a First Michigan Winter
Canva
As a Michigan transplant, I experienced my first Michigan winter last year.
Let me tell you something! It was brutal for me.
However, I have learned a few things that I will be implementing into my wardrobe and lifestyle this winter.
Plus, the Grand Rapids Reddit also shared a few tips and tricks. So, here is your one-stop shop for how to dress for your first Michigan winter.
5 Tips On How to Dress for a First Michigan Winter
1. LAYERS! LAYERS! LAYERS!
If you do not believe in layers, you definitely will have to experience your first Michigan winter.
"Wear layers! Long underwear + pants takes care of bottoms for the most part. I wear soft shell pants if I'm going to be outdoors forna while, because they block wind very well but breathe."
Do not just think of your pants and sweaters. Make sure you layer on your hands and feet as well.
Good quality socks and gloves will save your life.
"Gloves and hats, and scarves are important too. Mittens are warmer than gloves, but you lose dexterity and fine motor function. If you regularly need to make fine movements in the cold, get gloves. Slightly less warm fingers are better than taking your mittens off to regain use of your fingers. Some mittens are kind of a 2-in-1 where you can reveal your fingers for a moment. Cover your ears with a hat or earmuffs. You feel pain of cold in your ears and cheeks most of all."
2. Invest In A GOOD Coat
If you do not have a good quality coat, you need to buy one IMMEDIATELY!
A Reddit user shared the following:
"Lands End has great sales on coats every year and I have been very impressed with the quality and style. In fact, I have really liked almost all of their clothes—durable and warm."
I would recommend a coat that goes past your butt so you are extremely warm and snug.
3. Waterproof Shoes Is A Must
If you plan on wearing leather boots during the winter, you may want to learn what FlyOnLeWall has to share.
"Buy a decent pair of waterproof boots for winter. Leather doesn't last long with the salt so synthetic materials shine here. Owning some ice spikes for your shoes doesn't hurt."
4. Get Shoes With Treads
A Reddit user shared that rubber boots may come in handy.
"A good pair of boots is a must. While there's lots of options on the market, I still like my LL Beans. The rubber keeps out the snow and ice, the leather uppers lace up nicely around my pant legs to keep them dry, and they've lasted for five years of daily use with zero issues. The biggest downside is a lack of insulation. But the "layers" rule applies to socks as well "
5. Wool Socks Are Your New Bestie
The number of people on this subreddit who said to wear wool socks was insane!
I am not about to go out and buy some wool socks. Make sure you have thick socks because your feet will hate you if you do not.
BONUS: Things To Keep In Your Car
Besides the clothing aspect, you should also prepare your vehicle for the Michigan winter vibes as well.
HalfaYooper on Reddit shared a few that I think everyone should know.
You should keep a couple of space blankets in your trunk at all times.
You should keep a portable collapsible shovel to make sure you can dig yourself out of the snow.
Alongside a first aid kit, you should also have a portable battery, phone charger, and tire inflator.
"I'm also a big fan of snow tires. You get much better traction control over all seasons. We can get BAD snow. RHD Tire on 36th Street will store your off season tires for you while your current season tires are on after they swap them."
You should also have a heavy-duty snow brush so you have no problems once the snow comes.
What would recommend to get through your first Michigan winter?
12 Tips to Prepare Your Vehicle for a Michigan Winter
Michigan winters are brutal and are truly not for the weak. However, the smartest can also survive and thrive with these twelve tips to help be prepared for anything the winter winds gust your way.
Gallery Credit: Maitlynn Mossolle