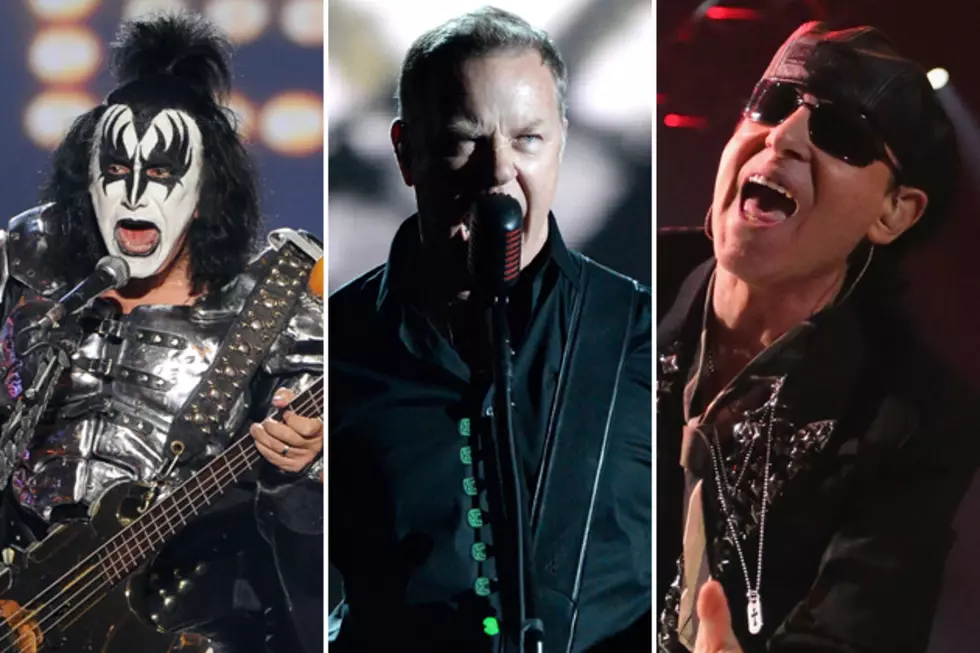 James Hetfield Criticizes Kiss and Scorpions For Continuing On After 'Farewell' Tours
Kevin Winter / Kevork Djansezian / Dominik Bindl, Getty Images
As with any band that's been together more than 30 years, the question of retirement has naturally been on the minds of Metallica. And while they haven't made any overtures towards hanging up their rock n' roll shoes just yet, James Hetfield revealed that a highly publicized 'Farewell' tour is not how they plan to go out, especially given the number of bands that have reneged on that promise.
"I don't think that's fair to anyone," he said in the new issue of Kerrang. "Kiss' farewell tour for the 10th time? Scorpions were done and then they tour? You can't say that and then not do it. I don't know what's in store for us. I don't want to go on the history of how other bands have done it. We're unique in our own path and unique in how our path ends."
Perhaps Metallica can take a lesson from Motley Crue. When they held a press conference to announce their 'Final Tour' earlier this year, they signed a legally binding "Cessation of Touring Agreement," which prevents any member from using the band's name in any future live endeavors, in front of the media.
Meanwhile, drummer Lars Ulrich admitted that he was ready to call it a day a little more than a decade ago. "I feel there's a time I could step away from it," he said. "I was very ready to step away from it right there in '01 and '02 when all that s--- was going down with 'Some Kind of Monster.' I have thousands of other things that I can entertain myself with that would be creatively stimulating. Obviously, Metallica's my love, my priority and first thing, but I'm not afraid of what I'm going to do with my life if this all goes away. I don't think I want to do music once Metallica ends. Hopefully, it will last forever."