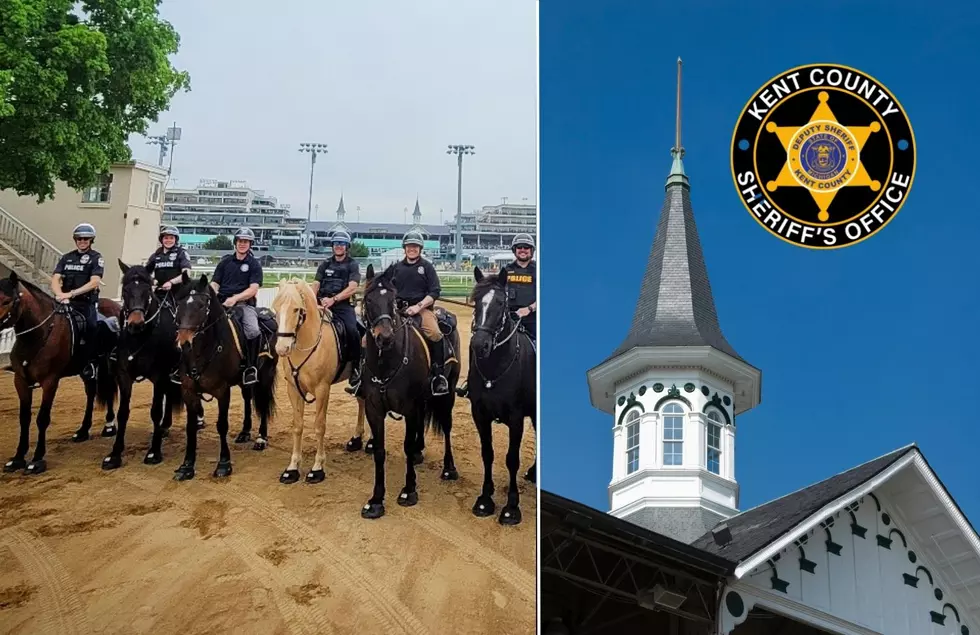 Kent County Sheriffs Saddle Up To Protect Others At The Kentucky Derby
Kent Co Sheriffs Dept / Canva
The Kentucky Derby is known as the fastest two minutes in sports, and while the city of Louisville celebrates for weeks leading into the big race at Churchill Downs, most of us in Michigan aren't aware of anything other than the sixth race of the day, there is a lot that goes into making it happen.
And this year a little bit of Kent County found it's way to Kentucky when the Kent County Sheriffs office was asked to join and help provide security for the event.
According to a facebook post, this is the first year Kent County Sheriffs have been invited to help with the festivities, and in an even more special honor: they're the first to ever be asked out of state to come help with the Derby.
Their facebook post reads
The KCSO Mounted Unit is making history this week!

Louisville Metro Police Department (LMPD) asked them to assist at the Kentucky Derby with keeping spectators safe. The KCSO is the first out-of-state mounted unit to help at the event! Pictured here are officers from the KCSO and LMPD.

Please join us in congratulating the Mounted Unit on this incredible accomplishment! Keep up the great work!
Thankfully, everyone had a safe and fun time at the Kentucky Derby this year, and our officers will be returning home with stories they'll likely remember for a lifetime.
(And in case you're wondering, no, they didn't have to wear the silly derby hats that the race is infamous for, but it sure would have been great to see a photo of it if they had.)
Look Inside Kid Rock's Former Detroit Home
Kid Rock's former Detroit mansion is stunning inside and out. The beautiful home, located at 9090 Dwight St. in Detroit, comes with a custom boathouse and a fabulous downstairs home theater, bar, and dining area.
And the famous Michigan rocker even left behind a couple of American flag pillows and a bunch of his 'Badass Beer.'