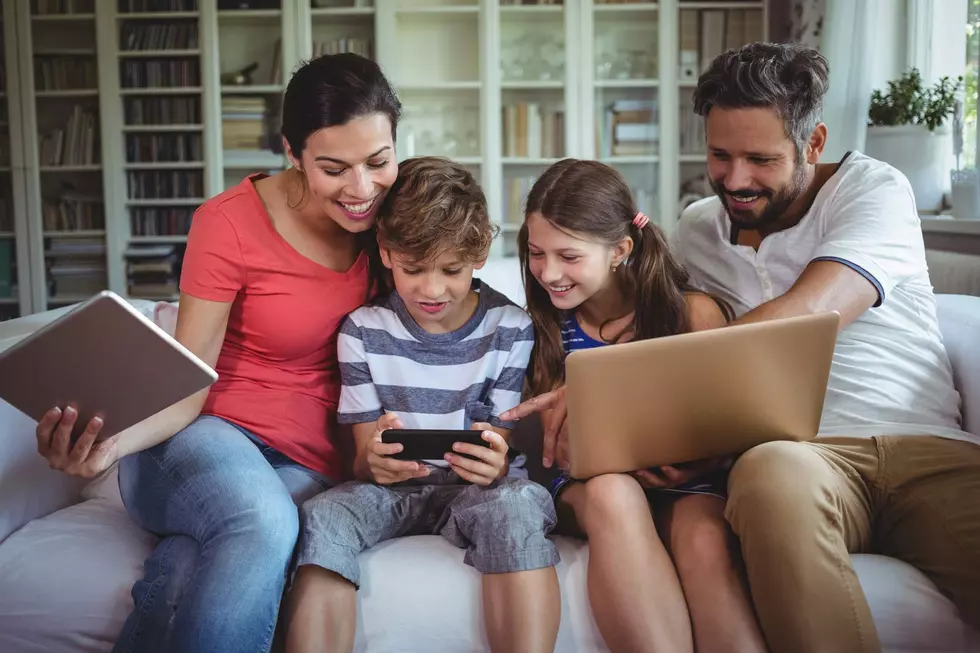 Kids + Tech = Parents + Boundaries
Thinkstock
If you are like us, there may have been a few tech gifts for your kids under the tree.
There were no smart phones for the kids (we are still perfectly happy with our Gizmo Watch), but our daughter received an MP3 player and our son is now the proud owner of a Kindle Fire. Until this point our family tech consisted of one first generation iPad that was used mainly for homework and road trips…so this was a big step for us!
Being the super over protective mama I am, I researched a bunch of ways you can monitor your children with their tech. I'm no fool, and I know we are only going to be adding to this short list as the kids get older.
I believe that we can't ignore the role tech plays in today's society.
As a parent it's my job to provide my children with the tools they need to navigate this tech world safely and in an appropriate way based on their age and/or maturity level.
It's my job to set boundaries, educate my children on appropriate behavior, monitor their use and if necessary, punish them for misuse.
In truth giving my kids tech means more work for me, but I think that's what it means to be a responsible parent right now.
Below are a few things to consider…
Things to think about when purchasing tech for your kids:
How responsible are they?
Can they keep track of things like shoes and school books?
Is this tech necessary/going to add to their life in a positive way?
Can I REALLY enforce the rules and boundaries my child needs?
Am I willing to deal with the fallout if I need to take the tech away?
A few more thoughts:
If they like music an MP3 player will work just as well as an iPod.
If reading is your motivation you can purchase devices that only offer books and no apps.
Smart watches and flip phones can be less stressful (and more age appropriate) than a smart phone.
In this clip from our local news station I talk about a few ways you can monitor your child's tech use. There are direct links to the devices and apps I talked about (as well as further explanation) below.
This is ultimately what we picked to monitor the Cowkids tech use. I like that Disney Circle has the ability to not only notify me when our children are online, but as soon as any new device enters the home an alert pops up on my phone. You can preset time limits on tech usage that automatically turns the devices' internet access off when the time is up. It makes it easy to reward (or punish) kids with tech time. It also gives clear information about how your children are spending their time online. You can monitor multiple devices and set different levels of parental controls on each device.
Family Locator is an app that uses GPS so you can monitor your child's location any time day or night. You can set geographic boundaries and receive alerts when your child leaves those "safe areas." You can also pinpoint exact locations of devices and it's available to use from your phone or computer.
From identifying late night texting to controlling data usage, Family Base gives parents insight and control over when, how and with whom your kids communicate. You can establish time and data controls, block apps and establish parental controls.
Hum is perfect for families with young drivers! This device/app combo allows parents to keep track of their child's location, set geographic boundaries and receive alerts when your teen crosses them. Hum also has emergency roadside services as well as vehicle maintenance notifications!
I'm always ready to learn more…let me know if you have a fav app or device that helps you monitor your child's tech time.
---
ABOUT THE AUTHOR: Cathy Holman is a 30-something mother of five. Originally born in Milwaukee, this city girl went country all for the love of a Cowboy. Her blog, PrairieWifeInHeels.com is the place to go for heartfelt humorous posts about parenting, health and wellness (including her preventive mastectomy), fashion and beauty tips, product reviews and giveaways. Read more about her adventures in Wyoming and learn how you can live a life of grit and grace at PrairieWifeInHeels.com.