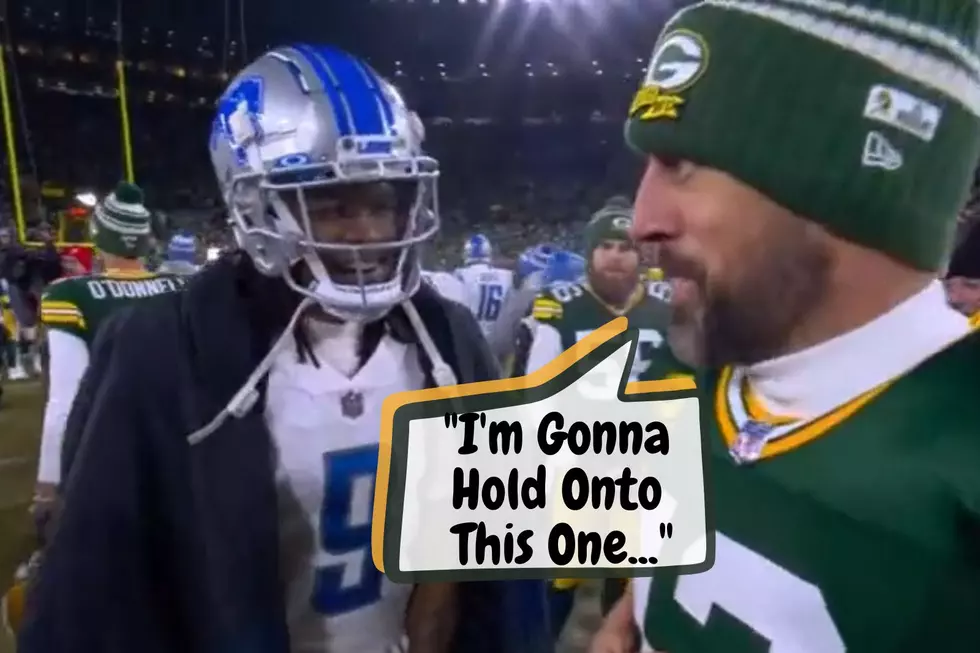 Lions Rookie Jameson Williams Denied Aaron Rodgers' Possible Last Packers Jersey
Via Video from Ari Meirov on Twitter: @MySportsUpdate
The Detroit Lions ended the Green Bay Packers season Sunday night, winning the final regular season game of the 2022 NFL campaign 20-16. The Lions may have also ended the Aaron Rodgers era in Green Bay in the process.
As it has been for several years now (much like his predecessor), the offseason brings along speculation that the future Hall of Famer may either retire or leave the Green Bay Packers via trade or free agency. Much is made about the Packers' front office refusing to spend a first-round pick on an offensive skill player during Rodgers' tenure but still finding the audacity to trade into the first round in 2020 to select Utah State quarterback Jordan Love.
The Lions, however, have never shied away from selecting wide receivers in the draft. Last spring, the Lions traded up to take one, arguably the best one - Jameson Williams out of Alabama. Williams missed most of the season recovering from the torn ACL he suffered in the College Football Playoff National Championship game last January, but when he took the field, he displayed that same explosiveness fans in Tuscaloosa enjoyed.
Williams didn't record a reception Sunday night, his lone catch being called back for a holding penalty.
Despite his stats, both Sunday and in his abbreviated rookie season, Williams is a known and respected commodity already in the NFL, given the full benefit of the doubt based on his play in college and the NFL so far. As such, it's not really surprising that Williams would politely ask Rodgers for a jersey swap.
Rodgers could very well have accepted. He also could have simply and respectfully declined, which he did.
Still, based on the actual exchange, Rodgers seems to be saying a whole hell of a lot more than no with his response:
The "Rodgers to the Raiders" rumors are swirling. The Indianapolis Colts have a strong recent history of chasing veteran quarterbacks. Maybe Tom Brady actually retires this offseason and Rodgers heads to Tampa?
Maybe Rodgers simply retires himself?
I'm strongly doubting that last one. The early agitation expressed by the grizzled vet and the eventual maturation of his offense shows a fire that still burns passionately for the game.
But have the Lions seen the last of Rodgers in their NFC North rivalry? Well, that seems to be an absolute certainty.
LOOK: These Are the Richest NFL players
To uncover the richest NFL players,
Stacker
consulted
Celebrity Net Worth
and ranked them by their 2022 net worth, calculated using a proprietary formula.
The Detroit Lions Throughout The Years With Collector Items
Love 'em, or hate 'em, they're still the good old Detroit Lions. Take a look back in time with some collector's items from over the years and see how the Detroit Lions have evolved over the years.