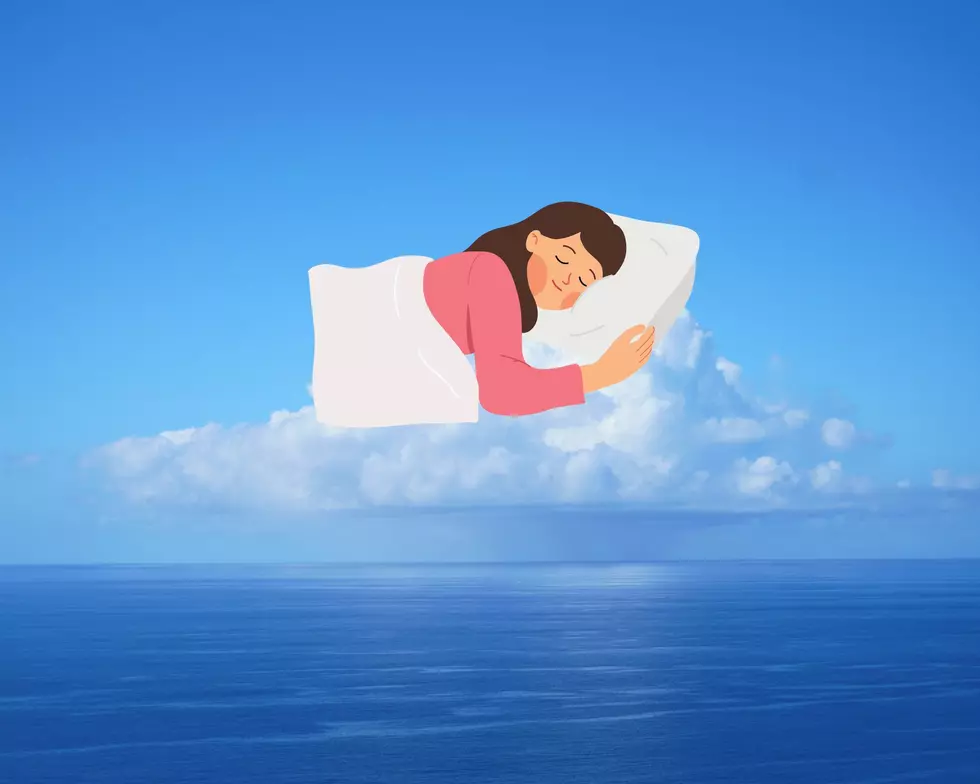 'Livable Cloud' Coming Soon To The Lake Michigan Shore
Canva
A Michigan woman is building a 'Cloud Nine' experience that will make you feel like you're living in a cloud on the Lake Michigan shoreline.
The 'Livable Cloud' Is One Of A Group Of AirBandB 'Crazy Ideas'
Back in June Airbnb announced the OMG! Fund, with plans to hand out $10 million to help finance 100 of the craziest ideas.
Airbnb has announced their 100 winners, which include fantastical creations that are expected to be ready by next summer and available for rent.
Winning entries range from a lighthouse in Sweden accessible by boat to an adobe fossilized dinosaur skill in the desert to koi fish shaped house to a floating avocado house in an avocado farm to a giant tire-shaped house.
But one of the stranger winners was a woman from Michigan who wants to create a 'Livable Cloud' near Lake Michigan.
Tia B. Is The Grant Winner, And Little Is Known Of Her Design
While AirBandB published a bunch of photos and sketches of some of the more wacked out ideas, which we'll get into in a minute, little is known of Tia B's idea, as the listing on the compilation of 100 winners merely says:
What It Feels Like to Live on Cloud 9...Tia B., United States: Livable Cloud Overlooking Lake Michigan
A livable cloud sounds relaxing, but where is it? How far above Lake Michigan will it be? And how exactly is it livable? These are all things that may be revealed to us soon, as the AirBandB location is slated to open in 2023.
Some Of The Other Winners Include A Livable Snail And A Constellation
Here's a couple of sketches of the 100 winners, starting with 10 rooms shaped like the constellation Orion in Mexico.
A giant fossilized snail located in a remote desert in Mexico.
And a building that will blossom like a flower in Ireland. Does that mean it's only open in the spring. I have no idea.
Spend the Night in This Spooky Hocus Pocus Cottage Airbnb
Get ready for everything that goes bump in the night, because the Sanderson sisters are back. To celebrate their resurrection, and their new movie "Hocus Pocus 2", they are inviting guests into a land of enchantment with a stay at a recreation of their magical Salem cottage. No detail has been spared to make your visit one you'll never forget. Only two lucky guests will have the chance to immerse themselves in this witchy world.
Feel like magic is on your side? Make sure you are ready to log on to Airbnb precisely at 1 pm on Oct. 12 for an exclusive stay on Thursday, October 20 for only $31.
Take a peek inside what awaits!
Look Inside Cozy Airbnb Voted Best Cabin in Michigan
Landing on the list of "Best Cabin Airbnbs for Every State" by
Trips to Discover
, this cozy Upper Peninsula cabin earned the bragging rights as best in Michigan.
Paradise View
in Paradise, Michigan is true cabin life with a a little upscale vibe. Located just 14 miles from Tahquamenon State Park & 1-1/2 miles from Paradise the cabin sits perfectly on the shore of Whitefish Bay. Inside you'll find 2 bedrooms, and 2.5 baths of comfort. Perfect for every season that Michigan has to offer this place has earned its title. Take a look inside!
This Michigan Airbnb Looks Like A Victorian Castle
This Michigan Airbnb loft looks like it is a victorian castle straight out of London and a time forgotten, however, you won't have to go too far to experience luxury from a lost time. Look at this Traverse City loft on Airbnb you could stay in/