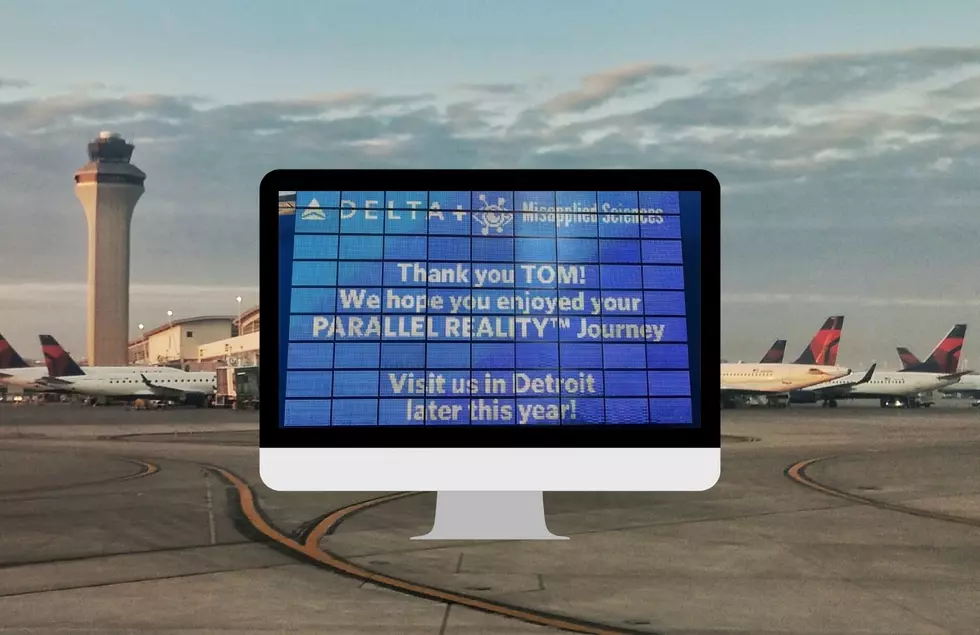 Look Up! Detroit Airport Testing New Personalized Flight Boards
Facebook / Canva
Flying is STRESSFUL. We're all running wild trying to make sure we get through security, have all of our items, and don't miss our flight. So, what if there was one small personalization during your commute that could make your life easier?
If you look up at a Detroit Metropolitan Airport departure board, you could see a personalized travel itinerary. It's no secret that Delta Airlines has been looking for ways to improve the customer experience, and they've done just that with the launch of their new Parallel Reality technology.
That's right, instead of digging through your bag, hoping your phone has signal, or worse, trying to memorize every detail and hope you have no delays, you can just have your itinerary spoon fed to you.
Parallel Reality technology that allows dozens of people to simultaneously see unique content on the same digital screen. Detroit is the first, and currently only, airport in the country to experiment with the futuristic technology developed by Misapplied Sciences, based in California.
How does the board work?
Delta passengers can scan their boarding pass, select a language and test out the system. Then they will be able to use touch screen controls to do everything from checking in for a flight to viewing their itinerary, accessing customer service representatives and checking on baggage.
Up to 100 people can use the board at the same time, allowing it to be quick and easy and not something that causes a massive line or traffic build up as people make their way across the airport. The technology will allow them to only see their data, allowing privacy to still be protected for passengers.
Where in the airport can I find this board?
The next time you fly out of the Detroit airport, you'll find the board beyond airport security, hanging near the Delta Sky Club.
It's amazing we get to be the first in the country to try this technology out, so make sure you take advantage the next time you're flying out of DTW.
Here Are The Best Gas Apps To Help You Spend Less At The Pump
Everyone likes saving a few bucks at the pump. Here are the apps that can help do just that with all these high rising gas prices, that are probably out there killing not only you but your wallet.
This Northern Michigan House For Sale Would Make the Perfect Lakeside Vacation Home on a Budget
If you want a Michigan "up north" vacation home, this is your chance. This adorable three-bedroom, one-bathroom, home is right in the midst of not one, but TWO lakes. Making it the perfect lakeside vacation home on a budget. Check it out for yourself and see if you can make those dreams of owning a vacation home come true.
Enjoy a Pure Michigan Vacation on This Houseboat AIrBnb
Everyone knows there's nothing quite like summertime in Michigan. From the dunes to the lakes, and everything else in-between, Michigan has it all. If you are looking to change up your usual summer stay away, why not try a little houseboat life? Known as the "Floathaus of Saugatuck", this Airbnb is an actual houseboat on the water near Saugatuck on the west side of the state. Located in the Tower Marina, the house has 2 bedrooms and 1 bathroom to sleep 4 comfortably. Guests will also enjoy a waterfront pool and park, kayaks, and be able to grill out on those amazing summer nights. The houseboat won't be able to set sea but trust us when we say, you will love every minute while staying docked. Take a look inside!