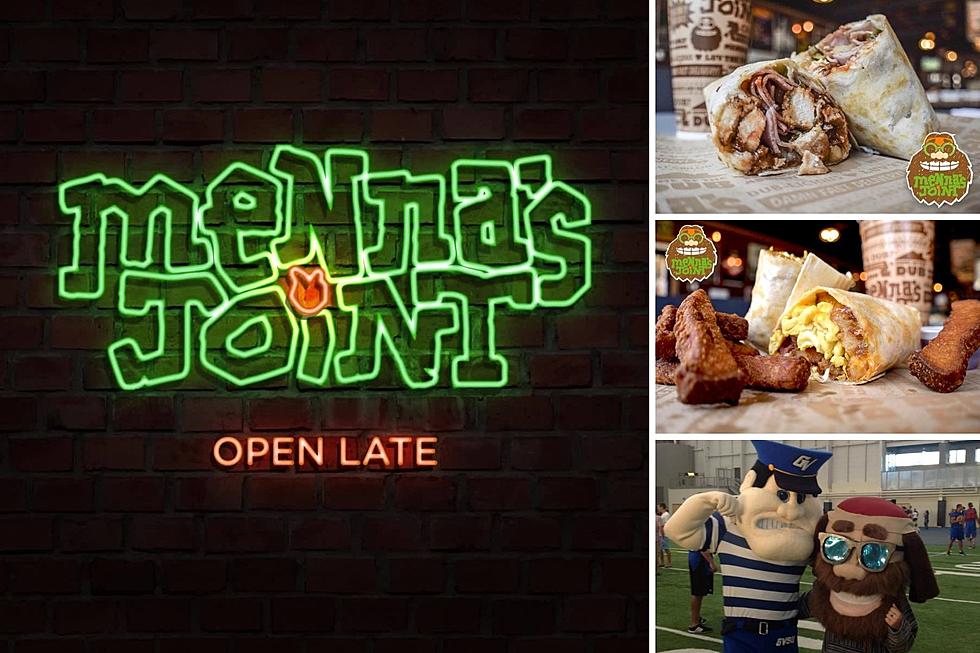 Menna's Joint Shuts Down All Locations, Including Grand Rapids & Allendale
📷 Menna's Facebook
A popular late-night hangout in downtown Grand Rapids appears to have quietly shuttered for good.
Menna's Joint in downtown Grand Rapids was only open sporadically throughout the pandemic and seems to be closed for good.
The restaurants' website is no longer active at www.mennasjoint.com. 
Menna's was best known for their signature burrito-like wraps that they called 'Dubs'. The dubs were very popular with bar crowds and college students.
The 'dubs' sold at Menna's Joint also seemed to find fans in the cannabis community. In fact, sometimes the marketing for the restaurant slyly referenced marijuana use, including billing itself as the only 'legal joint' in town.
The Menna's mascot, DUB, also appears to have walked straight out of a Cheech & Chong movie:
The first Menna's opened in East Lansing and expanded to Mount Pleasant, Kalamazoo, Grand Rapids, and in Allendale near the GVSU campus.
The Kalamazoo location closed in 2019 after the East Lansing location shut down earlier that year.
The closure of the Grand Rapids location seems to coincide with the locations in Mount Pleasant & Allendale.
Users in the Grand Rapids Reddit Forum lamented the loss of the late-night hot spot:
I'm not sure how beloved Menna's was but even though I only got to go there a few times (literally 3-5 times) I'm really gonna miss that place. I tried going a few times over the summer but every time I showed up during their "open hours" they were closed, so I assume it was a staffing thing. What a bummer, some of the best drunk food I ever had tbh. -WagnerKoop

 

The one in Allendale got me through many a drunken night in college. RIP Mennas. -MrHockeytown

 

I loved the one in Mt. Pleasant when I went to CMU in the early 2000's. Haven't been there since probably 05 or 06 so can't speak to the quality since then. The French Toast breakfast dub after a long night of partying hit the spot. -Shower_Slurper
Although not everyone was a fan:
For me, this place was just like Yesterdog. Good if you're wasted. Never understood it - bad food and an unsanitary environment is bad food and unsanitary environment even if you're hammered. ick. -ItsMeDebie

I went to Mennas with a friend last summer, and was thoroughly unimpressed. Not only was it one of the dirtiest fucking places I've ever been, let alone a restaurant, the people working were fucking clowns. They were fighting with each other. Like literally, arguing when we walked in. -flyonlewall
We'll miss you Menna's, you were definitely, something.
West Michigan Bars, Restaurants And Places You miss
These are bars, restaurants, and places people in West Michigan miss
Grand Rapids Businesses People Love Going Back To
These are local businesses Grand Rapids Reddit users love going back to time and time again because of the amazing food, drinks, atmosphere, and customer service.
These Are The Top 15 (Non-Food) Related Date Spots In West Michigan
According to people in West Michigan, these are some of the best places to go on a date that doesn't solely focus on eating.