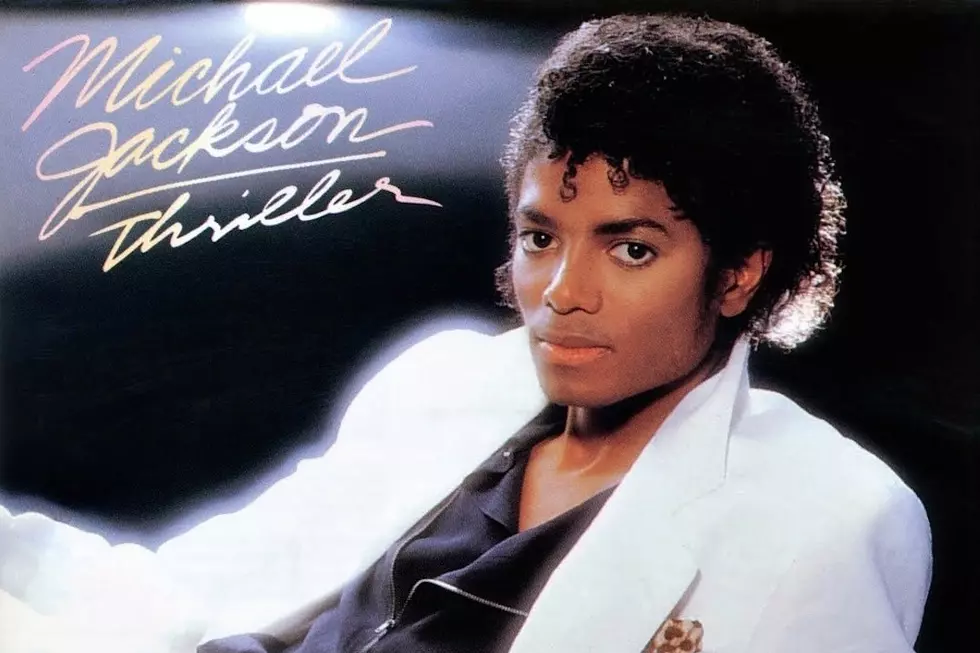 Michael Jackson's 'Thriller' at 35: Overexposed But Not Overrated
Epic
Thriller is still a cultural phenomenon. There isn't a more famous album in popular music than Michael Jackson's blockbuster followup to 1979s Off the Wall. That album had established Jackson as one of the biggest stars in R&B, but at a time when audiences and radio stations were still sharply divided along racial lines (coded in "Disco Sucks" tribalism), Jackson hadn't gotten the kind of mainstream play enjoyed by white artists like Hall & Oates, Phil Collins and Journey. With his sixth album, Jackson was going to change the way the world saw Black artists. And he would change the way the world saw albums.
The biggest album of all time didn't set the world ablaze initially; the first single was the milquetoast Paul McCartney duet "The Girl is Mine," a single that was successful but barely hinted at the tidal wave that was coming. In 1982, MTV and pop/rock radio were still largely segregated. One way to get Jackson into these rotations was using the McCartney track as a "trojan horse"—and it worked. The song topped the Adult Contemporary chart in November 1982, and it hit No. 2 on Billboard, behind Hall & Oates' "Maneater." It set the stage for Michael Jackson's album to land marketing on Top 40 stations that were ignoring hit R&B albums like Gap Band IV and Rick James' Street Songs.
Released at the end of November, Thriller would sell respectably on the strength of "The Girl Is Mine," though the single hadn't initially convinced critics Michael Jackson was about to deliver his most accomplished work. There was handwringing from fans who believed Jackson was planning a simpering, soft rock dud of an album. But when the album dropped, it was hailed by Rolling Stone as "a zesty LP" with "harrowing, dark messages." Nonetheless, the next single was going to change everything. The next single was going to be a worldwide smash.
"Billie Jean" was released in early 1983, and with its sleek and state-of-the-art video landing in heavy rotation on MTV, it became the No. 1 song in the country and stayed at the top for seven weeks. CBS Records president Walter Yetnikoff threatened to pull all CBS artists from MTV's airwaves if the network, which had been resistant to playing videos by Black artists, didn't air the "Billie Jean" video. It would become one of the most-aired videos, and helped redefine MTV. Prior to the success of "Billie Jean," MTV was dominated by lower-budget videos by newer or more obscure artists. "Billie Jean" announced MTV as the go-to platform for album promo for the biggest artists in music. It confirmed that music video was imperative to shaping an artist's image.
Released just as "Billie Jean" was ascending the charts, "Beat It" followed its predecessor to the No. 1 spot in February 1983. And it also featured a music video that came to be one of Jackson's most famous via constant airplay on video networks. The "Beat It" video helped cement Michael Jackson's new, edgier image; featuring Michael in a blazing red leather jacket, street gang choreography and a knife fight. A hard rock song with Eddie Van Halen guesting on the guitar solo, "Beat It" got spins in rock rotations and was another marketing masterstroke for Thriller as an album. Album opener "Wanna Be Startin' Somethin'" hit the charts two months later, peaking at No. 5 in spring 1983. Thriller was having a remarkable run.
And Michael Jackson was about to make a moment.
On May 16, 1983 Motown 25: Yesterday, Today & Forever aired on NBC. Featuring a litany of icons from the legendary label, Michael was performing with his brothers The Jacksons—and for the first time in seven years, that included his brother Jermaine. After the group ran through Motown-era Jackson 5 classics like "ABC" and "I'll Be There," Michael shuffled his brothers offstage. As the percussive "Billie Jean" intro begins, he snaps on a black fedora and for the next few minutes, Michael Jackson proceeded to moonwalk, mesmerize the crowd and make the world stop.
With "...Startin' Somethin'" all over radio, and on the heels of three Top 5 hits before it that were still as ubiquitous as ever on the airwaves, Thriller now got a boost from the year's most talked-about performance. By the start of summer 1983, the album had been out for 8 months and was a commercial juggernaut.  Famously written by Toto's Steve Porcaro (with lyrics by John Bettis), the lush "Human Nature" hit the Top Ten that July. Like "Wanna Be Startin' Somethin'," there was no video (it's almost disregarded that only three Thriller singles had music videos); and likewise, video-less "P.Y.T. (Pretty Young Thing)" was a Top Ten hit in September.
Thriller's blockbuster commercial success is often attributed to it being a more calculated, pop-pandering album than Off The Wall, but the albums have more similarities than differences: the immaculate production touch of Quincy Jones; stellar session work from Jackson veterans like Louis Johnson (bass), Paul Jackson, Jr. (rhythm guitar) and Greg Phillinganes (keys); songwriting contributions from Rod Temperton. The biggest difference in the albums—and one of the major factors in Thriller's unprecedented commercial success—is the rollout for Thriller. The first single from Off the Wall was the forward-pointing disco smash "Don't Stop Til You Get Enough," a perfect single to announce the sound and image of Jackson as a solo star; but in beginning the Thriller campaign with "The Girl Is Mine," Epic ensured that Thriller's image would be more accessible to the most mainstream, non-"disco" white audience. "...Mine" wasn't all that different a style than the McCartney-penned "Girlfriend" from Off The Wall, but that earlier song was its parent album's final single—as opposed to the lead single. As lead single, "The Girl Is Mine" was the setup for the "Billie Jean" sucker-punch that set Thriller on the path to multiplatinum status, but it was Michael Jackson's singular ability to seize every pop culture moment afterwards that turned Thriller into a phenomenon.
The twin successes of "Billie Jean" and "Beat It" were world-changing in terms of how the music industry saw music videos. Conversely, when Off The Wall was released in 1979, there was only the fledgling specialty airing of BET (a block of programming that only aired at night on cable network Nickelodeon) to air the promo videos for "Don't Stop Til You Get Enough" and "Rock With You." And Motown 25 was another landmark pop culture moment—and it came in the middle of what would be a string of Top Ten singles. Throughout the Thriller campaign, Jackson was repeatedly hitting home-runs.
And at the end of 1983, with the album almost a year old, Jackson would prove he grasped this new age's creative and commercial potential better than anyone.
By the end of that summer, Thriller's grip on the national consciousness was beginning to slip. Motown 25 was six months past; and without videos, the two most recent singles, while very successful, hadn't taken over popular culture like "Billie Jean" and "Beat It" had early in the year. With the suggestion of turning the title track into a horror-themed music video, An American Werewolf In London director John Landis was recruited to direct and in October 1983, the "Thriller" video was underway in Los Angeles. With funding and promo from MTV, the video was more ambitious and expensive than anything anyone had seen. "Thriller" was released for theatrical screening that December, along with an hour-long documentary called The Making of Michael Jackson's Thriller.
The "Thriller' video became a cultural event unto itself; tributes and parodies, analysis and acclaim; it was MTV's first truly defining moment and it cemented Michael Jackson as the foremost entertainer in popular music. It was the affirmation that Jackson had redefined the scope and possibilities of music videos; and gave MTV tremendous cultural sway. The song was released as a single in January 1984, and became the album's seventh Top Ten single. Over a year after it's release, Thriller had another major hit on the charts and the greatest video of all time airing on MTV. And a month after "Thriller" hit the singles charts, Michael Jackson took eight trophies—including Album of the Year—at the 1984 Grammy Awards.
His album stayed in the national consciousness from fall 1982 until spring 1984. Michael Jackson had become the biggest star in the world. The success of Thriller meant MTV suddenly was playing videos by Black artists like Prince, Lionel Richie and Whitney Houston, who were unsurprisingly becoming the biggest stars in music and enjoying multiplatinum commercial success with the surge in visibility. Thriller's commercial success revitalized the music industry after years of lean sales in the late 1970s/early 1980s as LPs had become more expensive and the industry transitioned into cassettes; and it provided a blueprint for turning out multiple single hits from a singular album. It also set the standard for major artists waiting years to release albums; more single releases meant an album could stay active on the charts for years—as opposed to the earlier practice of releasing albums every few months. Prince would release his most pop-accessible album Purple Rain in the wake of Thriller's unprecedented success; and his feature film was no doubt emboldened by what Jackson had accomplished with the "Thriller" video. Formerly MTV holdouts, veteran rockers like Van Halen and Bruce Springsteen embraced music videos—and slicker, more pop-friendly singles.
After Off The Wall's success, Michael Jackson famously vowed that his next album would be the biggest album ever. Selling a staggering 25 million copies initially, Thriller unbelievably realized Jackson's vision—a testament to the savvy of capitalizing on every moment; seeing the possibilities of a still-nascent platform; and the will of a singular artist. Thriller's 35 year stranglehold on popular culture suggests that, in terms of visibility, it's an album without peer. Of course, everyone hasn't heard Thriller, but it feels like everyone has heard Thriller. It's not very often that an album grabs the zeitgeist so completely, and as Off The Wall's masterfulness was dwarfed in its wake, Thriller became the kind of inescapable staple that's easy to disregard. Nothing that universal can be that good, right? And with Thriller serving as the album that got middle America to belatedly embrace the brilliance of Michael Jackson—who'd been delivering stellar post-Motown R&B since 1978s Destiny with the Jacksons—it's tempting to dismiss the record-breaking album as simply an established soul star's empty, preconceived bid for pop appeal.
But Thriller isn't a pandering, play-it-safe-to-sell album. Everything here is something that MJ did or would continue to do with aplomb throughout his career; and it's full of invention. It's rollout may have been undeniably calculated, but it's not successful without the singular brilliance of mid-80s Michael. This is an album that was designed to take over the airwaves with every track. Lots of artists have sought to make such an album. That Michael Jackson was able to do it—and do it with music that mostly sounds as vital decades later as it did in 1982—is a testament to his talents. Along with the brilliance of Quincy Jones and Rod Temperton, Michael Jackson was in rare form. He was at a vocal and creative peak here. The trappings of becoming the biggest star on the planet would color the remainder of his releases to varying degrees; but on Thriller Michael was riding the crest of the previous four years. Since 1978, Michael Jackson had been growing by leaps and bounds as a songwriter, performer and vocalist. Thriller was it all coming together at the perfect time. Amazingly, it's the sound of an artist still peaking. Michael was there. Its success only meant that the world was finally catching up to him.
Watch Michael Jackson's Video for "Billie Jean":
Watch Michael Jackson's Video for "Beat It":
Watch Michael Jackson's Video for "Thriller":