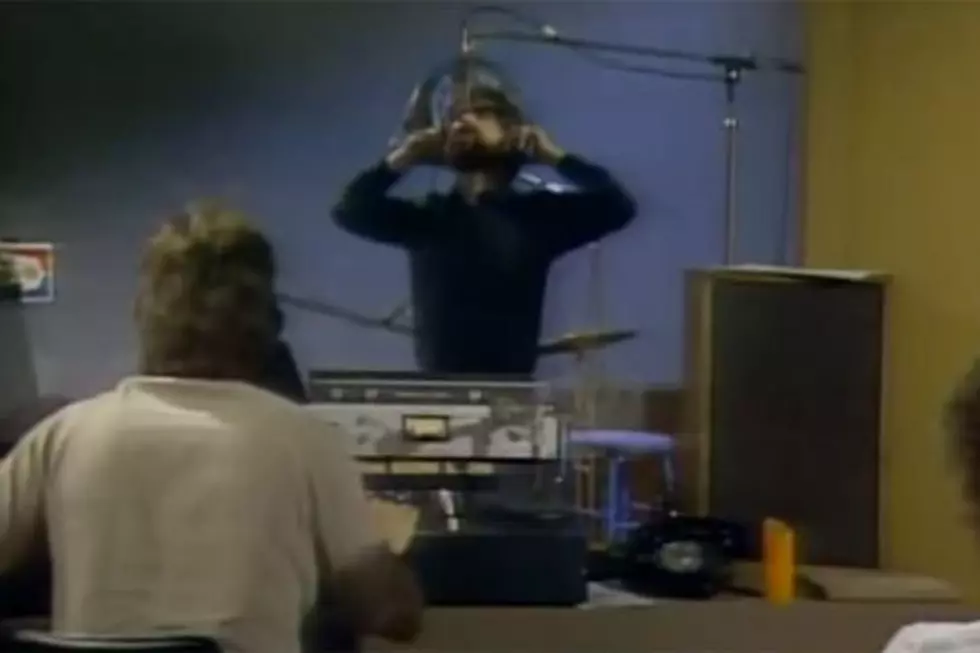 Michael McDonald Was 'So Stoned' While Watching 'SCTV' Sketch About Himself
YouTube
The news that Martin Scorsese will direct an upcoming Netflix reunion special about the legendary Canadian sketch comedy TV show SCTV is the perfect reason to revisit one of the most classic moments from the program.
If you grew up during the show's classic late-'70s/early-'80s run, there's a good you've seen the skit that starts with five-time Grammy winner Michael McDonald driving through city streets at high speed as Christopher Cross' "Ride Like the Wind" plays. Pulling up outside a building, McDonald parks and bolts from the vehicle, entering the building and running down the stairs into what turns out to be a recording studio. He offers a quick greeting as he ducks into the vocal booth just in time to sing his signature background vocal on the hit song.
McDonald, masterfully portrayed by Rick Moranis, a regular on the show at that time, pops in and out of the booth, even stopping to sign some paperwork at one point. As soon as the song ends, he's gone just a few seconds later, back in his car to speed away, presumably onto his next studio session destination.
"He was everywhere. He was on Steely Dan albums. By the time I heard him on 'Ride Like the Wind,' I thought, 'Okay, we have to do something with this.' But it was done out of reverence," Moranis explained in a 2004 interview with Sound & Vision. "I love the guy and really love his music. I think he took the Doobie Brothers to a whole other level."
You can watch the skit below.
For McDonald himself, the SCTV sketch aired on a night where he just happened to see it when it was broadcast, due to some unusual circumstances.
"I was over in Pat Simmons' room after a [Doobie Brothers] show," McDonald tells UCR. "He said to me, 'We're going to smoke this joint,' and he goes, 'This stuff is insane. You're only going to want to smoke a little bit of it, because it's crazy.' It was some kind of crazy ganja. You know, I'm too old to be saying things like this now. But anyway, we sat on the bed and we smoked this joint and we were talking."
Simmons was right -- it was potent stuff. Eventually, McDonald quickly realized that he had to go back to his room.
"I literally staggered down the hall, got my key in the door, went in the room and I'm thinking, 'Man, I gotta lay down. This stuff is crazy,'" McDonald recalls. "I used to leave my TV on when we would go to gigs, just because I thought people would think there was somebody in the room. So SCTV was in progress and that skit was on. I'm looking at the TV and I'm so stoned, I don't even know where [I am], I'm only hoping it's my room, you know? I'm watching this guy on the TV, in this car, running [into] the session, they're playing Christopher Cross and I went, 'Am I having a psychotic breakdown?' It's like, I'm going, 'I know that guy!' And I'm going, 'Who is that?' I'm thinking, 'Oh my God.'"
For a moment, McDonald was even starting to think that perhaps it was time to make a serious lifestyle change.
"For just about a split second, I thought, 'That's it, I'm never smoking pot again, because this is too crazy,' he says. "But as this thing went on, I realized it was a skit and I could hardly believe it. And then I think it's followed me ever since. Rick Moranis actually came to a show I did with Donald [Fagen] somewhere in New York and for some reason felt the need to apologize to me about it. And I said, 'Hey, are you kidding? I'm still getting mileage out of that!'"
The sketch speaks to how busy McDonald was in those years. He's kept a steady schedule since then, touring regularly, making guest appearances on albums by Toto and his Doobie bandmates in recent years. But he's also done a lot of work with newer artists, including bands like Grizzly Bear and the duo Holy Ghost!. He popped up at Coachella in 2017 to guest with Thundercat on "Show You the Way," a song the pair co-wrote together with McDonald's longtime collaborator Kenny Loggins.
He also released Wide Open, his first new studio album of original material in 17 years in 2017. The album features a heavy slate of special guests, including Warren Haynes, plus Steve Porcaro and David Paich of Toto. Currently on the road for a hefty stack of tour dates in support of the record, McDonald is grateful that he continues to be busy.
"It is definitely very flattering and totally unexpected. You know, I think every generation of musician and/or recording artists [experiences something like this]. I think in the '80s, we felt like the wrong side of the fence on The Walking Dead or something," McDonald says with a laugh. "Because nobody wanted to know about anything from the '70s. But you know, we kind of went through that period and then here we are in the millennium and I guess everything that's old and creepy is new again at some point."