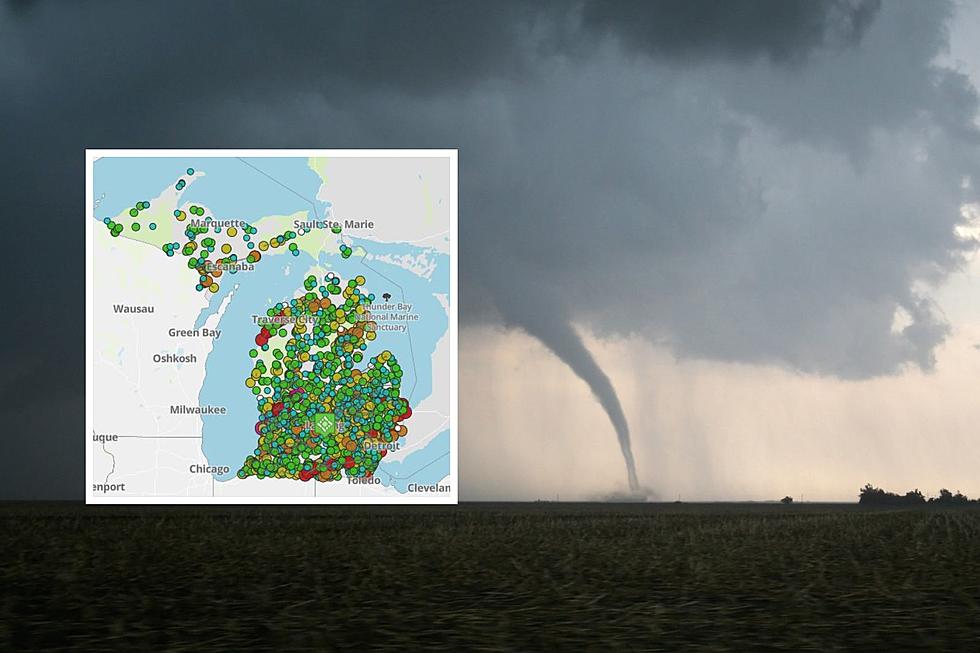 The State of Michigan has dealt with 1,200 Tornadoes since 1951
Via/ Lansing State Journal Tonado archive, Via/ Getty, Via Canva
When I first moved to Michigan, I was shocked to learn that the state actually deals with a lot of tornadoes.
Now, "a lot" is a relative term. After all, Oklahoma will sometimes see more than 100 tornadoes in a single year, according to weather.gov. But, when I came across this TikTok, I wasn't expecting Michigan's tornado numbers to be over 1,000.
The video, which you'll see below, ranks the states from least amount of tornadoes to most:
That Tiktok claims that, since 1953, Michigan has seen 1,200 tornadoes. A fact that the Lansing State Journal confirms.
How Many Tornadoes Does Michigan See Each Year?
It varies. But, scrolling through Lansing State Journal's list, it looks like Michigan rarely sees more than a dozen or so tornadoes each year. Some years we'll see three or four. Some years, you might see 22.
And, a higher number of tornadoes does not necessarily equivalate to more damage or injuries.
For example, in 2001, Michigan saw 42 tornadoes that resulted in 8 injuries and about $28,067,200 worth of damage.
However, in 1965, the state saw 28 tornadoes that resulted in 800 injuries, 53 deaths, and $310,175,000 in damage. That's according to Lansing State Journal. But, a 2022 article from woodtv.com seems to indicate that the toll was much worse.
Apparently, two F4 tornadoes broke out on Palm Sunday (April 11th, 1965) in Branch and Hillsdale Counties within 30 minutes of each other. One tornado had a continuous track of 90 miles causing damage and havoc throughout its path.
Most recently, people in the Gaylord area experienced an F3 tornado in May of 2022. It caused $50,000,000 worth of damage, injured 44 people, and killed at least 2. Read more here.
What to Do to Prepare for a Tornado
Like with any natural disaster, having a plan ahead of time will make a difference.
That includes:
Identifying safe rooms built to FEMA criteria or ICC500 storm shelters or other potential protective locations in sturdy buildings near your home
Creating an emergency kit and developing a family communication plan
Pay attention to your local news/weather reports
And more. You can see a full list, including what to do after a tornado, at michigan.gov.
---
Growing up in Florida, I tend to scoff at low-level hurricanes because I've been through so many of them. But, tornadoes are a different story. However, like with everything else, there's no need to panic. Just have a plan in place in case you ever have to deal with a tornado in your area (yes, I'm mostly saying this to myself).
Despite my anxiety about tornadoes, I will always say yes to watching the classic, Twister:
Sometimes, your weather plan might just be coming up with activities for the family to do when they're stuck inside during a snow storm. Here are a few ideas:
Michiganders' Go-To Indoor Activities for Snowy Weather
We asked and Michiganders answered. Here are 9 go-to indoor activities to keep you busy during snowy weather.
Check Out This 'Tractor Art' & GIANT Weather Vane Found in Gladwin
Someone in Gladwin, MI, has gotten very creative with their side-of-the-road tractor display