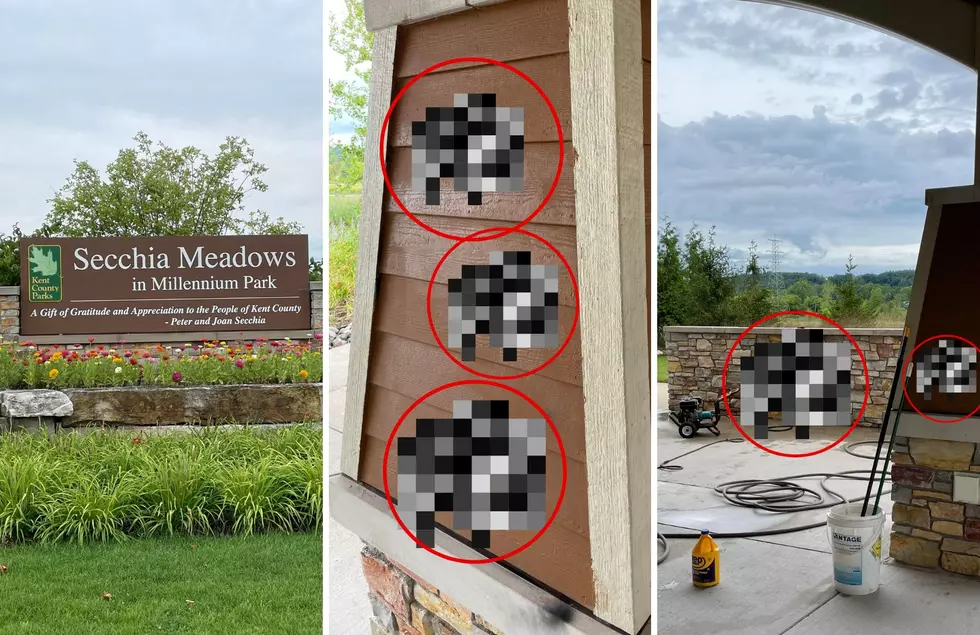 This Is Why I'm Thankful Someone Vandalized The Millennium Park Pavilion
Credit: Big Joe Pesh / Canva
The Grant Pavilion at Millennium Park and Beach was damaged by vandals over the weekend.
While I'm disappointed someone would cause such damage and destruction, I'm actually thankful it happened. Now, before you judge me and think I'm a terrible person give me a chance to explain why.
Grant Pavilion At Millennium Park And Beach Damaged By Vandals
Millennium Park and Beach posted on Facebook that vandals severely damaged the Grant Pavilion sometime between 10 pm on Friday night - 7 am on Saturday morning.
 What Did The Vandals Do To The Grant Pavilion?
The Millennium Park and Beach Facebook post said that they couldn't post any pictures of the graffiti because they were too graphic and vulgar. I wanted to see what happened so after I was done doing my morning show I put the address in my GPS and headed to Millennium Park.
Cleaning Up The Grant Pavilion At Millennium Park
After I arrived I parked and made my way up to the pavilion and saw three Kent County Parks and Recs Employees cleaning up the damage.
I approached the three Kent County Parks and Recs employees and tried to find out more about what happened over the weekend.
As I got closer I could see a lot of cleaning supplies.
A power sprayer can be seen laying on the ground. There was lots of vulgar and inappropriate graffiti that had to be blasted off.
In the bucket, you can see a scrapper and two brooms to scrub off spray paint.
The Parks and Rec employees did such a great job that it's hard to tell that any damage was done to this area.
What Did The Vandals Draw That Couldn't Be Posted On Facebook?
According to people doing clean-up, the vandals spray-painted phallic symbols as well as racist words and symbols. By the time I arrived those images and words had already been power sprayed off and painted over.
There were still a few spots where you could see the black spray paint
I also saw these white markings on some pillars. I'm not sure what it's from ;)
This Is Why I'm Thankful Someone Vandalized The Millennium Park Pavilion
As I said earlier, while I'm disappointed someone would cause such damage and destruction, I'm actually thankful it happened. The reason why is because I had never been to Millennium Park And Beach before. After arriving I was blown away by how beautiful it was. I saw people walking their dogs and pushing kids around in strollers.
Behind the pavilion was beautiful water with birds chirping and swans swimming.
I also loved seeing people willing to jump in and volunteer with the clean-up.
I also ran into Dave and Rachel Bouwkamp whose daughter Elsa was scheduled to have her wedding reception there soon. I asked them why they came down to the pavilion. They told me they were already planning on checking the location out again before someone at their church told them about the vandalism. I also asked Rachel what did she think when she heard about the damage?
We're just devastated that somebody would destroy it, not just for them but it's such a pretty spot, why would you ruin someone's wedding? How many other people had things planned?  - Rachel Bouwkamp
Will The Grand Pavillion Be Able To Host Events Soon?
According to a post on Millennium Park and Beach, all reservations are on schedule.
How To Make A Reservation At Millennium Park And Beach
The Kent County Parks and Recs website says Millennium Park has two large open picnic shelters available for rent. Each can accommodate up to 140 people.
Millennium Park also features a large open-air pavilion with a scenic lake view and an "under roof" seating capacity of 350+ people at tables.
Grant Pavilion is available for rentals for private and public functions. The park also has a smaller family shelter near the volleyball court and a beach shelter which is within the beach area. Both of these are available on a first come first served basis only.
For prices and more info CLICK HERE
What To Do If You Have Any Info On Who Did This
Anyone with information should contact the Kent County Sheriff's Office non-emergency number 616.632.6100.
Where Is Millenium Park and Beach Located?
LOOK: Food history from the year you were born
From product innovations to major recalls,
Stacker
researched what happened in food history every year since 1921, according to news and government sources.
Famous Celebrities You Might Not Know Are From Michigan
You will definitely recognize these names and faces, but might be surprised to find out they're from Michigan.
50 Newish Restaurants & Bars In West Michigan You Should Check Out
These are newish restaurants and bars people in west Michigan recommended for good food and drinks.
Top 25 Restaurants West Michigan Wants Right Now