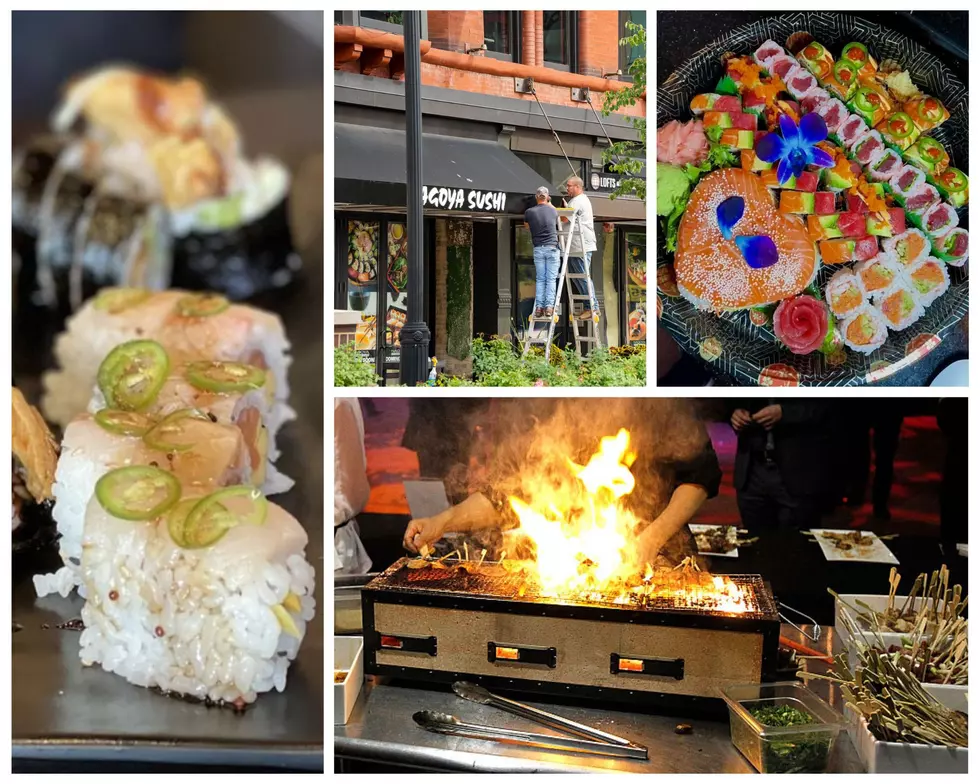 Hibachi Steak House and Sushi Restaurant to Replace Osteria Rossa Downtown Grand Rapids
Nagoya Sushi and Steak House/ Downtown Grand Rapids Inc., Facebook/ Getty Images
While it was sad to say goodbye to Osteria Rossa downtown Grand Rapids, it's good to hear a new restaurant is opening up in its place!
After eight years in business, Osteria Rossa, an Italian restaurant, permanently closed in early January 2022, citing "unforseen times" as the reason.
We now know what's replacing it!
Nagoya Hibachi Steak House and Sushi to Replace Osteria Rossa
A new Japanese Hibachi Steak House and Sushi restaurant is opening up at 16 Monroe Center St. downtown Grand Rapids, where Osteria Rossa once sat.
This will be Nagoya's second Grand Rapids' location, with the original at 2915 28th St SE.
While an exact opening date has yet to be revealed, according to the new restaurant's website, it will open in October.
We'll update you when Nagoya Hibachi Steak House and Sushi announces their grand opening!
New Downtown Grand Rapids Japanese Restaurant Menu
Nagoya will be open for lunch and dinner, serving soup and salad and a variety of appetizers like Crab Rangoon, Pepper Tuna, Shrimp Tempura, and Spring Rolls.
Sushi includes vegetarian options and Classic Rolls and Hand Rolls like:
California - Imitation Crab, Avovado, Cucumber
Boston - Steamed Shrimp, Lettuce, Fish Egg, Mayo, Cucumber
Alaska - Fresh Salmon, Avocado, Cucumber
Additional options include Eel, Red Snapper, Squid, Shrimp, Octopus, Scallop, Smelt, Sea Urchin, and Tofu.
You can also get Deep Fried Sushi Rolls, like the 28th St. Roll - Tuna, Salmon, Whitefish, Avocado Cream Cheese, all deep fried.
Order individual rolls or combinations like "Love Boat For Two", which costs $68 and includes eight pieces of assorted sushi, 18 pieces of assorted sashimi, one classic roll, and a choice of two special rolls.
What's a "Special Roll"? They've got more than 30! A few that stand out to me:
Michigan Roll - Spicy Shrimp, Asparagus, Salmon, Yellowtail, Avocado
Aqua Man Roll - Spicy Scallop, Cucumber, White Tuna, Salmon Roe
Rock and Roll - Salmon Skin, Cucumber, Cream Cheese, Eel, Avocado
There's already so much to try! And we're not even to the Hibachi part yet!
The restaurant is also a Hibachi Steak House, serving a variety of meat and vegetables that are cooked in front of you!
Options include Hibachi Steak and Chicken, which costs $27, and Hibachi Filet Mignon and Scallop, which costs $29.
You'll also find party trays, bento boxes, and lunch specials!
Check out Nagoya Steak House and Sushi's menu here!
LOOK: 25+ New West Michigan Bars and Restaurants to Check Out
West Michigan is a great place for foodies!
More than 25 new restaurants and bars, including Mexican restaurants, seafood restaurants, pizza joints, cocktail lounges, and more have opened up in West Michigan in the past year.
How many have you been to?
These Michigan Restaurants Have All Sadly Closed Since Appearing on National TV
You'd think an appearance on a national TV show like Diners, Drive-Ins, and Dives or Restaurant: Impossible would guarantee success for a restaurant.
That hasn't been the case for these six restaurants, all of which have closed after being featured on national television.